Money Transfer (Dubai to India) – Best Exchange Rate Comparision
Money Transfer From Dubai to India
UAE ranks second when it comes to Indians living abroad. This is one of the reasons that there is fierce competition between online remitting companies and banks for transferring money from Dubai to India. Money Transfer From Dubai to India
Why Transfer Money from Dubai to India
A large number of Indians have migrated to other countries in order to earn money or have a better growth or career opportunities. As per the United Nations, there are more than 17.5 million Indians living abroad. Nepal has the largest NRI population with more than 6 million Indians residing in different parts of Nepal. Apart from Nepal, the USA has the largest Indian population with around 4.4 million Indians followed by the UAE (Ministry of external affairs, India).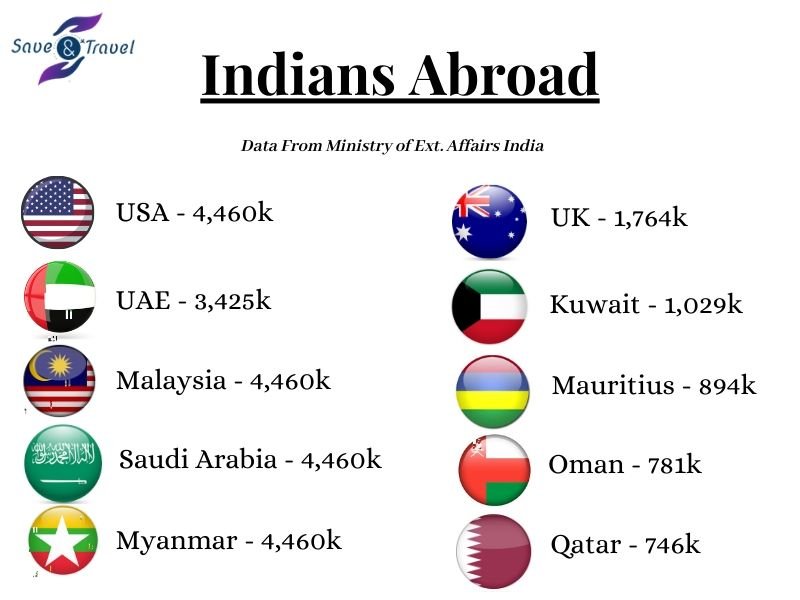 Indians residing abroad strong connections with their origin country and it is no surprise that Indian financial companies and banks are able to gain more business from NRI accounts of people living abroad, due to the high economic standards there.
Money Transfer From Dubai to India – Tax Implications
RBI's Liberalized Remittance Scheme (also known as LRS) allows resident individuals (Indian nationals and expatriates) to remit foreign exchange of a maximum of US$250,000 (or equivalent) per Indian financial year. Resident individuals can usually send foreign exchange overseas for one of the following purposes:
Overseas education expenses
Employment
Medical treatment
Care for a close relative
Emigration fees
Visa fees
International visits for private purposes
The individual needs to hold an appropriate account at an RBI authorised dealer, generally a bank having international branches. He or she needs to designate a specific branch of the particular bank, using which he or she will be making all foreign exchange remittances under the LRS. The individual can also make overseas remittances through an entity which is not a bank (but has appropriate permission from the RBI to deal in foreign exchange), but the remittance has to be funded from a bank.
Earlier, it was not necessary to produce PAN card for money transfer transactions abroad up to USD 25,000 or its equivalent. However, in April 2018, this rule was amended. Now, it is mandatory to produce the PAN card for all remittance transactions from India to Abroad regardless of the amount being transferred. This is to ensure that a resident individual is being compliant to the LRS limit of USD 2,50,000 in a single financial year.
What Are The Options
There are many ways you can use to send money from abroad to India or otherwise. These are
Demand Draft
Transfer Via International Beneficiary
Transfer Using Forex Card
Using Online Remit Service from Banks
Online Remittance companies
Now, let me tell that sending money using a Demand Draft or International Beneficiary is not a good option. As it may takes longer time and due to elevated exchange rate, you will end up loosing a good amount of money.
Transferring using Forex card can be a better option as if you opt for a Forex card then you do not have to pay for the cross-currency fees which banks usually charges if the transfer is via a debit card or credit card. You can load your forex card in the currency you want to send and then transact the same currency. But again, the loading and reloading of forex card can have additional charges and also the exchange rate of Forex card will be little expensive then the other two options.
In recent years, several banks have started the online remittance services. The process is not that lengthy as 2–3 years earlier, but again the problem is with the bad exchange rate. If you opt for a bank to transfer the money you may need to open a bank account, visit the bank to do this transfer.
The last option using the online remittance companies is the best option. The entire process is online and you will see that the exchange rate is much better than banks. As the market has become competitive, there are fierce competition among them which has resulted in a good exchange rate. Sometimes the exchange rate is almost the same as the real exchange rate you would find in Google or Xe.
What To Look Out For
There can be many reasons for you to transfer money from Dubai to India – living expenses, college fees, business purposes. So depending on your requirements, you shall also look out for the below criteria when using an online remittance
Reliability – How reliable is the money transfer service, you are choosing?
Speed – How soon do you need it to get there? You may end up paying more if speed is a priority.
Exchange rate – Are you getting the best rate or are you paying more for convenience or speed?
Hidden Fees – Are you paying more than you should? Sending money using a debit or credit card may have fees attached.
Convenience – How easy was the experience from start to finish? Could you do it online or did you have to go to a location to complete the transfer? Is there an app that makes it even easier?
Tracking – Are you be able to track the process online? Or you need to call the customer care or visit the branch
Sending Money Then Vs Now
Sending money internationally was a daunting task earlier. It used to take multiple visits to banks, waiting for hours, arranging documents and then after everything is fine, it would take 3–4 days for the money to be sent. But thankfully, this is not the case anymore, now this process has become convenient and affordable and you can complete the process in 2–3 minutes, without comprising the security.
Banks had been one of the most reliable ways to send money. But there are many disadvantages to choosing banks
inflated exchange rate
takes longer to process
high fees – while sending and/or receiving
requires more documentation
Because of these issues, people have now shifted to online remittance companies. There are now plenty of online companies that offer very attractive exchange rates and joining offers.
Process For International Money Transfer
The money transfer process in online remittance companies are quite simple and mostly follow these steps
Create an account (Email, PAN card, Passport may be required)
Provide bank information of receiver
Transfer the amount using bank transfer/credit card/debit card
Options For Sending Money From Dubai to India
There are basically three major ways to transfer money from USA to India
Online remittance companies
Local Agencies offering money transfer
Bank
You would find that there are lots of agents available in Dubai or other parts of UAE that transfer AED to INR with some commissions. If you have a recommendation from a friend and find a good exchange rate than you can opt for one of them. Otherwise, it is always preferred to choose an online remittance company that can provide you a better exchange rate and as all the process is online, you won't have to travel to their branch holding big cash.
So let's compare the available options to transfer money
Winner – Transferwise (Use this link for the free transfer – no charges)
Transferwise
UAE Exchange
Western Union
Currency Fair
Al Ansari Exchange
Al Fardan Exchange
Al Rostmani International Exchange
Let me tell you that all these options are reliable options. I have personally checked their reviews online, Trustpilot, google play, AppStore, etc.
So here are I am comparing the exchange rate, time period, and charges if any if you want to send 10,000 AED to India.
Pls note when I was doing the comparison – The actual exchange rate is 1 AED = 20.47 INR (10th July, 2020)
TransferWise is an online money transfer service, which lets you transfer money up to eight times more cheaply than with a bank. It is one of the most popular apps/sites and has the highest customer satisfaction ratings on Google play and Trustpilot. TransferWise was founded in 2010 by two financial gurus and its system is beautifully simple. It bypasses pricey international payments entirely by using two local transfers instead of one international transaction.
Is Transferwise Reliable?
Trustpilot Score

Google Play Ratings

It is also one of the fastest growing online remittance companies (more than 7 million customers) having more than 50% over last few years. You would see that their profit has not increased as much as their revenue. This is because the company is expanding and growing its customer base, and another most important thing is its attractive exchange rate and low transfer fees as compared to its peers.
How Transferwise Works?
Transferwise works in three different steps (in this case, Dubai to India)
You send money from your Dubai bank to their Dubai bank
Transferwise transfers money from their Dubai bank to Indian bank
Transferwise sends money from their Indian bank to your Indian bank
For safety purposes, Transferwise might ask to verify your address when you use TransferWise. They are a financial institution and it helps them combat money laundering, and keep everyone's money safe.
Now let me show you where does Transferwise stand when you compared it with other options for sending money from Dubai to India. There is a current offer going on Transferwise for relaxation on Transfer Fee. So you can avail of this offer by following the link I shared above. Using this you would see no transfer fee is charged on the low transfer amount and the reduced transfer fee at a large amount.
How much can I send?
You can send up to 1.5 million GBP per transfer to a private individual. You can send up to 15 lakhs per day to businesses. However, the minimum amount is 20,000 INR.
How long does it usually take for the money to arrive?
Once TransferWise receives and converts your money, it usually takes 1 working day to arrive in your recipient's bank account. Conversion can take up to 2 working days. The first transfer can take longer time but the successive transfer is usually quicker.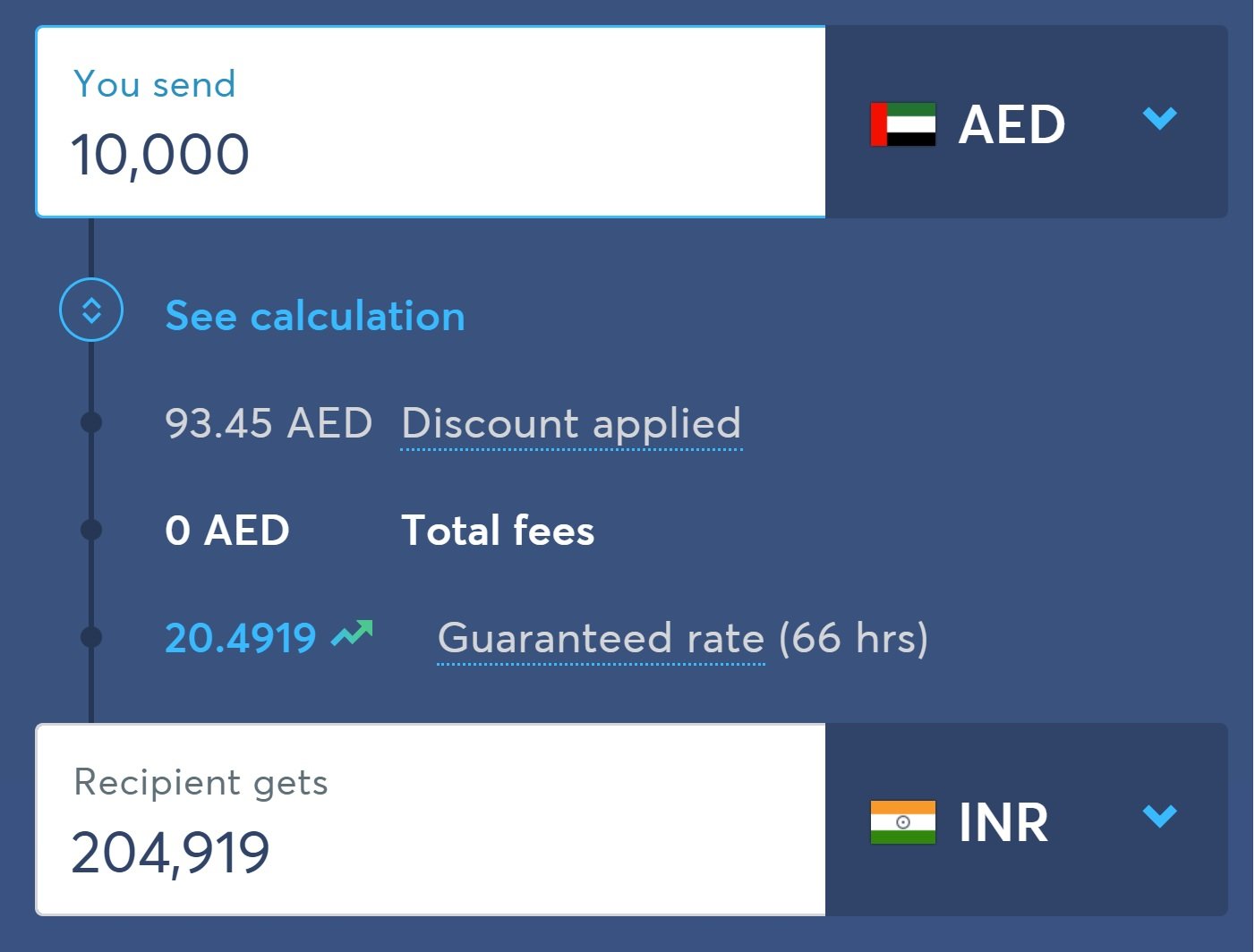 TransferWise is an online account that lets you send money, get paid, and spend money internationally. With a TransferWise account, you can send money abroad, get paid in other currencies, and spend abroad on the TransferWise debit Mastercard.
TransferWise mobile apps review – TransferWise mobile apps have great ratings on Apple's App Store (4.7/5 stars on 19,300 ratings) and Google's Play Store (4.4/5 on almost 80,000 ratings). According to TransferWise customers, the app is "an invaluable tool for anyone moving money internationally".
TransferWise fees and exchange rate – TransferWise is an innovative international money transfer provider that is often dubbed the "Robin Hood" of the money transfer industry. They focus on making bank transfers more affordable than traditional banks by charging low and transparent transfer fees and converting money at the true mid-market exchange rate. In other words, there's zero markup on the exchange rate. (As a comparison, banks usually give customers an above-market rate, the margin is part of their fees and in general, they are not transparent about this.)
Most currencies supported by TransferWise offer one option: a bank transfer from one bank to another. For some currencies, you can pay with debit and credit cards or use a SOFORT transfer option. Apple Pay or Android Pay is also available for certain currencies via TransferWise iOS and Android apps. In most cases, the recipient will get the money within one to two business days.


Pros
Low minimum transfer amount of $1.00
Option to send money in minutes
Transfer to a wide range of countries
Cons
Not the cheapest option depending on transfer location
You may need to visit the nearest branch
CurrencyFair is rather unique through its P2P platform and offers huge savings on international transfers compared to banks and compare very well with other similar services. It is quite simple. With CurrencyFair, you can choose your own exchange rate in their peer-to-peer marketplace as long as another user (transferring in the other direction) matches or accepts your rate.

Pros
Inexpensive options available for both individuals & businesses
Great control over each step (if desired)
Two low-cost options to exchange & send money: match FX rates with peers or send money with CurrencyFair's best rates (matches the mid-market rate)
Cons
Not available in the US
Limited number of currencies supported (21)
Can only transfer into bank accounts (mobile wallets not supported)
Al Ansari Exchange is a leading foreign currency exchange company in UAE with more than 190 branches that provides fast and efficient service for sending money to India and other parts of the world.
Al Fardan Exchange L.L.C. is a member of the Al Fardan Group, which has roots stretching back to 1954. Emerging from a seafaring and pearl trading tradition to a commercial trade, the Al Fardan name is built on a solid bedrock of security and reliability.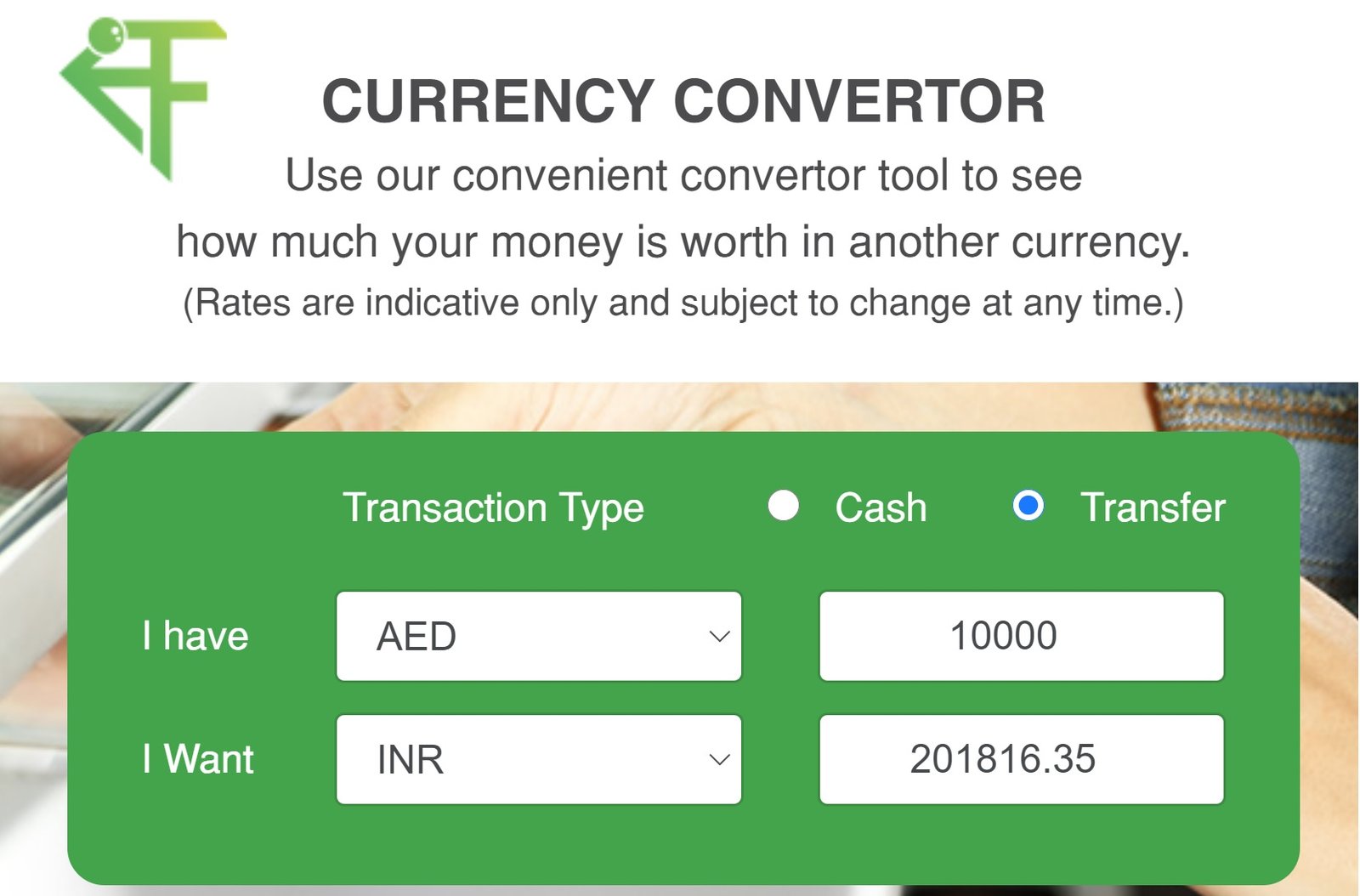 Sending Money To India Using Banks

1 – NBD Bank (1 AED = 20.35 INR)
2 – Noor Bank (1 AED = 20.01 INR)
RemitMoney is an online money transfer website of Axis Bank, which enables NRIs from USA to send money to India. The transfer process is simple but the exchange rate is very bad compared to its peers.
How your money will be transferred depends to an extent on where it's going. If you bank with HSBC, you might see international transfers referred to as SEPA payments, international payments, Worldpay or Priority Payments. The payment route used, as well as costs, cut off times, and the processing times vary, depending on where your money is headed.
SBI is India's largest bank which operates foreign offices network and has correspondent banking arrangement with about 600 banks worldwide. You can send and receive money internationally through SBI accounts using any of the methods described below.
SBI Express Remit
SBI Demand Draft
SBI Wire Transfer
SBI Personal Cheque
Internet-based Forex Outward Remittancefacility available on SBI.Com to the individual Personal Banking Segment customers of the Bank, registered as retail internet banking facility users presently having transaction rights. Resident individuals banking with State Bank of India and registered as users of the Retail Internet Banking facility having transaction rights and maintained the bank a/c for a minimum period of one year prior to the remittance. Registration of PAN No. in CBS with the Home Branch of the customer is mandatory
| Method of Remittance | Charges |
| --- | --- |
| Express Remit | ₹250/- |
| Demand Draft | 0.30% of the amount, with a minimum of ₹300/- |
| Wire Transfer | Current TT buying rate + exchange margin @0.125% + interest @ 15% (depending on bank branch) |
| Personal Cheque | Current T.T. buying rate + exchange margin @0.125% + interest @15% + ₹100 |
GST for conversion of foreign currency to Indian currency or vice-versa was revised by the Government of India, Ministry of Finance with effect from 1st July 2017. The revised tax rates are as follows⁷:
Up to ₹1,00,000: 1% of the gross amount of currency exchanged for an amount of ₹1,00,000, subject to minimum of ₹250/-
From ₹1,00,001 to ₹10,00,000: ₹1000 plus 0.5% of the gross amount of currency exchanged for an amount of rupees exceeding ₹1,00,000 and up to 10,00,000
Above ₹10,00,000: ₹5,000 Plus 0.10% of the Gross amount of currency exchanged for an amount of rupees exceeding ₹10,00,000 subject to Maximum amount of ₹60,000/-
SBI has tie-up with several exchange companies in UAE, that are
Al Ansari Exchange Company
Al Rostamani Exchange Company
Al Ghurair Exchange Co.
City Exchange LLC
Emirates NBD (Bank)
Emirates India International Exchange Co.
Joyalukkas Exchange
Redha Al Ansari Exchange
Orient Exchange Company LLC
Wall Street Exchange Centre LLC
If you have an HDFC bank account, you can send money abroad with HDFC through their netbanking option called RemitNow¹⁴. You can send money anywhere in the world using RemitNow, other than to countries under OFAC sanctioned countries list.
The maximum limit per transaction is USD 5000, and only up to two transactions are allowed per day. The international transfers using HDFC RemitNow is subject to the rules of RBI Liberal Remittance Scheme (LRS). This means that the maximum money that can be transferred in one financial year is USD 250,000. Money can be sent in 19 currencies using RemitNow, given below-
UAE Dirham (AED), Australian Dollar (AUD), Canadian Dollar (CAD), Omani Riyal (OMR), Swiss Franc (CHF), Danish Krone (DKK), Euro (EUR), Singapore Dollar (SGD), Pound Sterling (GBP), Hong Kong Dollar (HKD), JPY (Japanese Yen), South African Rand (ZAR), Korean Won (KRW), Norwegian Kroner (NOK), New Zealand Dollar (NZD), Saudi Riyal (SAR), USD (US Dollar), Swedish Krona (SEK), Thai Baht (THB)
| Amount of Currency Exchanged (ACE) | GST rates | Minimum GST | Maximum GST |
| --- | --- | --- | --- |
| Upto ₹ 1 lakh | 0.18% of ACE | ₹45 | ₹180 |
| Between ₹ 1 lakh and up to ₹ 10 lakh | ₹180 + 0.09% of ACE | ₹180 | ₹990 |
| Above ₹ 10 lakh | ₹990 + 0.018% of ACE | ₹990 | ₹10,800 |
Emirates NBD, the largest bank in UAE, has made HDFC Bank its processing partner in India for its DirectRemit service. DirectRemit offers to transfer funds in INR to India for credit within 60 seconds to HDFC Bank accounts from the comfort of your home or office with Emirates NBD Online Banking or Mobile Banking Application.
ICICI bank is one of India's leading banks which offers international money transfer solutions to and from India. But transferring money to loved ones overseas has always been a tricky experience for many ex-pats, especially NRIs. Many of you might've faced difficulties in the past with varying foreign exchange rates, money not being received on time, or spending much more than you planned.
Final Remarks
Banks use the mid-market rate, so this shall be no surprise that they offer a lower exchange rate. Moreover, the bank uses more internal approval mechanisms, may require additional verifications, and takes a long time to send money. On the other hand, online remittance companies offer a higher exchange rate because of a competitive market and are very quick to respond.
Transferwise was found to be the cheapest and the best option when sending money abroad. But as transferwise first transfer sometimes may take 2-3 days, so if you are in hurry then you can opt for UAE exchange or Instant Remittance service from NBD bank, but if you have time and want to save money then certainly go for Transferwise. I usually use Transferwise for all my transfers. They have excellent dedicated customer support and I find them giving the best exchange rate. Moreover, if you follow the above link I shared of Transferwise, you can get the welcoming offer of no transfer fee when sending 500 USD or equivalent below and relaxation of fee on higher amount.
You May Also Be Interested In
Keywords – money transfer from dubai to india, money transfer rate from dubai to india, how to send money from dubai to india, how much time it takes to transfer money from dubai to india, money transfer from dubai to india tax, transfer money from india to dubai by western union, how to transfer money from dubai to india bank account, how to transfer money from dubai to indian bank account, how long does it take to transfer money from dubai to india, how to send money from dubai to india online, money transfer from dubai to india time, money transfer from india to dubai western union, best way to transfer money from dubai to india, how to transfer money from dubai to india through bank, time taken for money transfer from dubai to india, how to send money from dubai to india quora, tax on money transfer from dubai to india, how can i transfer money from dubai to india, how many days will it take to transfer money from dubai to india, western union money transfer charges from dubai to india, how to transfer money from dubai to india online, how to transfer money from dubai to india account, transfer money from india to dubai by hdfc, how to transfer money from dubai to india instantly, money transfer from dubai to india online, western union money transfer from dubai to india, wire transfer from dubai to india, can i transfer money from dubai to india, how to send money from dubai to indian account