An Ultimate Travel Guide to Bali
Bali is a perfect place for vacation and is known for rice terraces, beautiful beaches, waterfalls, and nightlife. It is one of the most chosen destination among backpackers to detox, to learn yoga, and to relax on the beach.
This travel guide will help you with tips and tricks for traveling around Bali. 
Visa & Immigration Bali
140 nationalities (including India) requires no Visa (FREE ENTRY; see list below, max. stay 30 days)
A Free Entry Stamp CANNOT be extended
Passport must always be valid 6 months (for social visa 12 months) from day of arrival. No exceptions.
Keep a page on passport empty for stamp or visa sticker!
Day of arrival counts as day one, day of departure counts as a full day
Penalty fee for overstaying IDR 300,000 per day
Don't bring more than IDR 100mio in cash (ca. AUD 10,000)
In need of sponsor letters, KITAS, Visa extensions, etc working with a reliable agent is strongly  recommended
Currency Exchange
You can find major currency exchange at the airport. However, it is advisable not to exchange money at the airport because of the high exchange rate.
You can either withdraw the money from the atm or exchange the money in the city. There are almost thousands of forex services in the city.
Also, note that I didn't find a single foreign exchange that exchanges INR to IDR. They mostly do not except Indian currency.
If you are residing in Mumbai, India or other metros you can get a much better price. So try to convert it when in India, or else you can always use an atm. Most ATM machine in Indonesia will only issue a maximum of 25 sheets of bank notes.
So, the maximum amount that can be withdrawn from an ATM machine is 2.5 M IDR which may not be enough if you plan to stay longer. So if your bank charges a fee for withdrawing cash from ATM then try to pay from your card and use cash wherever necessary.
Free Singapore City Tour – More details
If you have a transit at Singapore Changi Airport for a duration between 5.5-24 hour, then you have an option of taking a free Singapore city tour.
Changi Airport is the major civilian airport for Singapore, and one of the largest transportation hubs in Southeast Asia. It is currently rated the World's Best Airport by Skytrax, for the sixth consecutive year since 2013 and is one of the world's busiest airports by international passenger and cargo traffic.
You require a mobile number to receive an OTP or you can also obtain WiFi code from airport information counter. There are multiple free city tour booking outlets available in every terminal. I have attached the schedule of the tour time that will help you. Try to reach an hour before the tour start time to reserve your seats.
T2 -Transit – Level 2, Departure Transit Hall (Next to Orchid Garden) – 

Opening hours:  7:00 AM – 6:15 PM
T3 – Transit –Level 2, Departure Transit Hall (Next to Discover Singapore) –

Opening hours: 7:00 AM – 6:30 PM
How to commute to Bali
The best way to commute in Bali is via a scooter. If you are flying out from Denpasar Airport and are not carrying big luggage then you can rent a scooter in the airport. Come out of the airport and you will see few scooters lined up.
You will be contacted by person who may ask for 100k IDR or more for scooter for a day. Do bargain and they can give it to you for 50-70k IDR a day. They usually do not ask for driving licence. They may take a pic of your passport and keep it with them for security.
If you plan to take the bike for a minimum of 2 days, then you can book it online here. 
If do not know how to ride a scooter, you can hire a Grab car or GO-JEK. Download these apps from google play store and it is easy to use. Grab car is cheaper than Grab Taxi. Just like uber rides. If you happen to stay for longer and intend to use this app. You can put some money in the wallet of this app and they give you good discount (sometimes 80-90% reduced price). The minimum fill would be around 50k IDR.
Buying Sim Card
It is better to buy a sim card and get connected with internet to make your travel easy. There are four main telco providers in Indonesia: Telkomsel, IM3 Ooredoo, 3 (Tri) and XL Axiata (XL Baru). All of them have pretty decent internet coverage all over Indonesia.
Buying Sim Card at the airport can be costly. It is priced around 300-350k IDR for 10 GB data at the airport. The same Sim Card can be bought from a local shop for 150k IDR.
If a taxi person or an agent is accompanying you to the sim card shop. They get a commission from your purchase and the shopkeeper now increases the price to 200-300k IDR.
Itinerary
Bali is bigger than you may think and the generally with the heavy traffic in the south – makes the going even more time to consume than it should be. This means that while it is possible to get around by scooter easily.
If you want a luxury and relaxing stay, you can always book a taxi. The tour guides are very friendly here and you can learn a great deal about Bali from them.
If you arrive at Denpasar airport, it is better to visit Uluwatu and Jimbaran area first and then head to Ubud, Kuta, Seminyak, Canggu and then to the Islands. You can plan your itinerary based on your place of interest.
[wonderplugin_slider id=5]
Uluwatu and Jimbaran
Uluwatu Temple and Kecak Fire Dance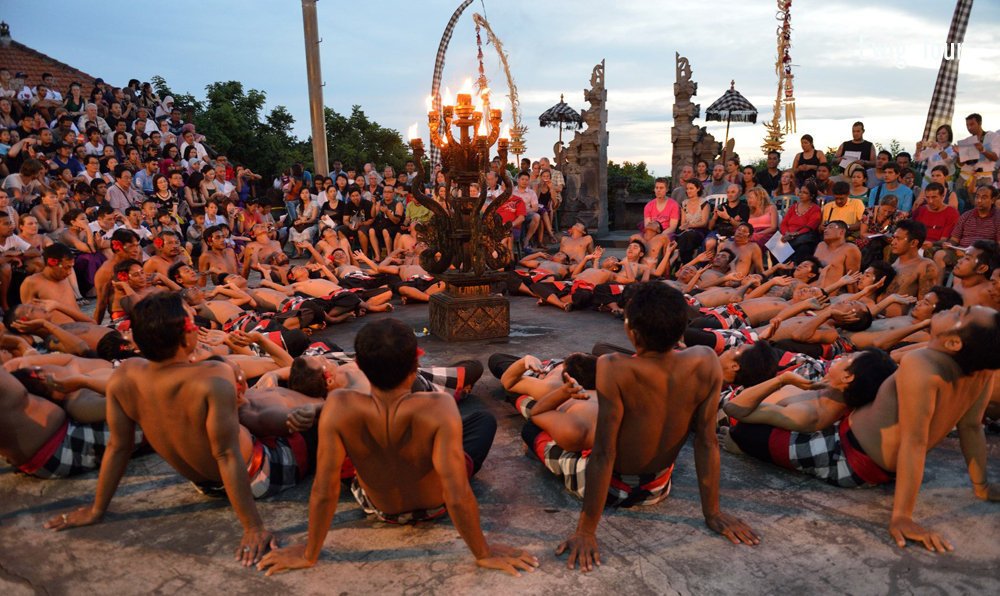 This place is to view one of the most beautiful Sunset at Bali. It is Bali's most famous surf spots at Padang-padang Beach. 
In the evening there is also traditional Kecak Fire Dance performance – one of the episodes of Ramanyana, complete with powerful trance chanting and choreography with fire. There is limited number of people allowed inside so try to reach 1-2 hour before sunset.
If you are alone or in a group, these packages will be handy, it includes pick and drop facilities and will also save you money.
Spend a day at Sundays Beach Club – Watersports and more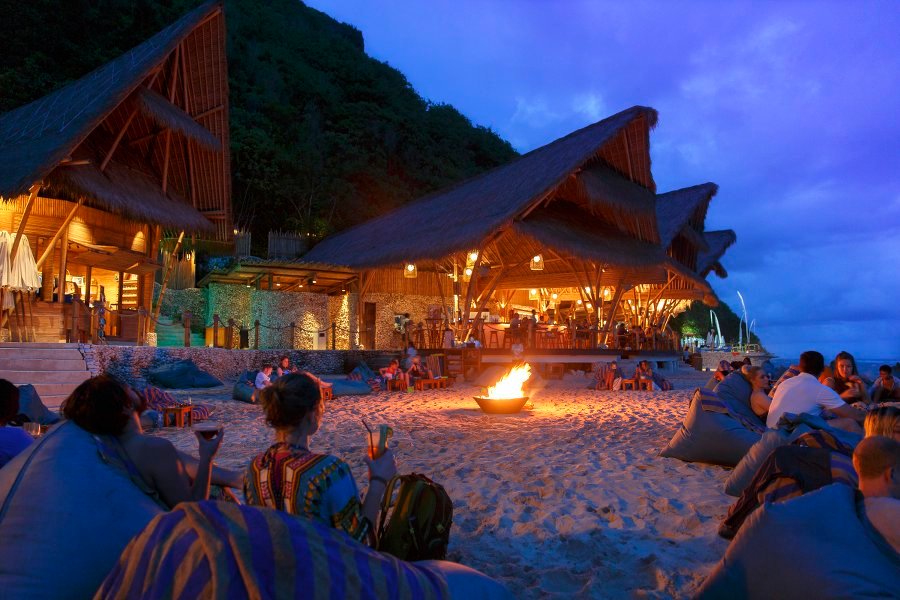 You can get a day pass at Sundays Beach Club and swim, eat, relax and paddleboard in the beautiful beach. You can use the day pass money to buy food or drinks. There is also bonfire at Sunset.
Dinner at Jimbaran Beach
Enjoy a delicious fresh seafood at Jimbaran Beach watching the Sunset. 
Places to Eat and Drink at Uluwatu
Ulu Cliffhouse
Single Fin Beach Club
Rock Bar at the Ayana Bali
Places to Stay at Uluwatu
Ubud
Ubud is struggling with its popularity. It's here that you'll recognize the rice fields from Eat, Pray Love.
Ubud is a town located in the centre of the island and is most known for its culture and abundance of yoga retreats and studios.
A stop here is in order if you want to see temples, traditional dancing and crafts and to shop. Just outside of Ubud are the most famous rice terraces and some of the islands most famous scenery.
The town goes to bed early and is known more for its organic food than its party scene.
If you're looking for the scenery without the touts and hordes, consider either Sideman (midway between Ubud and Candi Dasa) or Munduk (halfway from Ubud to Pemuteran). Below are the places to visit in Ubud. You can either do these places in a day or two at your ease.
Places to See in Ubud
Pura Tirta Empul, Jl. Tirta, Manukaya, Tampaksiring, Gianyar, Bali 80552, Indonesia
Tegallalang Rice Terrace, Jl. Raya Tegallalang, Tegallalang, Gianyar, Bali 80561, Indonesia
Sacred Monkey Forest Sanctuary, Jl. Monkey Forest, Ubud, Gianyar, Bali 80571, Indonesia
Ubud Palace, Jl. Raya Ubud No.8, Ubud, Kabupaten Gianyar, Bali 80571, Indonesia
Ubud Market, Ubud, Kecamatan Gianyar, Ubud, Kabupaten Gianyar, Bali 80571, Indonesia
Pura Gunung Kawi, Banjar Penaka, Tampaksiring, Gianyar, Bali 80552, Indonesia
Campuhan Ridge Walk, Kelusa, Payangan, Jl. Raya Campuan, Sayan, Ubud, Kabupaten Gianyar, Bali 80571, Indonesia
Get yourself in some Balinese Massage and Spa
[wonderplugin_slider id=2]
Places to eat and drink in Ubud
Seniman Coffee Studio
Taco Casa Ubud
Alchemy Ubud – Vegan
The Sayan House
Sweet Orange Warung – Vegetarian
Where to Stay in Ubud
Hotel Palm Garden: We have booked this hotel for only 6 USD. It also has a swimming pool is just mid of Kuta area
Uluwatu Backpackers: If you like staying in hostel where you can meet other travelers then go for it.
Villa Mandi, Ubud: You can get free breakfast here. A room for two is as cheap as 20 USD.
Kuta/Legian/Seminyak/Canggu
This is the heart of the south Bali beach set. Kuta and Legian are the crassest, migrating to something slightly more upmarket in Seminyak.
Think an oversupply of bars and restaurants, some really quite good, some awful. Similarly awful are the touts and dodgy characters. On the plus side, especially in Kuta, you'll find some very affordable beds (and beers), and the beach, when clean, is quite good for learning to surf on.
If you're young (or young at heart) and like to party, this is where all the action is. Beyond Seminyak lies Canggu, once all paddy, now filling with high-walled private villas which are often (illegally) available for rent.
Waterbom Bali Indonesia, Jl. Kartika Plaza Tuban, Kuta, Kabupaten Badung, Bali 80361, Indonesia
La Favela Bali, Jalan Laksamana Oboroi177X, Seminyak, Kuta, Seminyak, Kuta, Kabupaten Badung, Bali 80561, Indonesia
Sky Garden Bali, Jl. Raya Legian No.61, Kuta, Badung Regency, Bali 80361, Indonesia
Kuta Theatre, DEE JAY CAFE, Jl. Kuta Center No. 8X, Kuta, Kabupaten Badung, Bali 80361, Indonesia
Upside Down World Bali, Indonesia, Jl. By Pass Ngurah Rai No.762, Pemogan, South Denpasar, Denpasar City, Bali 80221, Indonesia
Dream Museum Zone Bali (DMZ), Jl. Nakula No.33X, Legian, Kuta, Badung Regency, Bali 80361, Indonesia
[wonderplugin_slider id=3]
WaterBom Bali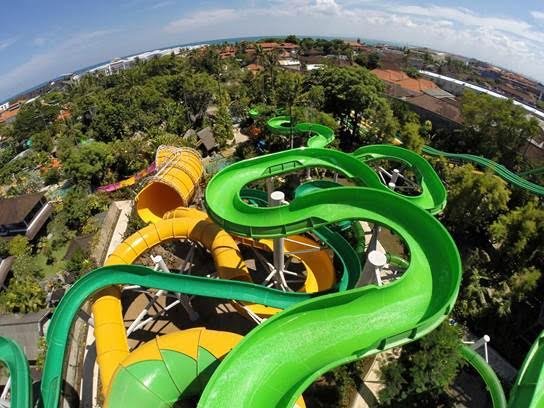 It is one of the largest of its kind in Bali where you can experience a range of internationally designed and constructed slides including the world's longest waterslide.
You can check these discounted price if you plan to visit Waterbom.
5 GX Bali Reverse Bungee Jumping
If you are an adrenaline lover, you must try this near Sky Garden Club
Where to Eat, Drink and Party
La Favela: It is a restaurant and turns to a club after 11 pm. There are no entry fees and you pay only for drinks you buy. It is more spacious then Sky Garden.
Sky Garden: Sky Garden is a club in Kuta that offers the famous BBQ BUFFET starts from 5 pm – 9 pm daily for 99K IDR. They have promotional events and often ladies get free entry. For men is around 200k IDR from Monday to Thursday and 250-350k IDR on weekends. Entry fees include two complimentary drinks (pints).
Where to Stay in Kuta/Legian/Seminyak
Nusa Lembongan, Nusa Ceningan and Nusa Penida
These three islands off the coast from Sanur are gaining in popularity. Nearly all the accommodation is on Nusa Lembongan.
Lembongan and Ceningan are well regarded for their beaches and surf. Penida will appeal to outdoors types and those comfortable roughing it as accommodation is very limited.
Since both Lembongan and Ceningan are so small, it's pretty easy to drive around each one and power through most of the sights in just a day.
For ease, it might make the most sense to just stay on Lembongan, rent a motorbike immediately from the port or your accommodation, and ride around to visit blue lagoon cliff jump, adventure sports, mangroves, devil's tear, seaweed farming etc.
Devil's Tear, Jungutbatu, Nusapenida, Jungutbatu, Nusapenida, Kabupaten Klungkung, Bali 80771, Indonesia
Kelingking Beach, Bunga Mekar, Nusapenida, Kabupaten Klungkung, Bali 80771, Indonesia
Angel's Billabong Nusa Penida, Sakti, Nusapenida, Kabupaten Klungkung, Bali 80771, Indonesia
Peguyangan Waterfall Nusa Penida, Nusa Penida, Batukandik, Nusapenida, Kabupaten Klungkung, Bali 80771, Indonesia
ATUH BEACH NUSA PENIDA, Pejukutan, Nusapenida, Klungkung Regency, Bali 80771, Indonesia
Goa Giri Putri Temple, Suana, Nusapenida, Klungkung Regency, Bali 80771, Indonesia
[wonderplugin_slider id=4]
You can also take these tours by yourself or via a tours and travel company.
Mount Batur Sunrise Trekking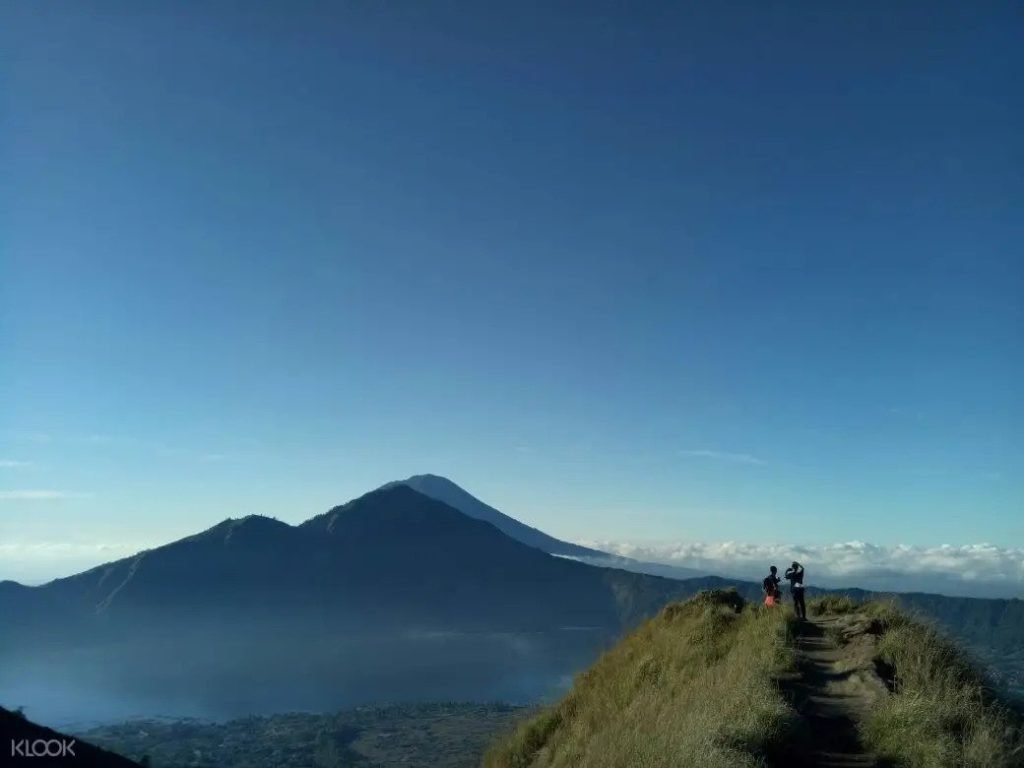 Hike to the top of an active volcano, Mount Batur, part of UNESCO's Global Geopark Network
Hike up to the height of 1717 meters (5633 feet) above sea level and be rewarded with mesmerizing views
Indulge in a delicious breakfast at the top with the backdrop of stunning Balinese mountainscapes
Stop at a coffee plantation and try Luwak Coffee, the rarest and most expensive coffee in the world
Tanah Lot Sunset
West Nusa Penida
Important Things to include in your travel kit
Useful Apps
Maps.me for offline Maps: There are many apps available which can be used offline. So before you start your travel you can download the map of places you want to visit in Indonesia and it can be available to you offline. You will save your data in this way.
Waze: Waze is an awesome app for those living in the crowded streets of, for example, Jakarta, Bandung, Surabaya and Bali. This social app utilises people's updates of the current status of the whereabouts to identify problem routes and traffic roads.
Grab car: This is an awesome app that tracks your location and finds available taxi's around you. When you order a cab and set your drop off point, you will get your confirmation, see your driver's details and track his/her movements towards you. It's a great way for a speedy pickup!
Gojek: This app is a very handy app for single person who enjoys bike ride. Formalizing the classic Indonesian transportation service of the street 'ojek' (motorbike taxi), Gojek allows you to book their services through this interactive app. From transport to courier services and even shopping, the app connects you to the driver through GPS, messaging and calling as well.
Traveloka: This is a very friendly app that allows you to book flights, bus, ferry, train etc.
Klook: You can get various discounts on your tours. There are several packages available. You can use Klook in various other countries too.
Sindhen: Sindhen app gives users the heads up on all upcoming events and deals at over 300 clubs, lounges, bars and restaurants in Jakarta. The easy-to-use booking system allows users to book tables, get on the guest list, and claim the best deals for a night out. Users can also watch videos and view photos from the weekend and read articles on Jakarta nightlife.
Keywords: bali travel guide pdf, bali travel blog 2020, bali travel advice, travel to bali warnings, bali travel blog 2019, bali itinerary, things i wish i knew before going to bali, travel to bali packages