Goa, India – A guide that will make your trip a marvelous one
Goa, India – A comprehensive Travel Guide
I have spent a big part (8 years and counting) of my wonderful life here in the beautiful state of India, Goa. Living here is Paradise. We grow, we learn and we change and this place has brought some good changes in me over the years.
Facts about Goa
Goa is quite a different a place as compared to rest of India, thanks to the Portuguese influence (~450 years). Life here is laid back. The major professions here are fisheries, mining, and tourism. Goans are quite easy going and friendly.
Goa is one of the richest states of India with per capita income, ~3 times more than India's average and ~7 times more than poorest state Bihar (2017).
Goa is generally relatively safe for tourists however one has to be careful while dealing with strangers. Here are some safety tips while traveling to Goa. The official language of Goa is Konkani, however English, Hindi, Marathi and Kannada are widely spoken.
Why visit Goa?
One of the major reason people travel to Goa is that they want to experience a new world, relax or need a change in their monotonous life.
Goa has made wonderful changes to people and you can also be benefitted.
Find a less crowded beach, book your stay, start the day with yoga or meditation, sit in silence, watch the waves, swim, eat and read some books, know yourself more, feel happy about life
Visit interesting places, try some seafood, spread love to people, make some friends and you will cherish the memories.
If you want to explore a new world or need a change in your life, then this place can help you quench your thirst, be it spiritualism, detoxing yourself, learning yoga, meditation, reiki, tantra, fire groove, dance, zen shiatsu, art, painting, mandala, photography, numerology, Djing, cookery, self-hypnosis.
Goa has tourist from all over the world and they visit Goa and conducts a workshop to earn money. This would be a wonderful opportunity for you to learn something new, something that you can be proud of.
The relaxed vibe, waves, churches, quiet road, laid-back life, temples, parties, sunset, seafood will help your stay a memorable one. It can be a place where your heart will want you to come again.
Weather in Goa

You can visit Goa anytime of the year. There are 4 distinct phases to the Goa weather – summer, monsoons, post-monsoon summer, and then finally, winter.
Tourist season is generally during winter because most westerners find the famous Goan sun a tad too heavy duty for their comfort in summer!
The best time to visit Goa is between November and March when the Goa weather is beautifully balmy & clear with a cool sea breeze blowing through.
How to reach Goa?
You can reach Goa easily by airways, trains, and sea routes.
Nearest Airport: Dabolim International Airport (GOI)
Dabolim Airport is located around 30 km the capital city Panjim. If you want to travel to other parts of Goa from here. You can either take a prepaid taxi at the airport counter or come outside the airport ask for a taxi.
The best things would be to ask the price of the prepaid taxi at the counter and then bargain the price with the local taxi driver. The drivers are usually waiting for a long time to get a passenger and they can take you a little cheaper than the actual rate.
You can also use Goa miles app which is like Ola/Uber in Goa to book taxi. You can find a very good deal (30-40%) reduced price in this app.
If you are traveling alone and do not want to pay the hefty taxi fare then opt for a bus. The bus tickets can be booked at the counter just close to the exit gate or from Red bus website or app or Kadamba Transport. The prices are around 150 INR for AC bus. The buses are limited in numbers and it is not very frequent.
More Read: How to travel from Goa Airport to Panjim/Calangute/Baga/Candolim/Arambol/Palolem
Goa-Nearest Railway Station:
Vasco (VSG)
Madgaon (MAO)
Thivim (THVM)
Karmali (KRMI)
The major train stations in Goa are Madgaon and Vasco. Some trains also stop at Thivim and Karmali. Depending on where you plan to stay, you can choose where to get down.
You can either rent a prepaid taxi or hire a Pilot (see local transport below). There is also bus service from all these railway stations to other parts of the city. You may need to walk a bit from the station to go to the nearest bus station.
For bus routes and stops from the train station, visit the local transport section.
More read: 
You can also take a bus from nearest cities like Mumbai, Bangalore, Hyderabad to come to Goa. There is no need to pre-book your bus tickets well in advance you can get the bus tickets on the same or for ease book before 2-3 days.
Click here to book bus tickets
Please check this link for intra state routes
Please check this link for time table
Where to stay in Goa ?
You can split your trip into North and South Goa. Stay for half the duration in North Goa and rest in South Goa. If you are traveling alone, I would advise you to stay in Hostel. Here I have listed the best five hostel in North and South Goa.
Budget Hostels
Anjuna by Roadhouse Hostels – Rating (8.2/10)
Check review and latest price
Rainbow Lining Hostel Palolem-9.4/10
Check review and latest price
The Noname Guest House Arambol – (9.1/10)
Check review and latest price
OLD Quarter by Hostel Crowd Panjim – (8.5/10)
Check review and latest price
Mid Range Hotels
Fameux Harmal Arambol Beach – (8.5/10)
Check review and latest price
Chill Inn Guest House Anjuna – Rating (8.5/10)
Check review and latest price
Crystal Goa Hotel Palolem Rating  – (8.5/10)
Check review and latest price
Casa Legend Villa Baga & Suite Rating – (8.4/10)
Check review and latest price
If you are coming with a group then, it is best to rent an apartment or villas. You can get a kitchen, swimming pool, and other facilities.
List of Villa in Candolim, Baga, Calangute
Top 3 Adventures To Do in Goa
Places to visit in Goa
Goa attracts millions of tourists around the world because of its serene beach, laidback lifestyle, famous parties and hippy culture. Apart from scenic beaches, Goa is gigantic churches, magnificent forts and beautiful temples.
The Hawai of India, Goa also attracts adventure lovers because of a variety of water sports and trekking opportunities it offers. It is also home to water casinos.
The ideal way to plan your trip would be to
Select places of interest from the list
Localize them in the map
Find a suitable hotel/hostel nearby
Club these places and assign to Day 1, Day 2 and so on
Itinerary for Goa trip
If you are in Goa for 5 or more days then I would advise to split your tour into two – South Goa and North Goa.
The basic itinerary can be as follows
Day 1: North Goa
Stay: Anjuna
Places to see: Have a heavy breakfast, visit Aguada fort, Sinquerim fort, Calangute beach (Water sports). Eat your lunch, take rest and then go to Chaporta fort (Sunset), followed by party at Baga/Anjuna
Day 2: North Goa
Stay: Anjuna
Places to see: You can start your day late, after breakfast visit Reis Magos Fort & Old Goa Church. You can have lunch at Old Goa church, and then go visit places around Panjim, River cruise
Day 3: North Goa
Stay: Anjuna
Places to see: Go to Arambol beach and explore around Arambol, Mandrem beach
Day 4: South Goa
Stay: Palolem
Places to see: If you have enough time to use these two days to relax yourself. Visit Agonda beach, Cabo de Rama fort
Day 5: South Goa
Stay: Palolem
Places to see: Go for scuba diving, island tour, eagle feeding and chill in Palolem beach
Some places you would like to include in your trip can be visiting temples in Ponda, spice garden, a day trip to Dudhsagar waterfalls, Amboli etc.
Places to see Around Panjim
Panaji or Panjim or in Goan tongue Ponji is the capital city in Goa. It accounts for around 8% of the total population of Goa. Panjim lies in the bank of Mandovi river. One of the latest attraction of Goa, the third Mandovi Bridge is also building up in Panjim.
You can spend a day here to look around galleries, church, market, river cruise, and casino.
Our Lady of the Immaculate Conception Church
This church is located next to the busiest shopping area (18th June Road). This Church conducts mass every day in English, Konkani, and Portuguese. It is open from 10:30-12:30 (Morning) & 15:00-17:00 (Evening).
Make sure to wear a proper dress, shorts are not allowed. In the evening and during the night, it is lit up and looks more beautiful. There are many shops around where you can buy souveniers.
Try to bargain (20-30%) when you buy anything. There are restaurants like Kamat Hotel (South Indian), Domino's Pizza, Ritz Classic (Authentic Goa Cuisine restaurant famous for its Fish Thali).
Fontainhas
Fontainhas is an old Latin Quarter in Panjim, capital city of the state of Goa, India. You can call it little Portugal. It maintains its Portuguese influence, particularly through its architecture.
Goa was colonized by the Hindus, Muslims, and Portuguese, the latter leaving the biggest influence here.
Every year, during The Fontainhas festival (February) for one week, the historic houses in Fontainhas are turned into art galleries, with residents displaying their artworks a Goan heritage, unique architectural features of their balconies, and furnishings in their dining halls.
Goa Science Centre
This is a science museum so if you are traveling with kids, you can spend 2-3 hours. It is near the Miramar beach and opens from 10 am to 6 pm.
Planetarium Shows: 11.00, 13.00, 15.00 and 17.00hrs
3D Shows: 10.30, 12.30, 14.30 and 16.30hrs
Mandovi River Cruise
There are multiple companies (Paradise Cruises, Santa Monica, Goa Boat Cruises) that offer an hour river cruise on the Mandovi river. The cost is around 150-300 INR per person. Once you are near the cruise, you will be contacted by several agents that will offer you tickets.
They mostly escort you to the ticket counter and help you with the purchase. They get commission from the cruise company and you will not be paying any extra price. So if you want to help some local men earn some money rather than the cruise company, you can certainly opt for it.
On the cruise, you can enjoy some Goa dance and a beautiful sunset. There is also some DJ floor. You can buy food and drinks on the cruise but it is costly and not worth it. During peak season it gets crowded so try to come early. Cruise starts in the evening around 5 pm, you can easily buy tickets on the spot.
Miramar Beach
The beach is around 3-5 km from the Panjim city. If you enjoy walking, you can take the walk, there is pedestrian path with big trees. It can be pleasant evening walk.
There are many small street food shops you can try provided your stomach is accustomed to the Indian food. You will be a big crowd in this beach because it is near to the city. It is pleasant place in the evening.
There is also a Hanuman Temple next to the beach. This beach also hosts kite festival, sand art festival and some promotional events.
Indian Customs & Central Excise Museum
Goa Custome Museum is not a very popular place but certainly a good one if you want to take a quick tour and want to learn how trades used to happen in earlier days.
It also exhibits some techniques smugglers used to smuggle products from one country to other. The entrance fees is around 10 INR and it is open from 10 am to 5 pm.
Kala Academy
Kala Academy is a prominent cultural center run by the Government of Goa, in Goa, India. Situated at Campal, Panjim, it is registered as a society, and was started in February 1970.
It hosts the famous International Film Festival of India (IFFI). There are events (cultural, theatres, art exhibitions, workshops) happening almost every day.
There are no entrée fees, you can walk in. It also has a jetty and a light house inside with a beautiful small garden. You can get some tea/coffee and enjoy the evening.
Panjim Market
If you have not seen a typical Indian market then you can visit here. It is a big building with vegetable shops on the ground floor and many small shops on the first floor. You can repair your phone, get a sim card, stitch your clothes, buy some grocery etc.
Next to it is also the fish market where the local fisherwomen sell fresh fishes. If you are tourist and interested in Indian culture and lifestyle then you can visit this place.
Dona Paula
This place is more popular because of Bollywood movie shootings. Movies such as Ek Duuje Ke Liye (1981), The Golmaal Series (2006-2010), Honeymoon Travels Pvt Ltd (2007), Singham (2011) has been shot here. Recently people have started calling the Dona Paula jetty as Singham point.
You can spend almost half a day here on sites such as
Dona Paula Jetty: It lies at the spot where the Mandovi and the Zuari rivers meet the Arabian Sea. It provides a magnificent view of the Mormugao harbor. You can also try water sports such as water scooter, parasailing, and boat ride.
Vaguinim Beach: This beach is near a 5 star Cidade Beach Resort. There is also Chances Casino near that property. It is not much crowded and you can spend few hours jogging, swimming and water sports. If you are interested in collections of sea shells, walk 300-400m any side of the beach and you can find plenty. Local boys also play soccer and volleyball in the evening.
Other attraction in this area is CSIR-National Institute of Oceanography and Raj Bhavan.
Other Attractions
Aravalem Waterfalls
It is also known as Harvalalem waterfall and is situated Sanquelim village at a distance of 30 km from Panjim city. You can visit this place by bus/car/rental bike.
You can take a bus from Panjim that goes in the direction of Valpoi and your stop will be Harvale. From the bus stop the waterfall is around 500 m.
The waterfall is in the premise of a 7th Century Buddhist cave. It will be on the way if you are traveling from Panjim to Dudhsagar water fall.
Bhagwan Mahavir Wild Life Sanctuary
This is a protected area in the Western Ghat near Molem National Park. It was declared a wildlife sanctuary in 1969 and renamed as Bhagwan Mahaveer Sanctuary.
It has 722 species of flowering plants and animals such as barking deer, leopard, flying squirrel, pangolim, wild boar and variety of birds and butterflies.
Tambdi Surla is located inside the area of Bhagwan Mahavir National Park. The best way to come here is by car or rented bikes. Public transport is not easily accessible here.
Wednesday Flea Market
This market came up during the hippie culture in Goa around the 1970s. When the hippies burnt their passport and decided not to go home. They ran out of money and started using place place to sell handmade material to finance their stay.
You can buy second-hand bike, camera, handmade jewelry, clothes, tea, spices, precious stone and enjoy some live trans music being played in some of the restaurants.
It opens every Wednesday from 8 AM until usually 7 pm during peak season (October to March). Try to bargain 40-60% when you buy product here.
Saturday Night Market
The bright and loud Saturday night market at Arpora is one of the busiest places in Goa on Saturdays. This is open during the peak season (October to March) and it runs from 4 pm until 1 is.
This market spreads on a huge hill-like territory with numerous stalls. It has lots of entries and exits, though the paths are quite narrow. It is easy to get lost here, so be careful.
There are many live events with artists from all across the globe. You can even find different herbs and spices, crafts, bags, accessories, jewelry, vintage items, rugs, and much more.
You can easily spend 2-3 hours here. There are also many bars with dance floors inside the market.
Spice Garden, Ponda
This place offers a package for around 400 INR where you will have welcome drink, garland, tour of the local garden with information about different spices and enjoy an organic meal on banana leaf.
If you are interested in elephant ride you can do that too. This place is also good for bird lovers.
 North Vs South Goa
The state of Goa comprises two districts, South Goa and North Goa, with the latter being more developed. North Goa can be a bit noisy and crowded where South can be a more relaxed place.
If you are party animal, you can plan to stay around Baga Beach, Vagator Beach, Anjuna Beach, and Calangute Beach in North Goa. There are night party, watersports and street food for you in the North.
If you prefer to just relax and away from the hustle bustle prefer staying in the South Goa. Even if you plan to stay in the South, I would advise to visit North for 1-2 days to see some of the beautiful monuments and forts.
Local Transport in Goa
The best way to commute in Goa is via a bike or rented cars. Public transport here is not very good and to travel 40 km, you may have to change 3 buses and it may take as long as 3 hours. The main bus stand here are
 
 
Panaji Bus Stand
Margao Bus Stand
Ponda Bus Stand
Vasco Bus Stand
Marcela Bus Stand
Mapusa Bus Stand
Saquelim Bus Stand
Bicholim Bus Stand
Assonora Bus Stand
Honda Bus Stand
Cuncolin Bus Stand
Canacona Bus Stand
Shiroda Bus Stand
Curchorem Bus Stand
 
How to Rent a Scooter/Bike/Car in Goa
Goa has thousands of tour operators that give gear or non-gear bikes and car for rent. You can rent on a daily basis or a monthly basis. If you are renting for a day then you may need to keep your passport/aadhar/PAN card with them and advance 1000 INR (bike), 2000-3000 INR (car).
The normal price for active/dio scooter is 300 INR, gear bike 500-700 INR, cars 1000+ INR per day. The prices can be 2-3 fold during December-January.
Most of the time they do not demand a valid license. If you are renting it for a day then no matter when you rent you will have to return it by 9-10 am. If you need to extend it for a day then just call them up and they will do so.
Before you take the bike/car make sure you have all the valid documents (RC book, insurance and up to date pollution certificate) or else you may be in trouble when asked by a cop. In Goa, the pillion rider does not necessarily have to wear a helmet but it is always advisable to wear.
GTDC has also started E-bike tours in Goa. You can view the tours, prices, and details here. GTDC E-Bike Tour Goa
Goa Ferry Timings
There are many ferries available throughout the state and it is mostly free for passengers and bike riders. You will have to pay if you are taking your car (around 10 INR). The routes and timings are
Hop On Hop Off (HOHO) Bus
You can get a ticket for 400 INR either online (book here) or in the bus which is valid for a day.
You can take the bus from any of the 17 stops from 9:00 AM to 6:00 PM
You can hop on (get in) or hop off (get down) at any of this location
The Bus runs every 60 minutes
There are open-top double-decker bus and single-deck bus
Major tourist spots covered are
Catherine Chapel
ASI Museum
Basilica of Bom Jesus
Mandovi River View
Panjim Church
Miramar Beach
Goa Science Centre
Dona Paula
Panjim Market
Casino Point
South Goa/North Goa – Bus Tour
If you do not want to spend too much money on hiring taxi or you are not comfortable driving a scooter then you can opt for North or South Goa Tour packages.
North Goa Tour: It usually starts in the morning around 9 am and ends in the evening around 6 pm covering 6-7 places. The costs are around 300-350 INR with AC bus and a guide.
A typical South Goa tour would take you to Old Goa first and then to few temples around. Since there are more places to see in North, there are multiple north Goa tour covering fort, beaches, lake, water sports.
Private Taxi, Auto Rikshaw (Tuk Tuk), Pilot
The taxi and auto rikshaw doesn't run on meter here and it can be expensive as compared to other cities like Delhi, Bangalore or Mumbai. On an average, you may have to pay 20-25 INR per km for auto or taxi.
If you are arriving at the airport or railway station, there are prepaid taxi stands where you can book your cab. If you are traveling alone, do not hesitate to share your ride. It will be pocket-friendly and also environment-friendly.
Please note that as there are road works going on near Airport and Railway station, going to Madgao or Dabolim from Panjim can take extra hours. So keep some buffer hours available when catching a flight or train.
Click the image to download app
Not many people know that there is also an app named Goa miles which is like Ola/Uber in Goa. You can find a very good deal (30-40%) reduced price in these apps. During the season (December, January), it may not be easy to find taxi in this app as most drivers opt to go private to earn more money. Anyway, you can log on and see if there are taxi available.
There is also a provision to be a pillion rider. You can hire a pilot and ask him to take to places. Pilots can be identified with a bike painted in yellow. They are all authorized with the government and safe and cheap to ride with when you are traveling alone.
If you plan on carrying liquore from Goa: Read these rules
---
Tips and Recommendations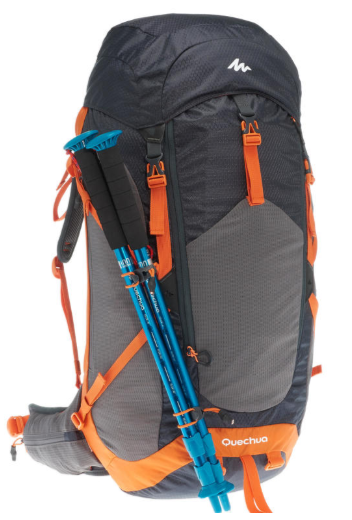 Recommended backpack with built in rain cover
I would strongly recommend having a good backpack. This 40L Quechua backpack is light and comfy with thick padding and it perfectly fits in an airplane's overhead bin.
It has 5 outer 1 inner 1 water compartment 2 waist pockets and comes with 10-year warranty
The best thing is that it has Built-in protective rain cover.
---
Important Things to include in your travel kit
Recommended App and Booking Sites
Flight Booking Sites: I always try to find the best month and city to fly using Sky Scanner and Kayak  and then look out offers in Goibibo, MakeMyTrip and book wherever I found the cheapest deal.
Hotel Booking Sites: I first look for a decently located hostel or hotel in booking.com which has 8+ rating and 50+ review and then check its price in MakeMyTrip and book accordingly. I do find some hotel prices are very high in booking.com and comparatively low at MMT. Hotelscombined also gives a decent deal from time to time.
Adventure Activities: If you do not know about Klook, you are missing a big saving. You can save 20-30% of the ticket price when you book at Klook as compared to booking at the venue.
Trekking Trips: You can join any such group and take part in trekking events. Goa Hiking Association and Youth Hostel Association of India – Goa are popular clubs here for trekking and adventure activities.