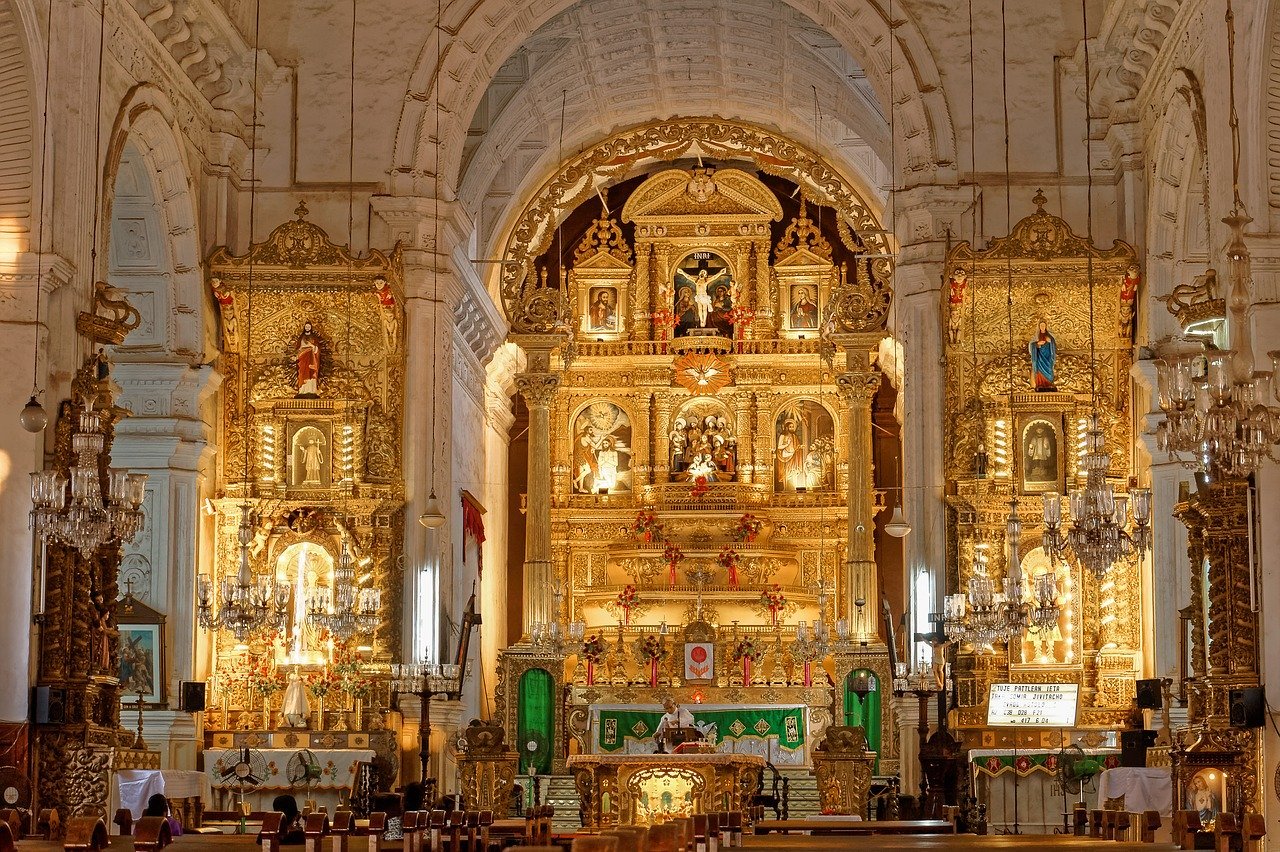 5 Best Churches of Goa (Old Goa and Panjim with timings)
5 Most Famous Church in Goa
Old Goa Church Complex contains four of the most famous church in Goa. If you are taking the HOHO bus you can get down and spend 3-4 hours visiting churches, museum, and shopping. The relics of Saint Francis Xavier is celebrated every year on 3 December.
Bom Jesus Basilica, Goa
It is a is a UNESCO World Heritage Site and holds the mortal remains of St. Francis Xavier. This is one of the oldest churches in Goa and in -India. The church was consecrated in May 1605 by the archbishop, Dom Fr. Aleixo de Menezes. The Basilica of Bom Jesus is more than 408 years old and is open to the public every day. The body is allowed for public viewing in every 10 years.
Opening Hours: Monday to Saturday 9:00 Am to 6:30 Pm
                                   Sundays: 10:00Am to 6:30 Pm
Entry Fee: There is no entry fee to visit the Church
Se Cathedral
Catedral de Santa Catarina or Se Cathedral was completed in 1619 and was consecrated in 1640. There is a beautiful garden surrounding the Cathedral.
Opening Hours: 7:30 am to 6:30 pm except during mass on all days
Entry Fee: There is no entry fee to visit the Church
St Francis of Assisi Church and Museum
St. Francis of Assisi, Goa was constructed during 1517-1521 AD. In 1964, the Church of St. Francis of Assisi in Goa was converted into a museum by the Archaeological Survey of India. In this church remains and paintings of Hindu temple sculptures from Goa were stored. It has great collection of ancient stone and rock sculptures dug up from a local site. Unfortunately photography isn't allowed inside the museum.
The museum is closed on Friday.
St. Cajetan
This church is a part of World Heritage site and is built in the year 1661. It is adjacent to Se Cathedral and located in the Old Goa Church Complex. It is one of the most beautiful churches in Goa.
Opening Hours: Every day from 9.00 am to 7.00pm
Our Lady of the Immaculate Conception Church (Panjim Church)
This church is located next to the busiest shopping area (18th June Road). This Church conducts mass every day in English, Konkani, and Portuguese. Timings: It is open from 10:30-12:30 (Morning) & 15:00-17:00 (Evening). Make sure to wear a proper dress, shorts are not allowed. In the evening and during night, it is lit up and looks more beautiful. There are many shops around where you can buy souveniers. Try to bargain (20-30%) when you buy anything. There are restaurants like Kamat Hotel (South Indian), Domino's Pizza, Ritz Classic (Authentic Goa Cuisine restaurant famous for its Fish Thali).
[wonderplugin_slider id=10]
Read More About Goa
Keywords: famous church in goa dead body, goa church in movies, church in goa where mummy is kept, best church in north goa, church in panjim, churches and convents of goa, church of st francis of assisi velha goa, old goa mass timings tomorrow, old goa novena timings 2020, old goa novena mass timings 2020, old goa mass timings 2020, old goa church contact number, old goa mass timings today, south goa church timings