List of Famous Goa Festivals 2020 – Dates and Location
Goa Festivals And Events
Goa has a lot of festivals and events around the year and the best thing is that almost all of them are free to attend thanks to generous funding from the State Government along with other Art and Cultural Societies. If you are around Goa, then match your travel dates and enjoy the festivals which overlap with your stay here.
Arambol Carnival – February
This is celebrated in a closed group at Arambol. It usually occurs in February. You can also participate in the parade or be an observer. The parade starts in the morning at Arambol beach and ends in the evening. It's a fun-filled day with events like dance, singing, yoga, painting etc.
More information for Arambol Carnival 2019

Shigmotsav – February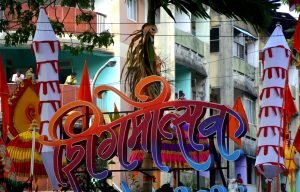 It is celebrated in the month of March, beginning on the 9th moon day to the full moon day. The festival begins with the Naman (song) and the collective obeisance of the villagers. Shigmotsav is celebrated across 5 days, with the gaiety of one-day carnivals that takes place on the main road of Goa, Panjim, Mapusa, Vasco & Margao on each day, they become an eye-pleasing treat for tourists travelling during these months.
Goa Carnival 2019 – March 2-5
Goa Carnival/Goa Carnaval is a Portuguese festival celebrated in Goa headed by the King Momo. It is one of the biggest of its kind in India and is a major tourist attraction in Goa. There is a parade in Panjim/Madgao/Mapusa/Ponda with floats and balloons with cultural dance, music. Every float usually focuses on a theme related to social activities (viz. Smoking, cleanliness etc). It's a fun-filled event and lasts from late afternoon to sunset. There is no entree fee.
Holi (Festival of Colors) – March
Grape Escapade 2019– Biggest Wine Festival of India – April

This festival started in the year 2005 and is organized by Goa Tourism Development Corporation (GTDC). It is one of the biggest festivals for wine and food lovers with huge participation from International and Local winemakers and Goa cuisine lovers. The festival has many live performances and is usually held in Panjim for four days.
Food and Cultural Festival of Goa 2019 – April/May
This is a 4-5 days event celebrated in the month of April or May every year. The event is free and is similar to Grape Escapade in many ways. There will be 60-80 stalls with a variety of food stalls, wines, drinks, and live performances.
Goa Cashew and Coconut Fest – May
Goa Mango Festival – May
This is organized by Goa Agricultural Department mostly at Kala Academy, Campal, Goa. It displays 100+ varieties of Mango along with other Konkan fruits. You can also buy the famous Alphonso mango and other varieties here.
Sao Joao Festival 2019 – June 24

It is a Catholic festival organized every year on 24 June to pay a tribute to St. John the Baptist. During this day, you can see plenty of small ponds being created all around Goa where people take a dip, swim and play around. People usually wear a crown of flowers on this day.
Chikhal Kalo – July
Chikhal Kalo or Chikhalkala is a typical festival celebrated in Goa by Devki-Krishna Devotees. The word Chikhal Kalo means "playing in the mud". It is conducted in Marcel village during the rainy season in the month of July. People plunge in the mud to celebrate this event.

Bonderam Festival – August
Every locality in Goa has a feast and Bonderam is a grand feast celebrated in Divar's Island. The festival kicks off with a Flag parade from the main junction of Divar Island followed by floats, dances, and music in the late afternoon. Divar Island can be accessed by ferries from Panaji. In the night there are also musical events and live performances. The festival usually end around midnight.
Durga Puja in Goa 2019 – 4-8 October
Durga Puja is a grand festival most popularly celebrated in West Bengal. Durga Puja is celebrated here in at the Gomantak Maratha Samaj Hall, Panjim by Bengali Cultural Association from past 38 years. Murgao Durga Puja Samithi also organizes the Durga Puja in Madgaon.

Deepawali/Diwali (Festival of Lights) and Narkasura – 27 October
Diwali in Goa is marked by Narkachaturdashi, in which huge effigies of the demon Narkasura are built and then burnt. This is very common between young boys and they put their hard work to built these Narkasura from scratch. You can view thousands of these effigies all around Goa. Most of them gather at Panjim for a parade and is very popular event which runs till 2-3 am. The best Narkasura gets a prize.
Seredipitidity Art Festival – November/December
There are more events towards the end of the year in Goa. Kicking off the Christmas season is Serendipidity Art Festival celebrating the various forms of arts and cultural workshops and events. Its a week-long festival happening in Kala Academy, DB Grounds and Panjim city. The registrations are free and you can visit this page Serendipidity for more information.
International Film Festival of India (IFFI) – November
If you are a movie buff then you shouldn't be missing this festival. It is one of the biggest film festivals in India with 212 films being screened from 68 countries in 2018. IFFI started in the year 1952 and Goa is proud to host this since 2004. This event has participants from various countries along with many popular Bollywood and Hollywood faces. You can interact with actor/actresses/directors/choreographers. There are also many short movies from young Indians.

St. Francis Xavier's feast – 3rd December
This feast honours the devotion and service by Saint Francis Xavier to Jesus and social work by him. The church and nearby places are beautifully decorated. This day attracts visitors all around the Globe. His 450+ years old body is being displayed every 10 years. The last one was held in 2014 and the next is due on 2024.

---
Read More About Goa
Keywords: goa festival 2020, goa festival 2020 dates, festival of goa carnival, goa festival 2020, wine festival goa 2020, sao joao festival goa