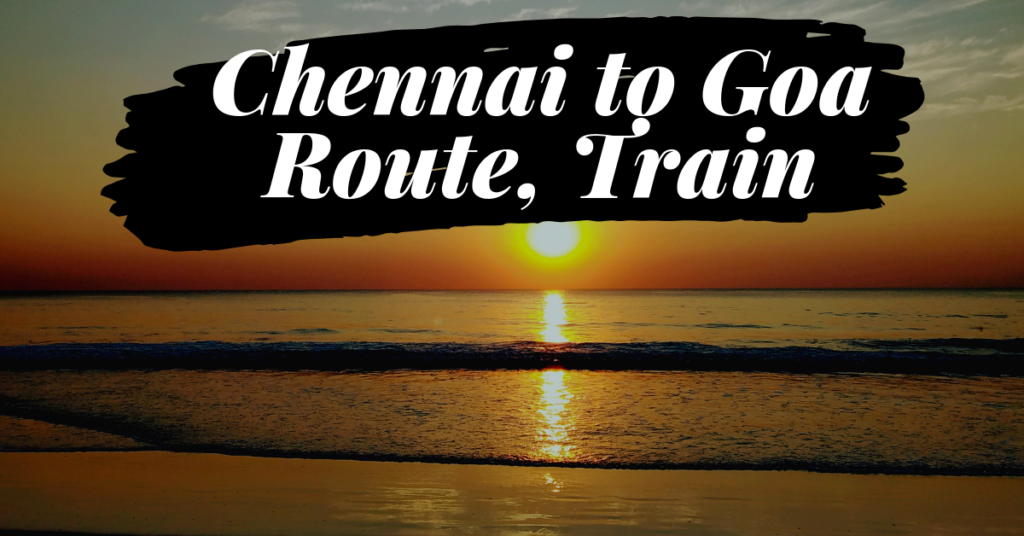 Chennai to Goa Train – How to Get Confirm Ticket Trick
Chennai to Goa – Train
Goa is one of the most popular tourist destinations in India. There is only one train that runs between Chennai and Goa. It has become popular after a Bollywood movie "Chennai Express". Trains going towards Goa are mostly packed during the tourist season and its not easy to get tickets if you do not plan your trip well in advance. This route well connected by bus and flights, so if you do not get seat in train then it will be a wise decision to take the bus or flight.
Distance between Chennai and Goa: 960 Km
---
As of April 2019 fare are as follows
Sleeper (SLP) – (475 INR)
Third AC (3AC) – (1290 INR)
Second AC (2AC) – (1875 INR)
---
Train route 
---
Alternate Route
Since there is only one train, if you don't get a direct ticket, you can take the following route
Chennai –  Bangalore – Goa
Chennai – Hubbali – Goa
Chennai – Mangalore – Goa
Trick to Book Train Ticket without Tatkal
This route is quite busy during the long weekend and on festivals and vacations. Hence, prior booking is advised. If you find there are no availability of seats in the train then you can try for foreigners quota, single ladies quota, tatkal quota or use sites like Confirmtkt to find a confirm or RAC ticket.
You can find Confirm Ticket using Confirmtkt site or app
---
Facts about Goa
Goa is quite a different a place as compared to rest of India, thanks to the Portuguese influence (~450 years). Life here is laid back. The major professions here are fisheries, mining, and tourism. Goans are quite easy going and friendly. Goa is one of the richest states of India with per capita income, ~3 times more than India's average and ~7 times more than poorest state Bihar (2017).
Goa is generally relatively safe for tourists however one has to be careful while dealing with strangers. The official language of Goa is Konkani, however English, Hindi, Marathi and Kannada are widely spoken.
---
Recommended App and Booking Sites
Flight Booking Sites: I always try to find the best month and city to fly using Sky Scanner and Kayak  and then look out offers in Goibibo, MakeMyTrip and book wherever I found the cheapest deal.
Hotel Booking Sites: I first look for a decently located hostel or hotel in booking.com which has 8+ rating and 50+ review and then check its price in MakeMyTrip and book accordingly. I do find some hotel prices are very high in booking.com and comparatively low at MMT. Hotelscombined also gives a decent deal from time to time.
Adventure Activities: If you do not know about Klook, you are missing a big saving. You can save 20-30% of the ticket price when you book at Klook as compared to booking at the venue.
Trekking Trips: You can join any such group and take part in trekking events. Goa Hiking Association and Youth Hostel Association of India – Goa are popular clubs here for trekking and adventure activities.
---
---
Keywords: chennai to goa train 17311, chennai to goa train fare 1st ac, chennai to goa train via mangalore, goa train ticket rates, chennai to vasco da gama train, goa train ticket charge, chennai to goa bus