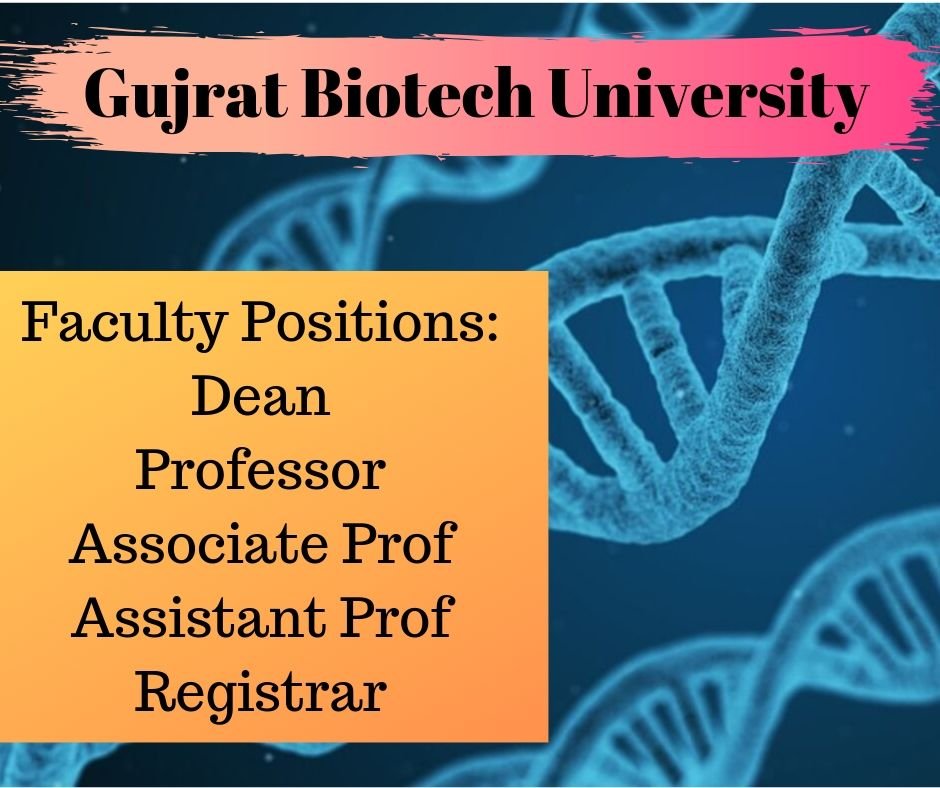 37 Faculty Posts at Gujrat Biotechnnology University
Faculty Positions @ Gujrat Biotechnology University
Gujrat Biotechnnology University is inviting applications for the post of Dean, Professor, Assistant Professor. Associate Professor, and Registrar. The University encourages applications from faculty candidates whose
research is translational and has high potential of product, process or prototype development.
---
Join your social media group to get frequent updates on Scholarships
Whatsapp: https://chat.whatsapp.com/JDietV7uFFhDq4mKzCCWNU
Facebook: https://www.facebook.com/groups/321241531875197/
Telegram: t.me/scholarshiplist
Twitter: https://twitter.com/SaveAndTravel2
---
Details of the Postions
Director/ Dean (No. of Postions – 1)
Professor (No. of Postions – 5)
Associate Professor (No. of Postions – 10)
Assistant Professor (No. of Postions – 20)
Registrar (No. of Postions – 1)
Eligibility Details
Click here to download: 1. GBU office order No. GBU/ADM/20/2019-20/83 dated
31/07/2019 for terms, conditions, educational and experience criteria.
Application Form and Details
Dowload Annexure-I [GBU Syllabus Design Approach] for selecting
Primary / Secondary Discipline
The conduct, discipline and other conditions of the service would be governed according to the principles laid down by the State Government in respective rules and orders till the time GBU enacts its own rules.
Deadline
15/10/2019.
However, applications will be evaluated and processed on rolling basis.
Interested candidates are advised to apply at the earliest.
---
More Faculty Positions
---
Tags: gujarat biotechnology university (gbu), gujarat biotechnology university vacancy 2020, gujarat biotechnology university address, gujarat biotechnology university faculty recruitment, gujarat biotechnology university assistant professor recruitment 2020, government job for biotechnology in gujarat, gujarat biotechnology university gujarat, gujarat state biotechnology mission