Electronic SIM / eSIM in India
What is eSIM?
eSIM or embedded SIM is a hardware that is pre-installed on smartphones (Apple iPhone Xs, iPhone Xs Max & iPhone Xr models) and unlike the normal SIM card, an eSIM chip is re-writable, which means if you want to change the network operator then you just have to erase the old data and install the new one. You will not have to change the SIM card. eSIM is compratively new in India
Which telecom companies are offering eSIM in India?
In India Reliance Jio and Airtel is offering the eSIM facility. Airtel has restricted this facility to only postpaid users where Jio users are free to use both prepaid and postpaid connections.
As per the recent news (April 2019), Vodafone is in talks with Hyundai to launch Hyundai Venue's eSIM which will be used in Hyundai cars. They will soon launch eSIM for mobiles too.
How can I get a new eSIM in India?
You can visit your nearest Jio Store, Reliance Digital or Airtel Store with your Proof of Identity & Photograph to get a new Jio eSIM connection.
To locate your nearest Jio Store, click https://www.jio.com/Jio/portal/storeLocator.
To locate your nearest Jio Store, click https://www.airtel.in/store
How to activate eSIM?
Airtel users can follow this link for detail process.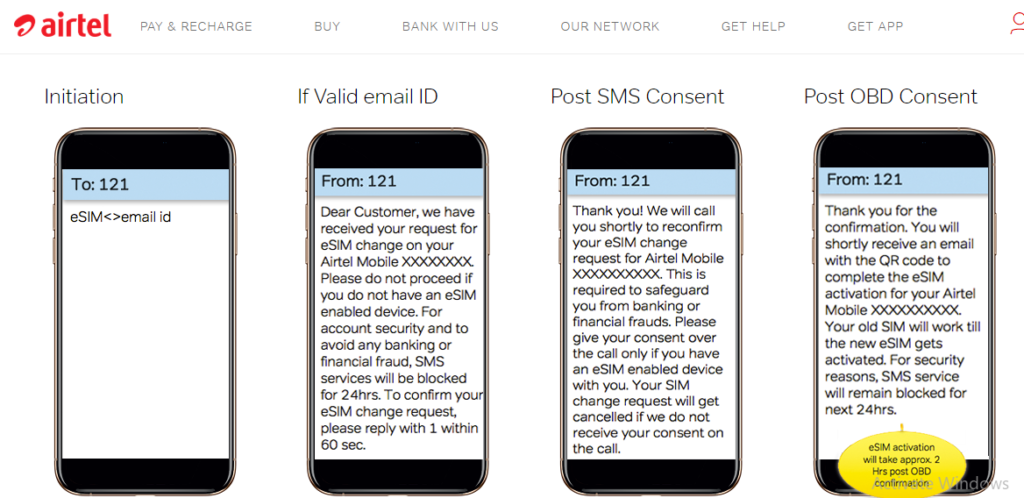 How long does it take to activate eSIM?
It takes usually 5 minutes to an hour to activate the eSIM.
Want to know, what is the best SIM card in India?
Lets first know what are the major telecom companies are
Airtel
Reliance Jio
Idea
Vodafone
BSNL
All of these operators have a 4G network and decent browsing and downloading speed. The first four are private companies whereas Bharat Sanchar Nigam Limited (BSNL) is a government-owned company.
Documents required
Original Passport Photocopy
Visa
Passport picture
Local reference (may not be needed when bought at the airport)
Accommodation detail (may not be required when bought at airport)
Where to get a SIM card in India? (For Foreigners)
Airport: You will be provided with a pre-paid SIM card which means that you will pay in advance for the package you want. This would be the easiest way to get a SIM card. Find the telecom operators near the exit gate of the airport. Provide them with a copy of your passport, visa, and a photograph and the card will be activated in 10 minutes or sometimes an hour. It will cost around 400 INR for a month package.
Local Shops: You can also buy the SIM card for a little cheaper price (300 INR per month) from the local shop. You may require a local referee (an Indian person phone number and address). The operator will call him/her and then your card will be activated.
The prices are around 400 INR and it includes unlimited talk-time, internet, and SMS for a month. Some service providers has an unlimited internet (high speed capped at 1 GB/day and then unlimited low speed) whereas others have a limit of 1-1.5 GB/day which will be more than enough.
How to Activate
Most of the time the SIM card is activated automatically. But the government imposes a change in rules and you may have to call a certain number (59095) and give detail about yourself to activate. Before you leave the shop, ask all the detail on how to activate
Where to Recharge
If you run out of credit on your phone, you might continue to receive incoming calls, but will not be able to make calls or send messages. You can recharge the SIM from a local shop or go to the mobile company page or using apps like Paytm, Freecharge, Google Pay, Flipkart etc.
Which SIM card to opt for
Airtel, Vodafone and JIO have decent networks all over the country. BSNL is often lagging behind on this race and is known for poor network but in many remote places like Spiti Valley, only bsnl connection works. So if you are planning to visit a remote location then do some research and find out which network will best suit you. Some of these statistics will help you choose your perfect SIM card.
Vodafone is topping the list with a total number of 433 million subscribers with tough competition from Airtel.
Network Speed Comparision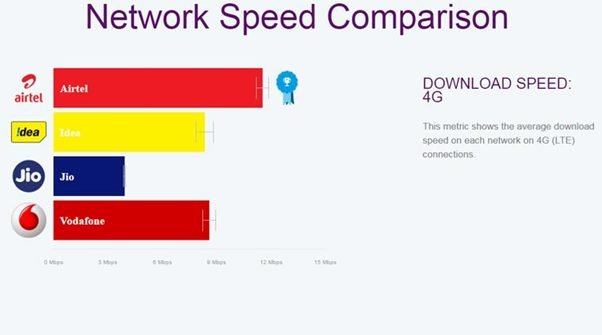 Overall Mobile Network Experience – November 2018 Report – Open Signal
Video Call Comparision
Availability of 4G Signals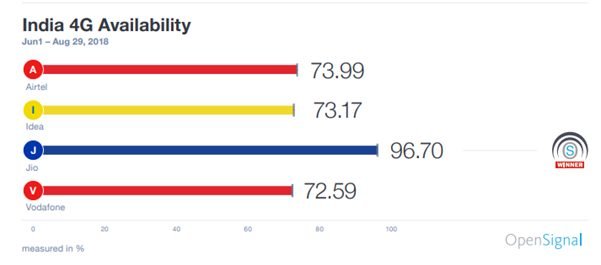 Download Speed of Indian Mobile Networks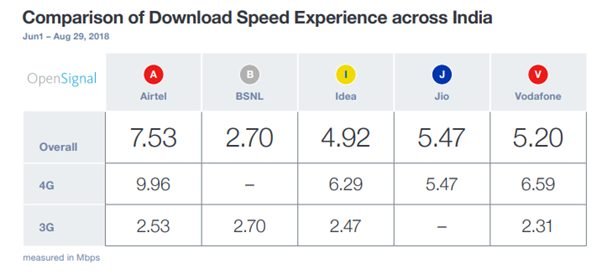 Click here for regional details of the networks
Tips
Roaming is free in India but make sure to enable data usage while roaming on your phone
If your phone is not 4G enabled then don't opt for 4G SIM, rather take 3G SIM
 Your SIM will be deactivated once your visa validity is over
If you run out of internet and need some information (ATM location, currency exchange shop, bus stop) then call just dial (8888888888) and they can help you with the information via a text. They are mediator to connect customers to companies and its free.
Make sure to check if your phone will work in India or not
---
Keywords : how to buy esim in india, jio esim india, esim providers in india, how to get esim in india, idea esim india, esim jio, jio esim plans, airtel esim prepaid, airtel esim prepaid plans, how to activate airtel esim, airtel esim plan, airtel esim to physical sim, how to convert esim to physical sim,  esim supported devices, jio esim india