Goa in June 2020- Amazing Festivals, Places List
Goa in June 2020
Goa weather in June

Goa has a tropical climate and the weather here doesn't change much throughout the year. The temperature in June in Goa is between 25-30°C. Between the months of June and September Goa experiences the monsoon season. During this time, there is heavy rainfall, often accompanied by strong winds. The average rainfall during this time is from 2500 mm to 3000 mm. The humidity, however, is higher this month because of the cloud cover.
---
Tourist in Goa in June
There are very few tourists in June. So the beaches are mostly empty, and you will find almost no shacks on the beach. Goa is greener during this season and more peaceful. All the hotels, resorts, villas offer great discounts during the rainy season and you will also see a huge drop in flight fares.
During this month, you will not see many foreign tourists. However, beaches like  Baga, Candolim, Calangute, and Anjuna are crowded throughout the years, mostly by Indian tourists.
---
Things to do in Goa in June
Beach Parties: Most of the night clubs are closed during this month. However, you can find a few beach parties happening around the city. You can check http://www.whatsupgoa.com/ for upcoming events.
Sao Jao Festival: It is a Catholic festival organized every year on 24 June to pay a tribute to St. John the Baptist. During this day, you can see plenty of small ponds being created all around Goa where people take a dip, swim and play around. People usually wear a crown of flowers on this day.
Dudhsagar Waterfall: You can visit the majestic Dudhsagar waterfall located in Goa-Karnataka border, with an impressive 310m (1017ft) in height and about 100ft in width.
Dudhsagar Waterfall Goa
Tambli Surla Temple: It is a 12th-century temple of the Lord Mahadeva and an active place of Hindu worship. It is notable as the oldest temple in Goa, India. It is placed near Bhagwan Mahaveer Wildlife Sanctuary. Temple is approximately 60 kilometers from Panaji. There is a headless Nandi right at the center of the temple. River Surla flows by the temple. The location is so pristine that you will definitely love to visit the temple not once but several times. The temple is surrounded by rich flora and cascading Tambdi Surla in the background. Some of the nearby most visited places are Bondla Wildlife Sanctuary, Famous Dudhsagar Waterfall. You will not find a good mobile network at this place.
Tambdi Surla Mahadev Temple
Trekking around the Western Ghats: The trekking club in Goa gets active during the monsoon. You can join any such group and take part in trekking events. Goa Hiking Association and Youth Hostel Association of India – Goa are popular clubs here for trekking and adventure activities.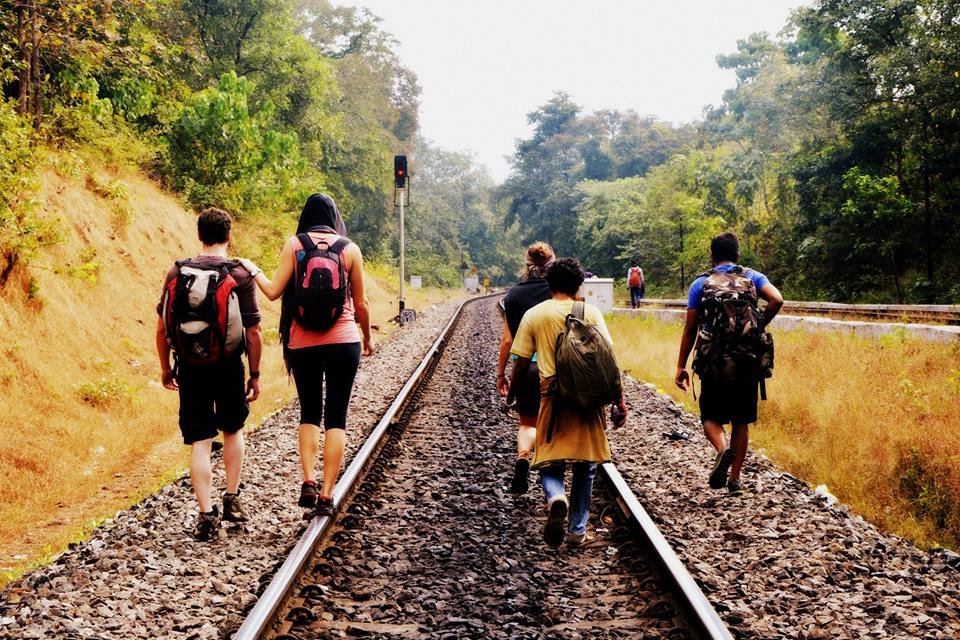 Kayaking: It is usually held along the coast, rivers, and backwaters of Goa in places like Chicalim, Vasco da Gama. This happens throughout the year including the monsoons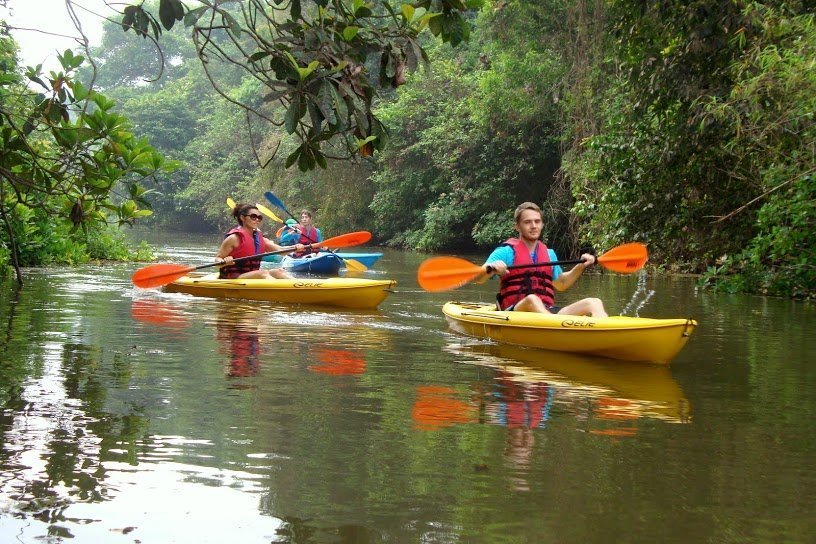 Kayaking in Goa
Klook offers several adventure sports tours in Goa. You can visit their website to find some updated and latest activities to do in Monsoon in Goa.
Goa Water sports in June: Because of heavy rain and the wind, it is not advisable to swim during these months. The water sports are also closed.
---
Recommended App and Booking Sites
Flight Booking Sites: I always try to find the best month and city to fly using Sky Scanner and Kayak  and then look out offers in Goibibo, MakeMyTrip and book wherever I found the cheapest deal.
Hotel Booking Sites: I first look for a decently located hostel or hotel in booking.com which has 8+ rating and 50+ review and then check its price in MakeMyTrip and book accordingly. I do find some hotel prices are very high in booking.com and comparatively low at MMT. Hotelscombined also gives a decent deal from time to time.
Adventure Activities: If you do not know about Klook, you are missing a big saving. You can save 20-30% of the ticket price when you book at Klook as compared to booking at the venue.
Trekking Trips: You can join any such group and take part in trekking events. Goa Hiking Association and Youth Hostel Association of India – Goa are popular clubs here for trekking and adventure activities.
---
Keywords: goa in june weather, goa in june photos, weather forecast goa in june 2020, goa weather in june 2020,  honeymoon in goa in june, goa temperature in june 2020, places to visit goa in june