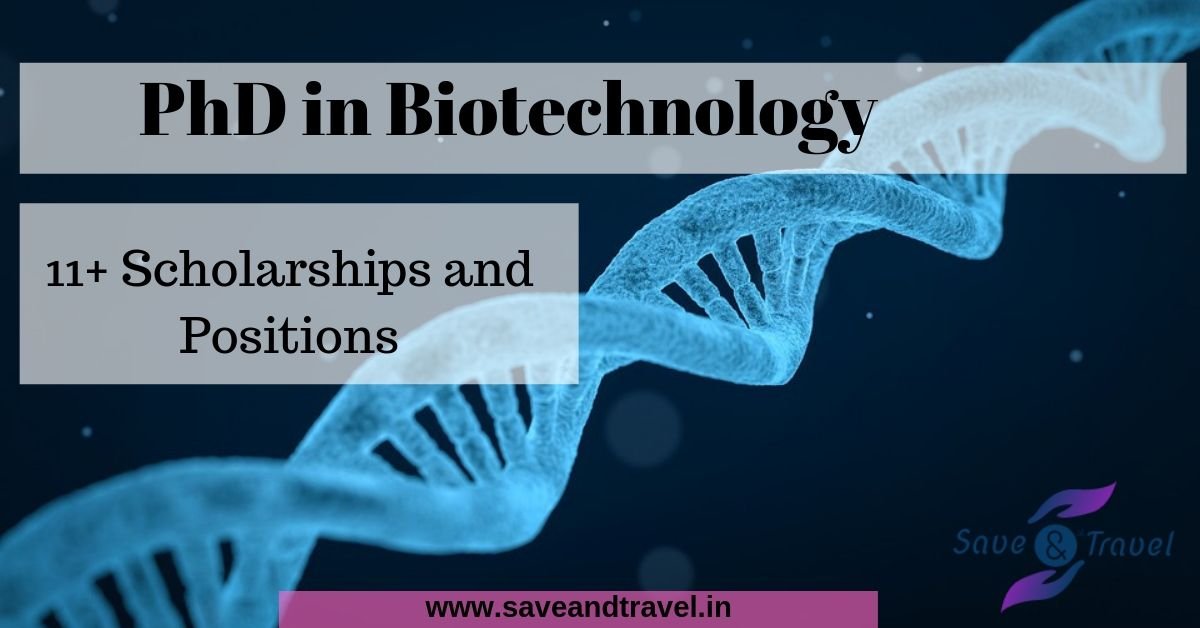 PhD in Biotechnology – 11+ Scholarships and Positions
PhD in Biotechnology
Below are some of the latest Funded/Fully Funded positions for PhD in Marine Science
---
Join our facebook group to get more scholarship updates – Scholarships & Fellowships – Bachelors, Masters, PhD and Postdoc
If you want to get updates on WhatsApp – Join here https://chat.whatsapp.com/FCFXcNjqk3II8oM56yqCJE
---
About the post:
LIFE Farm4More is an EU funded LIFE project led by UCD, that aims to generate novel animal feed products from novel biorefinery and biochar technologies that will allow for climate change mitigation in agricultural animal protein production, to be achieved. To achieve this goal, LIFE Farm4More will redefine how grass-silage and alternative input substrates are used in animal protein production by:
1.) Designing and operating climate mitigating optimal grass-silage fed-Green Biorefinery and biochar technologies.
2.) Produce climate mitigating optimal animal feeding strategies based on extensive animal feeding trials that will be performed on the biorefinery- and biochar- produced animal feed products,.
3.) Develop and apply climate mitigating optimal land management strategies for all biorefinery input substrates that will be sourced.
University/Institute: University of Dublin
Deadline: 19/08/2019
---
About the post:
The project has three components: (1) Creating neoautopolyploid duckweed lineages with different genetic backgrounds (2) Testing the immediate effects of WGD on the survival, fitness and the phenotype (and its plasticity) of duckweed in different environments, and testing whether different environments favour different ploidy levels (3) Evolutionary genomics of polyploid Spirodela polyrhiza, we will follow genomic stabilisation, transcriptional dynamics and proteomic changes after WGD.
University/Institute: Ghent University
Deadline: 01/10/2019
---
About the post:
The Department of Plant Breeding is now seeking a PhD student to the Division of Plant Biotechnology. In the project, the doctoral student will use modern plant breeding techniques, based on CRISPR-Cas9, to introduce targeted edits in the potato's genome with the goal of studying enzymatic and regulatory mechanisms for glycoalkaloids mainly in potato tubers. The work will include genomics, various molecular biology techniques, cell isolation and transfection, tissue culture, greenhouse experiments and analysis of consequences for glycoalkaloidbiosynthesis.
University/Institute: Swedish University of Agricultural Science
Deadline: 11/08/2019
---
About the post:
We are looking for a candidate who is highly motivated to work on a research project focusing on pulsed electric fields applications on biological cells (e.g. microalgae). Targeting the technology readiness level of strategies developed in our laboratory (e.g. nsPEF induced growth stimulation) is a core research focus.
University/Institute: ETH Zurich
Deadline: 22/08/2019
---
About the post:
Despite much effort, it is still not possible to quantitatively predict the effect of changes in amino acid sequence on the kinetics and thermodynamics of the individual mechanistic steps of protein aggregation into amyloid fibrils. The aim of this project is to use a combination of high throughput experimental approaches in protein engineering, protein production and their biophysical characterisation in order to explore the sequence space of protein aggregation at a much larger scale than what has previously been possible
University/Institute: Technical University of Denmark
Deadline: 15/09/2019
---
About the post:
We seek an enthusiastic and motivated candidate for a three-year Ph.D. scholarship in the area of molecular microbiology to study and explore the molecular mechanisms underlying the emergence and spread of MDR/XDR Pseudomonas aeruginosa  clone types.
The PhD position is available in the 'Infection Microbiology group' lead by Lars Jelsbak at the Department of Biotechnology and Biomedicine (DTU Bioengineering). The position will be available from October 1st , 2019 or as soon as possible thereafter.
University/Institute: Technical University of Denmark
Deadline: 19/08/2019
---
About the post:
PhD candidate position in close collaboration with industry (Baekeland mandate) on the development of blood-based biomarkers for the evaluation of intestinal health in broiler chickens Intestinal health of poultry has broad implications for the systemic health of birds, animal welfare, animal performances, food safety, and environmental impact. The gastrointestinal tract has digestive, absorptive, metabolic, immunological and endocrinological functions. In poultry production, major problems are of intestinal origin, including gut inflammation, dysbiosis and intestinal pathogens, including Salmonella and Clostridium perfringens. Besides, also mycotoxins and heat stress have been shown to have severe negative impact on intestinal health. The last decade, a variety of products have been developed as feed additives to stimulate intestinal health. However, in order to diagnose gut health problems and to demonstrate efficacy of these feed additives under experimental and field conditions, efficient biomarkers are necessary.
Therefore, the aim of this PhD project is to develop blood-based biomarkers for the evaluation of gut health in broiler chickens, and subsequently validate these markers using different challenges in combination with different feed additives.
University/Institute: Ghent University Belgium
Deadline: 31/08/2019
---
About the post:
We are looking for a PhD candidate who wants to set the final step in the development of a production process of algal biomass based on 'mixotrophy'. Algal biomass is a potential feedstock for human food and animal nutrition. Mixotrophy refers to the combination of photoautotrophic growth on light and carbon dioxide, and heterotrophic growth based on organic compounds such as sugars.
We seek a candidate who will develop an optimized mixotrophic production strategy of microalgal monocultures based on a tight control of process conditions. The production process developed must be validated under pilot-scale outdoor conditions. Proces development will be based on a rigorous analysis of mixotrophic growth kinetics. Mathematical model simulations will be used to describe the relation between process conditions and microalgal growth in mixotrophically operated photobioreactors. We therefore seek a candidate able to combine engineering principles with microbial physiology and photosynthesis.
University/Institute: Wageningen University and Research
Deadline: 01/10/2019
---
About the post:
Our research group focuses on the neuro-immune interaction between the enteric nervous system and resident macrophages in the context of neurodegeneration in the intestine. We recently discovered a unique resident macrophage population residing in close proximity to enteric neurons with properties of microglia, i.e. they are long-lived, are of embryonic origin and have neuro-protective properties (De Schepper et al., Cell 2018). Depletion of these macrophages leads to loss of enteric neurons in the myenteric and submucous plexus with impaired secretion, dysmorphic submucosal vasculature and impaired intestinal motility.
In the present project, supported by an ERC Advanced grant (starting in September or October 2019), these macrophages will be further characterised and their role will be studied in several disease models of enteric neuro-degeneration and tissue collected from patients, with the ultimate goal to identify novel therapeutic targets and biomarkers.
University/Institute: KU Leuven Belgium
Deadline: 01/11/2019
---
About the post:
Applications are invited for a three year Postgraduate studentship funded by the School of Engineering and Applied Science, to be undertaken within the European Bioenergy Research Institute Research Group (https://www2.aston.ac.uk/eas/research/groups/ebri) at Aston University in collaboration with Stellenbosch University in South Africa.  The successful applicant will join an established experimental group working on bioprocess engineering and applied microbial biotechnology.
University/Institute: Aston University
Deadline: 30/08/2019
---
About the post:
The newly established Single Cell Genomics of Tissue Regeneration lab at CRG Barcelona is looking for a PhD student (biology), who will enrol in the very active CRG International PhD program, which includes science and practical courses, a wide range of complementary skills training, access to many courses, mentoring via a thesis committee, and active participation in the organization of seminars, symposia and retreats.
University/Institute: Centre for Genomics Regulation, Spain
Deadline: 15/09/2019
---
More PhD Opportunities
---
Tags : phd in biotechnology in india, phd in biotechnology eligibility, phd in biotechnology salary, phd in biotechnology duration, phd in biotechnology in usa, phd in biotechnology in germany, phd in biotechnology abroad with scholarship, phd in biotechnology in india 2020