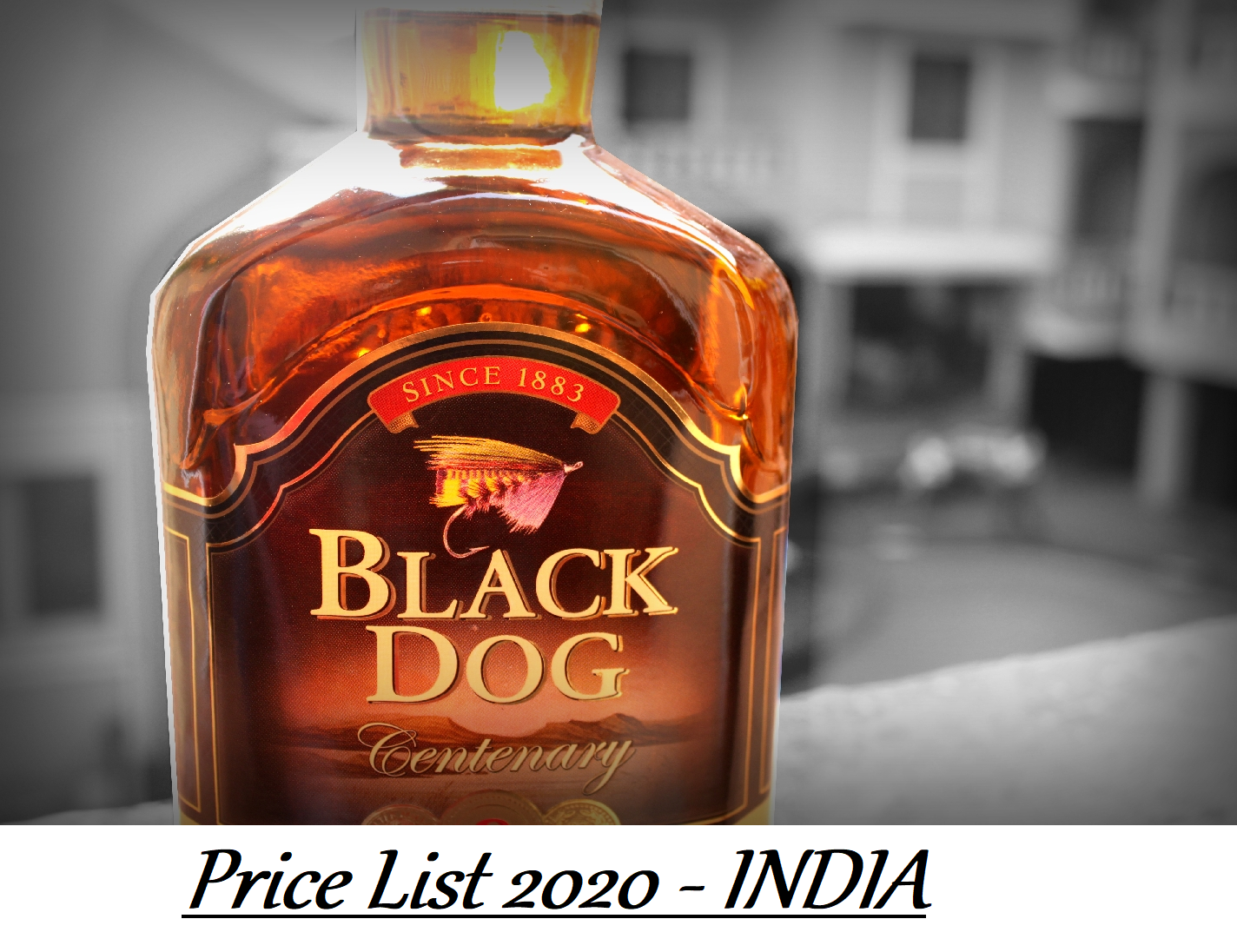 Black Dog Price In India – Updated List
Rs. 432
Rs. 450
in stock
as of March 17, 2020 1:25 pm
Rs. 999
Rs. 1,999
in stock
2 new from Rs. 999
as of March 17, 2020 1:25 pm
Last updated on December 3, 2022 10:40 am
Black Dog Price In India
In this post, I will share a brief detail about Black Dog  Whisky Price in different cities in India different parts of India.
Black dog is a scotch whisky and is manufactured by United Spirits Ltd (USL), a Diageo Group company.
It is one of the fastest growing whisky brand all over the world.
Black Dog Whiskey Alcohol Content – 42.8% ABV (Alcohol By Volume)
It comes in four variations
Black Dog Black Reserve – Aged 8 Years 
Black Dog Gold Reserve Aged 12 Years
Black Dog Reserve Aged 18 Years 
Black Dog Quintessence Aged 21 Years 
The longer the liquor is kept, the higher are the prices
Here are some of the best-hidden offers available at 1 INR @Flipkart – See The List 
Black Dog Price in Delhi – 2020
Name

Volume in ml

Price in INR

BLACK DOG 12 YR OLD SC. WHISKY
60
145
BLACK DOG 12 YR OLD SC. WHISKY
180
445
BLACK DOG 12 YR OLD SC. WHISKY
375
895
BLACK DOG 12 YR OLD SC. WHISKY
750
1790
BLACK DOG 12 YR OLD SC. WHISKY
1000
2390
BLACK DOG CENT. DX SC. WHISKY
60
105
BLACK DOG CENT. DX SC. WHISKY
180
325
BLACK DOG CENT. DX SC. WHISKY
375
645
BLACK DOG CENT. DX SC. WHISKY
750
1290
BLACK DOG CENT. DX SC. WHISKY
1000
1720
BLACK DOG CENTENARY DELUXE AGED AND RARE

BLACK RESERVE SCOTCH WHISKY

60

105

BLACK DOG CENTENARY DELUXE AGED AND RARE

BLACK RESERVE SCOTCH WHISKY

180

330

BLACK DOG CENTENARY DELUXE AGED AND RARE

BLACK RESERVE SCOTCH WHISKY

375

655

BLACK DOG CENTENARY DELUXE AGED AND RARE

BLACK RESERVE SCOTCH WHISKY

750

1310

BLACK DOG CENTENARY DELUXE AGED AND RARE

BLACK RESERVE SCOTCH WHISKY

1000

1750

BLACK DOG DELUXE AGED 12 YEARS GOLD RESERVE

SCOTCH WHISKY

60

145

BLACK DOG DELUXE AGED 12 YEARS GOLD RESERVE

SCOTCH WHISKY

180

450

BLACK DOG DELUXE AGED 12 YEARS GOLD RESERVE

SCOTCH WHISKY

375

905

BLACK DOG DELUXE AGED 12 YEARS GOLD RESERVE

SCOTCH WHISKY

750

1810

BLACK DOG DELUXE AGED 12 YEARS GOLD RESERVE

SCOTCH WHISKY

1000

2410
Black Dog Price in Bangalore – 2020
| | |
| --- | --- |
| Name | Price in INR |
| Black Dog 12 Years Old Deluxe Scotch Whisky 180ML | 723.26 |
| Black Dog 12 Years Old Deluxe Scotch Whisky 2000ML | 7267.18 |
| Black Dog 12 Years Old Deluxe Scotch Whisky 60ML | 240.37 |
| Black Dog 12 Years Old Deluxe Scotch Whisky 750 Ml | 2940.32 |
| Black Dog Aged 21 Years Blended Scotch Whisky 750ML | 12151.98 |
| Black Dog Centenary Aged & Rare Delux Scotch Whisky 180ML | 493.96 |
| Black Dog Centenary Aged & Rare Delux Scotch Whisky 2000MLx6Btls | 4946.57 |
| Black Dog Centenary Aged & Rare Delux Scotch Whisky 375ML | 1015.12 |
| Black Dog Centenary Aged & Rare Delux Scotch Whisky 60MLx150Btls | 162.43 |
| Black Dog Centenary Aged & Rare Delux Scotch Whisky 750ML | 2030.26 |
| Black Dog Centenary Aged 8 Years Delux Scotch Whisky 180ML | 493.96 |
| Black Dog Centenary Aged 8 Years Delux Scotch Whisky 60ML | 162.43 |
| Black Dog Centenary Black Reserve Aged & Rare Blended Scotch Whisky 1000x9Btls | 2611.30 |
| Black Dog Centenary Black Reserve Aged & Rare Blended Scotch Whisky 180ML | 493.96 |
| Black Dog Centenary Black Reserve Aged & Rare Blended Scotch Whisky 2000x6Btls | 4946.57 |
| Black Dog Centenary Black Reserve Aged & Rare Blended Scotch Whisky 375ML | 1015.12 |
| Black Dog Centenary Black Reserve Aged & Rare Blended Scotch Whisky 60MLx150Btls | 162.43 |
| Black Dog Centenary Black Reserve Aged & Rare Blended Scotch Whisky 750ML | 2030.26 |
| Black Dog Centenary Black Reserve Aged & Rare Blended Scotch Whisky-PET | 162.43 |
| Black Dog Deluxe Gold Reserve Aged 12 Years Blended Scotch Whisky 180ML | 723.26 |
| Black Dog Deluxe Gold Reserve Aged 12 Years Blended Scotch Whisky 2000x6Btls | 7267.18 |
| Black Dog Deluxe Gold Reserve Aged 12 Years Blended Scotch Whisky 375ML | 1472.05 |
| Black Dog Deluxe Gold Reserve Aged 12 Years Blended Scotch Whisky 750ML | 2940.32 |
| Black Dog Reserve Aged 18 Years Scotch Whishy 750ML | 6387.98 |
| Black Dog Triple Gold Reserve Blended Scotch Whisky 1000MLx9Btls | 3919.81 |
| Black Dog Triple Gold Reserve Blended Scotch Whisky 180ML | 723.26 |
| Black Dog Triple Gold Reserve Blended Scotch Whisky 2000MLx6Btls | 7267.18 |
| Black Dog Triple Gold Reserve Blended Scotch Whisky 375ML | 1472.05 |
| Black Dog Triple Gold Reserve Blended Scotch Whisky 60MLx150Btls | 240.37 |
| Black Dog Triple Gold Reserve Blended Scotch Whisky 750ML | 2940.32 |
| Black Dog Triple Gold Reserve Celebration Edition Blended Scotch Whisky 750ML | 3096.30 |
More From The Author
Keywords: black dog whisky price, black dog price in punjab, black dog whisky price in delhi, black dog mumbai, black dog kolkata, black dog price goa, black dog quarter price, black dog price in gurgaon, black dog price in kerela, black dog 750 ml price, black dog gold price in delhi, black dog price in up