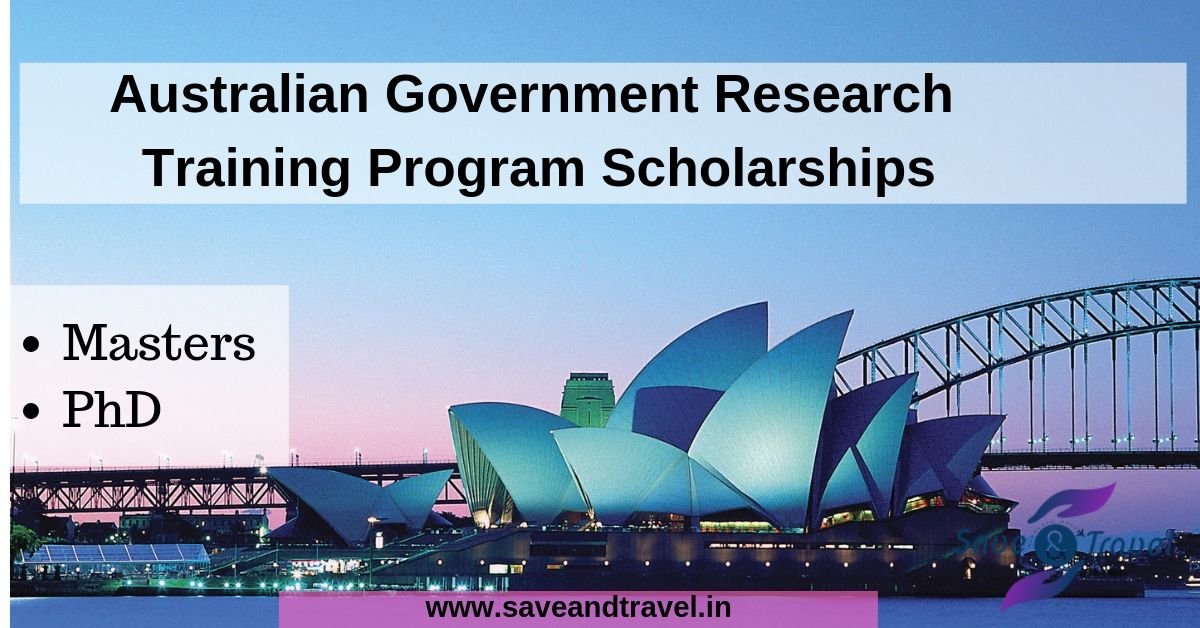 Australian Government Research Training Program 2019
Australian Government Research Training Program Scholarships
The Research Training Program (RTP) Scholarships are provided by the Australian government to support both domestic and international students undertaking postgraduate research degrees.
While applications are open all year round, it is recommended that you submit your HDR admission by October to receive an outcome by February.
---
Join your social media group to get frequent updates on Scholarships
Whatsapp: https://chat.whatsapp.com/JDietV7uFFhDq4mKzCCWNU
Facebook: https://www.facebook.com/groups/321241531875197/
Telegram: t.me/scholarshiplist
Twitter: https://twitter.com/SaveAndTravel2
---
RTP Scholarship (Domestic)
Types of scholarships
RTP Fees Offset Scholarships: offered to domestic students with an unconditional offer to undertake a higher degree by research course at the University of Sydney. This scholarship is supported by the Australian government and provides tuition fees.
RTP Stipend Scholarships: awarded to students of exceptional research potential to undertake a higher degree by research at an Australian university. These Australian government scholarships are provided to assist with general living costs.
University of Sydney Postgraduate Awards (UPA): similar to the RTP Scholarships in terms of tenure and benefits. Eligible RTP applicants are automatically considered for these awards.
Find out more about the RTP Scholarship (Domestic).
---
RTP Scholarship (International)
Types of scholarships
RTP Scholarship scheme: funded by the Australian Government, this scholarship provides tuition fees offset and stipend to high quality international postgraduate students who wish to enrol in a research degree at Australian universities. Applications are assessed on academic merit and research potential.
University of Sydney International Scholarship (UsydIS): this also covers tuition fees and provides a stipend. Those under consideration for an RTP Scholarship will automatically be considered for a UsydIS Scholarship.
Find out more about the RTP Scholarship (International).
Fellowship Amount
Holders of the Scholarship who enrol full time receive a stipend of $27,596 per annum, indexed annually on 1 January.
A student who relocates from countries outside Australia to take up the Scholarship may claim a relocation allowance. The value of the allowance is up to $1,250 travel from their home country to Sydney at the commencement of studies and up to $1,250 for travel to return to their home country after successful completion of studies.
Students who had commenced their postgraduate research degree studies in Australia prior to the scholarship being awarded are not entitled to claim relocation allowance for travel to Australia. Students who become a permanent resident of Australia are not entitled to claim travel allowance to return to their home country.
Reimbursement of up to $420 for Masters candidates and up to $840 for Doctoral candidates will be made for eligible claims for direct costs of producing a thesis in accordance with the University's thesis allowance claim information. The claim must be lodged with the Higher Degree by Research Administration Centre (HDRAC – hdrac.scholarships@sydney.edu.au) within one year of submission of the thesis and no more than two years after termination of the award. Costs associated with printing a thesis are not eligible as printed thesis is no longer required for submission and examination.
Holders of the Scholarship may receive a concurrent award, scholarship or salary to undertake their research degree provided such award, scholarship or salary provides a benefit less than 75% of the Scholarship. The Scholarship will be terminated if this limit is exceeded. Salary for work unrelated to the student's research is not subject to this limit.
How to apply
You can apply for these scholarships at any time of the year, as scholarships are awarded all year round.
To be considered for a scholarship, you must:
complete your application for admission in postgraduate research to the relevant faculty, and select the checkbox to be considered for research scholarships
ensure your application includes all relevant supporting documents, referring to the RTP/UPA applicant information pack and research experience guide and evidence template (see related documents below).
If you are a current student at the University of Sydney, you will need to apply for the scholarship here.
Unsuccessful applicants are encouraged to reapply if their situation changes (such as the publication of an article or further related professional experience).
---
More PhD Opportunities
---
Tags: australian government research training program (agrtp) stipend scholarship, research training program 2020, rtp scholarship usyd, commonwealth scholarships guidelines (research) 2020, rtp guidelines, rtp scholarship 2020, research training program scholarship unimelb