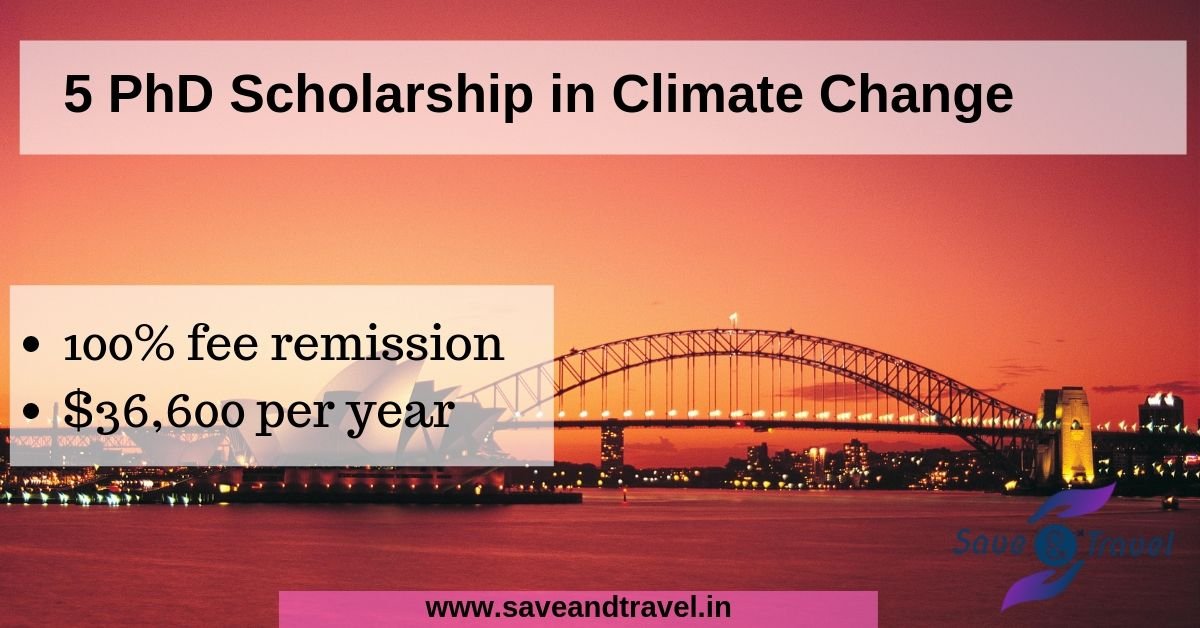 5 PhD Scholarships in Climate Change Adaptation in Low-Lying Islands
5 PhD Scholarships in Climate Change Adaptation in Low-Lying Islands
These PhD scholarships form part of an Australian Research Council Laureate Fellowship project called Future Islands: Catalysing Solutions to Climate Change in Low-Lying Islands.
---
Join your social media group to get frequent updates on Scholarships
Whatsapp: https://chat.whatsapp.com/JDietV7uFFhDq4mKzCCWNU
Facebook: https://www.facebook.com/groups/321241531875197/
Telegram: t.me/scholarshiplist
Twitter: https://twitter.com/SaveAndTravel2
---
The Future Islands project aims to provide a substantial body of knowledge on climate change adaptation in low-lying islands, offering solutions to create possibilities for people on those islands to continue to live dignified, meaningful and autonomous lives in the future. Over a period of five years, the project will build a body of comparative evidence about climate change adaptation practices and a theory that explains the socio-political factors that facilitate these adaptation practices.
The PhD projects which these scholarships support will be self-contained, whilst also being an integral part of the wider project. There is sufficient flexibility within the wider project to enable the candidates to develop an original contribution along avenues of their choosing. Appropriate topics, concepts, approaches, methods, and analytical techniques will be developed during the first year of the candidature.
BENEFITS
The scholarships include a 100% fee remission scholarship, a living allowance of $30,600 per year for three years, with a possible 6-month extension, and funding for research fieldwork and conference travel.
The PhD candidates will be based in the School of Geography at the University of Melbourne, Australia's largest geography program. They will be part of a lively and supportive postgraduate community and will be an integral part of a dynamic and supportive research team working on the Future islands project. The School has an outstanding research culture, multiple seminar series and reading groups, and it regularly attracts high profile international visiting fellows.
The principal supervisor for the PhD Projects will be Professor Jon Barnett. Staff within and beyond the School of Geography will be secondary supervisors, according to the specific interests of the candidates.
SELECTION CRITERIA
Applicants must meet the University's eligibility requirements, which are completion of a Bachelor Degree with First Class Honours, or a Master's degree with a substantial research component, or be regarded by the University of Melbourne as having an equivalent level of attainment. Applicants must intend on undertaking a full-time research higher degree, and will be required to spend at least the first and last 12 months of study based in Melbourne.
Strong preference will be given to applicants from Kiribati, the Maldives, the Marshall Islands, Tokelau, the Torres Strait islands, and Tuvalu.
It would be advantageous to have the following skills (or a strong interest in developing them): experience of social science fieldwork and methods (especially interviews, participant observation and surveys), interest and preferably experience in the field of climate change adaptation. Well-developed written and oral communication skills are also required. We encourage applicants with training in one or more of the following areas to apply: anthropology, demography, development studies, economics, finance, human geography, migration studies, political science, sociology, or similar fields.
FURTHER INFORMATION
We strongly encourage prospective applicants to discuss their research interests and project ideas by contacting Jon Barnett (including a CV and a copy of academic transcripts) via email at jbarn@unimelb.edu.au before the end of August 2019.
SUPERVISOR: A/PROF DAVID BISSELL AND DR ILAN WIESEL
---
More PhD Opportunities
---
Tags: phd scholarship in australia for international students 2020, phd scholarships australia for permanent residents, how to get a phd in australia, phd scholarships australia 2020, phd in australia for indian students, fully funded phd in australia for international students, australian scholarships for international students 2020