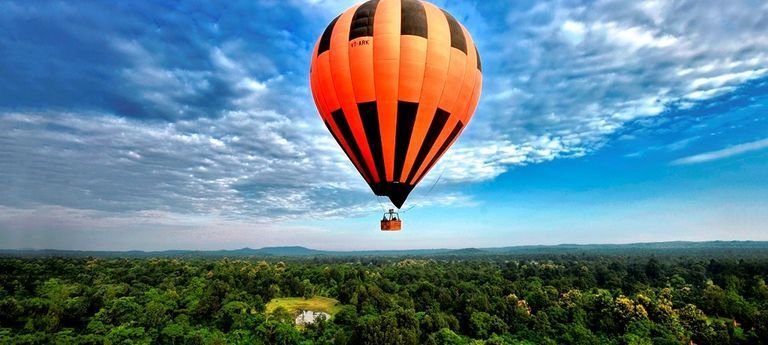 12 Adventure Sports in Goa – (updated list 2020)
Apart from various places to visit in Goa such as Churches, Beaches, and Beach Parties, Adventure Sports are one of the most common things to do in Goa. The state has added several new adventure activities to the existing list of Goa attractions that make it one of the most popular destinations in India. Below are some popular adventure sports you can try when you are in Goa
1. JetPack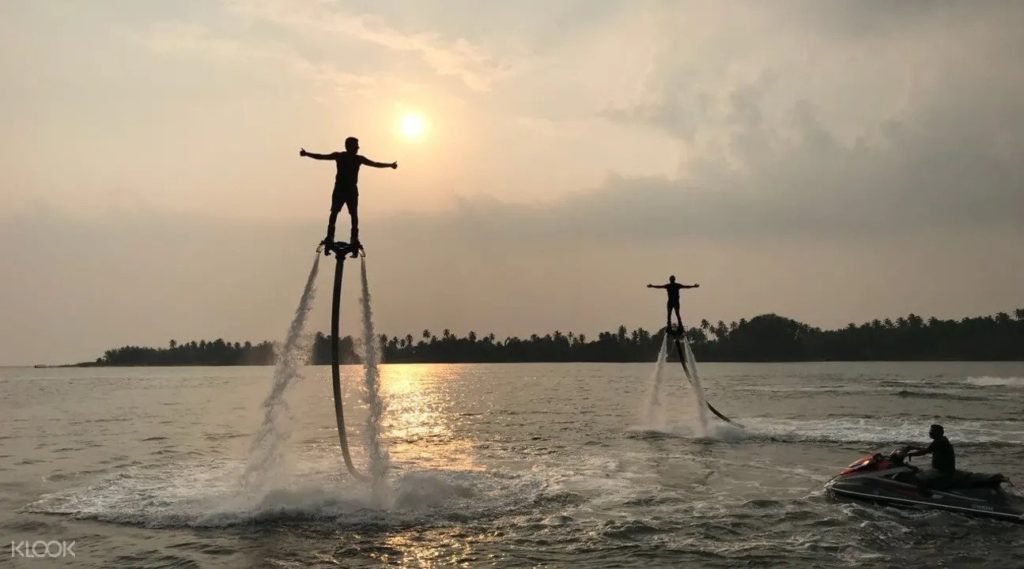 Love doing water sports and want to try something different from surfing? In Goa, you can hydrofly up into the air with this one-of-a-kind Flyboard experience! Learn from a one-on-one session with a certified and experienced trainer and you'll be soaring over Chopdem Jetty in no time.
While Flyboarding, you can also take in beautiful views high up in the air. Make sure to bring a camera because you're sure to want to capture this memorable experience and take amazing Flyboard shots that you can brag about to your loved ones. This is definitely a must-do in Goa for those who love adventures and sports!
2. Dolphin Tour
Sail the magnificent Arabian Sea on a one-hour dolphin-watching cruise and see these graceful mammals up close in their natural habitat.
Make sure to bring your camera along and have it ready to make videos of dolphins dancing in the water. On this short but very picturesque voyage, you will also sail by the prison at Fort Aguada, Lighthouse and Millionaire's Palace, Candolim beach and Calangute beach.
Your trip is complete with pick up and drop off from Calangute, Baga and Candolim, bottled drinking water onboard the boat and an English speaking guide who can tell you more about dolphins' habits and make sure you head to the places where you can see them for sure.
3. Water Sports Package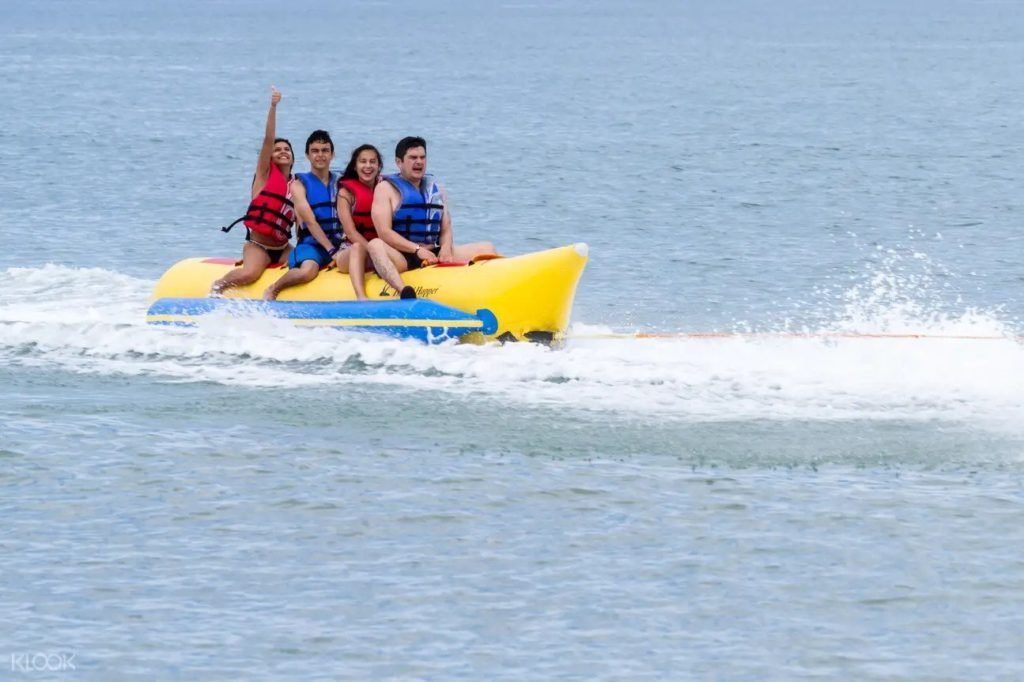 It is always good to buy a package then opting for individual sports. This package includes
Go for a 5-in-1 water sports package in Goa and save loads of money on your booking
Engage in a range of water sports and activities like parasailing, jet ski, banana ride and more
Get detailed insight, basic techniques and safety measures from an experienced professional
Don't worry about bringing any equipment as all the needed gear will be provided on the spot
4. Scuba Diving with Water Sports
The blue waters and the refreshing cool breeze make Shiroda Beach one of the best places for scuba diving and other water sports. Head to this stunning beach in Goa – or travel via the hotel pick up if you're staying in one of the service areas – and soak in the surroundings that are filled with coconut and palm trees.
Once you're settled, meet your English-speaking instructor and put on the necessary equipment for your scuba diving experience. Listen carefully so that you can enjoy this 20-minute adventure as much as possible. After fuelling up with the snacks and drinks, you're free to try a number of water sports that include bumper rides, jet skiing, and more.
Have a delicious lunch that has vegetarian and non-vegetarian options, then head out for a thrilling jeep safari! This itinerary is designed so you can have the most fun possible on this experience in Goa, so book now and don't miss out.
5. Party Boat Adventure Trip
Check here more details and prices
Go on the ultimate water adventure in Goa with a 3-hour voyage on a catamaran party boat. On this exciting trip, you will get to try the best of what beach life has to offer: stunning sea views, a dance floor with live music and a variety of water activities like snorkeling, kayaking, sailing and more.
There are two time slots for your marine adventure: set off at 10am or 2.30pm. Board the catamaran and let the fun unravel: start by watching dolphins in the water, try your hand at fishing or hop off for a refreshing swim or a scenic snorkel.
Go in for a thrilling session of sailing, kayaking, a speedboat ride or stand up paddle boarding. Relax and unwind with live music and a delicious lunch served onboard before a drop off at Captain of Ports Jetty.
6. Hot Air Balloon

Check here more details and prices 
This is the most thrilling way to get unmatched views of Goa's gorgeous natural landscape! Before you hop on, you'll register on site and get a safety and trip briefing from your English speaking pilot. Then you'll get the opportunity to help in inflating the same balloon you'll be flying in.
As you gently leave the Earth, enjoy how light the balloon feels and the height will give you 360-degree views, giving you breathtaking photographs. Your pilot will explore a variety of altitudes, up to 900 feet in the air for a marvelous overview of romantic experiences in goa Goa.
You'll also hover just under 400 feet from the earth where you are able to see the sights and sounds of the beautiful state. Throughout your flight, our earth crew follows your balloon over earths and roads to ensure your safety and also so that they can be ready and waiting for you upon landing.
Upon landing, you get a certificate to commemorate your flight, and you can even assist in deflating the balloon! Truly an unforgettable experience in Goa.
7. Windsurfing
Check here for Details and Price
If you're looking for a new experience to tick off your bucket list, then this exciting package is perfect for you. Unleash your inner adrenaline junkie and take on this fun-filled windsurfing adventure in Goa! Begin your adventure with a quick meet up with your friendly instructor.
Make sure to listen to all the safety instructions and tips during your windsurfing lesson before heading straight to the ocean. Enjoy the thrilling waves of the Arabian Sea with this activity that combines the elements of surfing and sailing.
Witness the panoramic views of the surrounding beaches as you surf solo or share the activity with your family and friends.
8. Eagle Feeding in Palolem
You can experience this at Palolem beach. The boat usually cost 500-800 INR for 4-5 person and it takes around 1-1.5 hours.
9. Wild Life Experience
If you are into bird watching and wildlife, then you can book this tour. It can accommodate 4 people.
10. Dudhsagar Waterfall Trekking
Check here for Details and Price
Enjoy an exhilarating day in Goa and challenge yourself in this trekking experience at Dudhsagar Waterfalls. Also known as Sea of Milk, the falls is known for its breathtaking tiers of milk-like streams of water coming from the Mandovi River. For a fun and hassle-free experience.
You'll be picked up straight at your accommodation and be taken at Collem base camp to start your journey. You'll then begin your exploration with the help of your accommodating and professional guides. Prepare to be in awe of Goa's natural beauty as you pass by verdant forest trails as well as exciting tracks that will challenge your wit and physicality.
Once you've reached the waterfall, you'll be rewarded by its majesty as well as a sumptuous lunch prepared by your guide! You'll be dropped off at your hotel after this activity to end your day on a high note.
11. Kayaking in Goa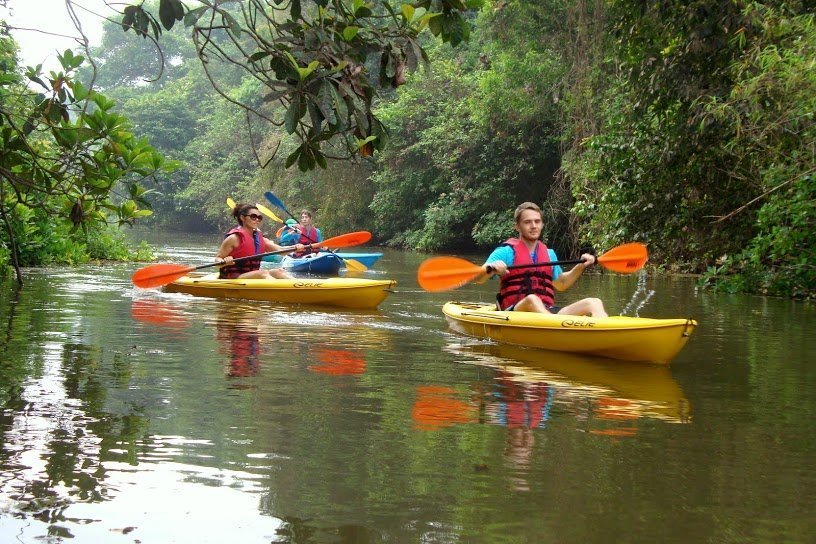 Click here for Details and Price
Head out for a relaxing kayaking experience on the calm waters of Goa. Meet your professional English speaking instructor for a safety orientation before boarding your kayak and exploring the area.
Located near notable beaches like Calangute, Baga, and Palolem, the activity offers plenty of opportunities for discovering the beauty of the Indian countryside.
Take your family and friends on this unique side trip experience and take a quick break from the hustle and bustle of the tourist hotspots in the city.
If you want to do it individually without a guide then you can get at Palolem near Samsons' Kiosk.
12. Bungee Jumping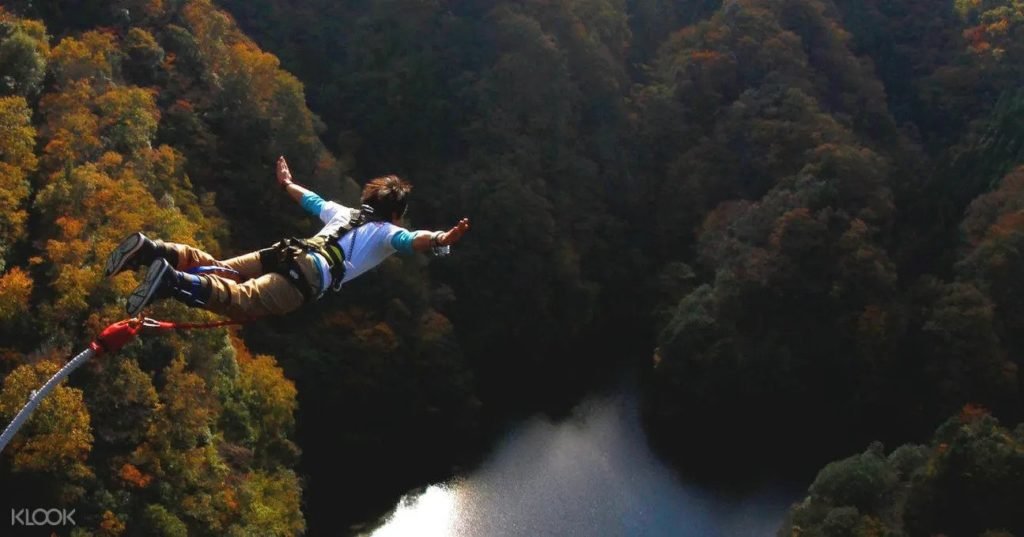 After partying at the beaches of Goa and swimming in its cool waters, add thrill to your vacation and try this bungee jumping activity! This exhilarating experience by Sea Water Sports will allow you to jump from a 25m tower while you enjoy the view of a verdant forest.
It is also known as one of the tallest water-dipping bungee jumps in the world, so you're sure to have an adrenaline-fueled day. No need to worry about your safety as the staff members of Sea Water Sports are extreme adventure sports experts from both New Zealand and Australia.
After facing your fear of heights, you can then share a couple of drinks with your fellow daredevils before heading home. Round trip transfers and souvenir photos are included as well, so you're sure to have a memorable experience.
Read More About Goa
---
Keywords: goa water sports price 2020, goa adventure price, adventure activities in goa with price, goa adventure tour package, goa water sports package price 2020, goa adventure club, water sports in goa in april, goa water sports package price 2020, parasailing in goa price 2020, scuba diving in goa price, dudhsagar package Goa