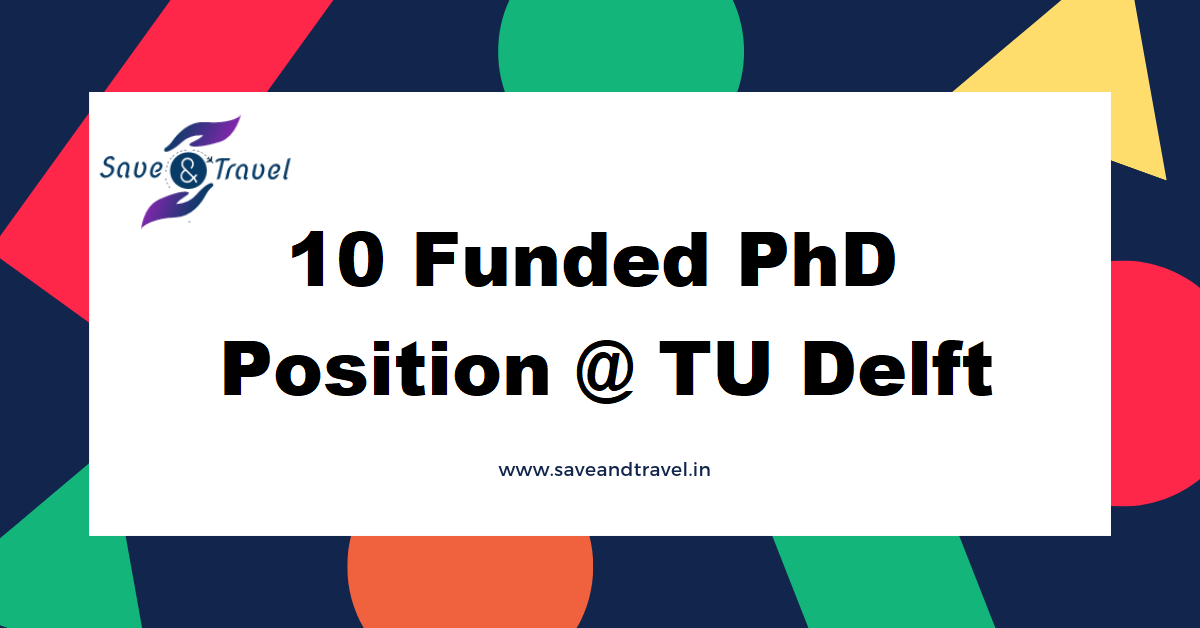 10 PhD positions @ TU Delft Netherlands
Department/faculty: Faculty Architecture & the Built Environment
Level: University Graduate
Working hours: 32-40 hours weekly
Contract: 4 years
Salary: 2325 euros monthly (full-time basis)
---
Join our social media group to get frequent updates on Scholarships
Whatsapp: https://chat.whatsapp.com/JDietV7uFFhDq4mKzCCWNU
Facebook: https://www.facebook.com/groups/321241531875197/
Telegram: t.me/scholarshiplist
Twitter: https://twitter.com/SaveAndTravel2
---
More information on the PhD terms of contract at the ten academic institutions, on specific themes that are addressed and on the secondments that will take place within this network, can be found on: https://tacit-knowledge-architecture.com/.
Requirements
We are looking for motivated young researchers with a background in architecture, landscape architecture, urban design, architectural and urban theory, or related disciplines. Candidates should have the following qualifications:
a Master's degree in architecture, landscape architecture, urban design, architectural theory, or related disciplines
affinity with research in architecture, as demonstrated by research papers, journal articles or other research output or contributions to architectural culture
willingness to work at the interface of academia and design-led research
experience in architectural design practice is desirable
willingness to work and move in an international academic network
excellent English oral and writing skills
Interviews will be held between 2 and 13 December 2019. The PhD projects will commence on March 1, 2020. Candidates are expected to be available to commence work on this date. After the selection procedure, PhD candidates will be located at one of the academic partner institutions for the entire duration of the PhD. They will be employed according to the conditions of that academic partner institution.
For additional information see: https://tacit-knowledge-architecture.com/phd-conditions-at-academic-partners-institutions/
According to EU regulations, researchers must not have resided, worked or studied in the country of the academic partner institutions for more than 12 months in the last 3 years.
Conditions of employment
The TU Delft offers a customisable compensation package, a discount for health insurance and sport memberships, and a monthly work costs contribution. Flexible work schedules can be arranged.
Coming to Delft Service organizes diverse events for new international employees and their accompanying partners, like Partner Career Workshops and Dutch Culture Workshops. Located on campus are the International Children's Centre and an international primary school which are subject to availability as well as several bilingual schools in the nearby surrounding.
Salary and benefits are in accordance with the Collective Labour Agreement for Dutch Universities.
As a PhD candidate you will be enrolled in the TU Delft Graduate School. TU Delft Graduate School provides an inspiring research environment; an excellent team of supervisors, academic staff and a mentor; and a Doctoral Education Programme aimed at developing your transferable, disciplinerelated and research skills. Please visit www.tudelft.nl/phd for more information.
Information and application
For information on the procedure or the PhD positions, please e-mail: janina.gosseye@gta.arch.ethz.ch
To apply, please submit the following information/documents via the online platform:
a full CV (including contact details for at least two academic referees plus marks/grades achieved on current courses)
a 1500-word position paper which outlines your interest in researching tacit knowledge in architecture and gives an indication of your three preferred subthemes (e.g. Horizons, Codes, Values, …)
a copy of your diplomas
---
More Oppurtunities
---
Tags: tu delft phd salary, tu eindhoven phd vacancies, tu delft phd admission, tu delft student jobs, tu delft cfd phd open position, tu delft, tu delft phd scholarship, tu delft find a phd