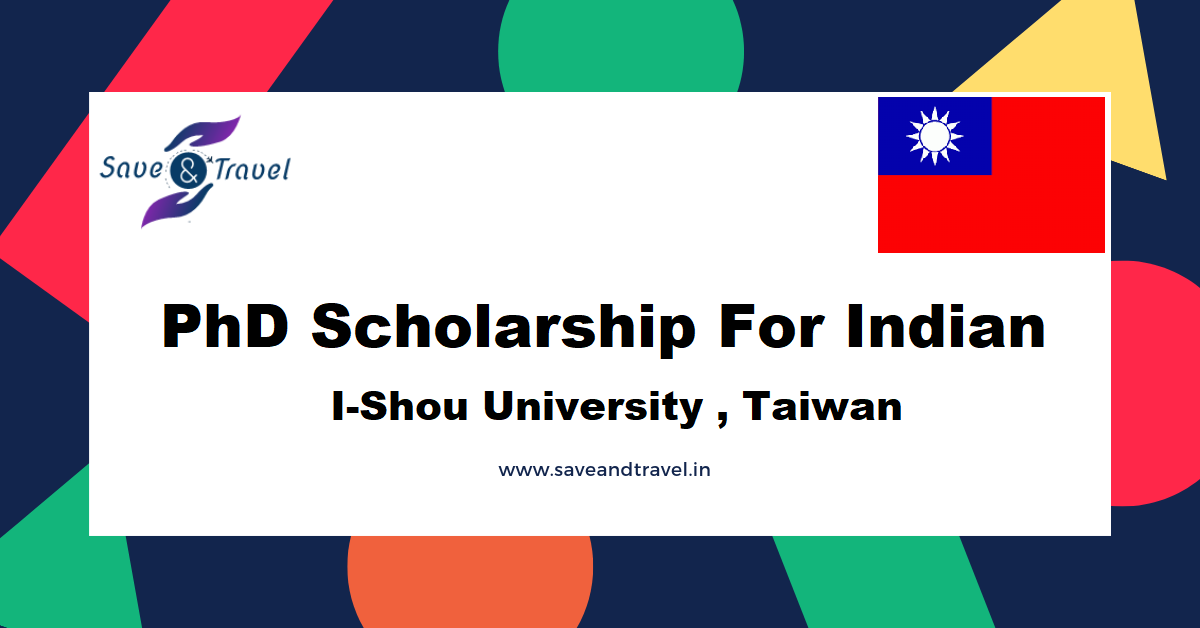 I-Shou University Taiwan – PhD Scholarship to Indian students
I-Shou University Taiwan – PhD Scholarship
Join our facebook group to get more scholarship updates – Scholarships & Fellowships – Bachelors, Masters, PhD and Postdoc
If you want to get updates on WhatsApp – Join here https://chat.whatsapp.com/FCFXcNjqk3II8oM56yqCJE
---
I-Shou University in Taiwan is offering PhD scholarship to Indian students. This information may be shared with students/ faculty members.
The proposal received from the Taipei Economic and Cultural Center in India (TECC) is attached. PFA: https://drive.google.com/file/d/1V2Mm90_HGTPdli2QWlyXxyuZwEPmK5Qo/view?usp=sharing
Program Details:
Language of Instruction: English
Duration of study in Taiwan: 2-3 years (4 to 6 semesters) in Taiwan for coursework
and the candidate qualification examination.
Dissertation: Students could return to their home country to continue working on their dissertation starting from the third year if they are able to complete all the coursework requirements including the qualification exam in the first two to three academic years. Upon the completion of the doctoral dissertation, students should
return to ISU for the proposal and final defenses.
Scholarship and Subsidies:
Contingent upon applicants' academic performance and government subsidies,
ISU will offer subsidies up to:
 3 years of tuition waived
 3 years of dormitory accommodation
 Research assistantship depending on one's dissertation advisor's research projects
Obligation:
To promote mutual understanding and cultural exchange between ISU and our
sister universities, particularly the ones in South and Southeast Asia, the students
enrolled in this program are required to teach up to 2 courses in English per
academic year, but not limited to, on the following subjects:
 South/Southeast Asia Culture
 South/Southeast Asia language
Eligibility of Applicants:
Applicants should obtain a master's degree in fields related to computer
science/information technology prior to applying. Applicants are supposed to be
lecturers in higher education institutions.
Application Procedures and Admission Criteria:
 Application form – Please fill out the attached form
 Official transcript and diploma from graduate work
 Proof of English proficiency (an online interview will be conducted if not
available)
 CV
 Statement of Purpose
 3 letters of recommendation from academe
 Scanned passport/page of nationality
Important Dates:
Application Deadline: July 15th, 2019
Semester starts: September 9th, 2019
Contact:
Ms. Tina Wu
International Students Advisor
Email: hsinjung@isu.edu.tw
Telephone: 886-7-6577711 ext. 2094
---
More PhD Opportunities