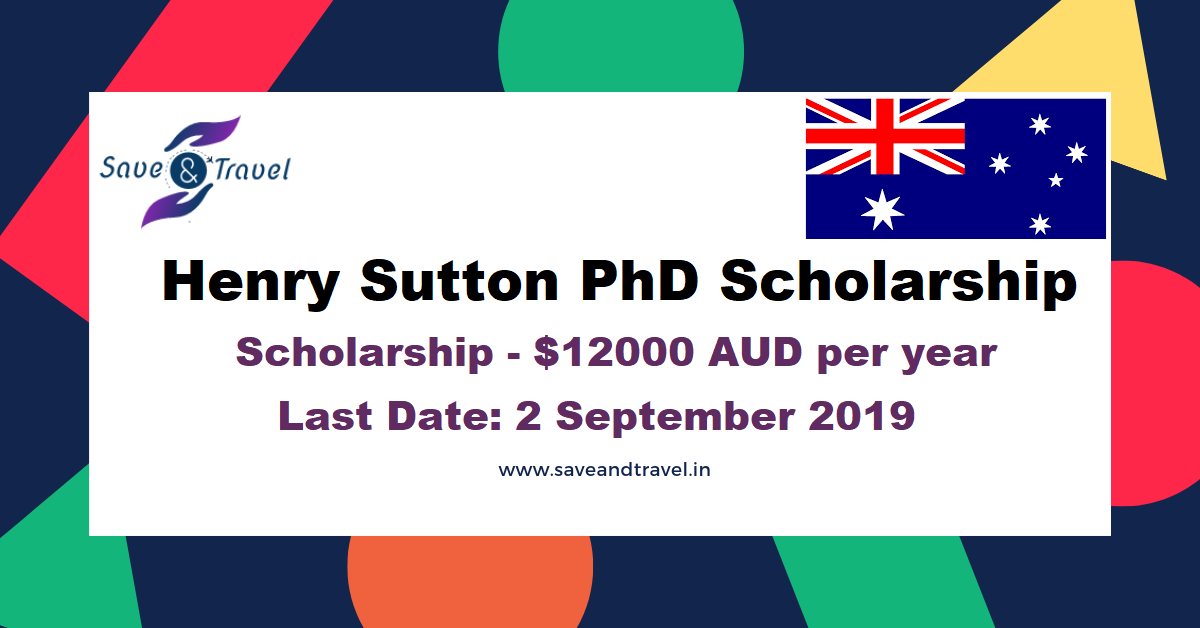 Henry Sutton PhD Scholarship for International candidates
Henry Sutton PhD Scholarship for International candidates
Join our facebook group to get more scholarship updates – Scholarships & Fellowships – Bachelors, Masters, PhD and Postdoc
If you want to get updates on WhatsApp – Join here https://chat.whatsapp.com/FCFXcNjqk3II8oM56yqCJE
---
School of Science, Engineering and Information Technology | Federation University Australia
Federation University Australia (FedUni) carries out world-class research, as evidenced by the most recent Excellence in Research Australia (ERA) ranking with five-star ratings (well above world standard) in seven research areas.
The School of Science, Engineering and Information Technology produces leading research in these discipline areas including Mathematics, Science, Engineering, Geo-science and Information Technology. The School is keen to attract excellent postgraduate students to join our research teams through the provision of the Henry Sutton PhD Scholarship Awards.
Scholarship details: Twelve (12) International PhD Scholarships have been created for the School.   Each scholarship will include a full Federation University Research Tuition Scholarship and a Stipend scholarship (which includes a cash stipend of $12,500 AUD per annum (paid fortnightly) plus an accommodation scholarship valued at $12,500 AUD per annum).  Both the tuition and stipend scholarships will be provided for a period of three years. The Henry Sutton PhD Scholarship does not cover Overseas Student Health Cover (which is compulsory for the period of the COE).
In addition, the scholarship holders may be offered optional paid teaching opportunities within the School.
Project support: $2000 per year to support the cost of the project (approved research expenses only).
Eligibility: Honours 1 or equivalent is preferred.  Open to International applicants, with the specification that International applicants must hold current IELTS or TOEFL English test results that meet minimum University English Language proficiency requirements.
Conditions of Scholarship: These scholarships are for a period of three years. Application is open to new International students only. Standard leave entitlements apply. This position and scholarship are full-time, with no possibility of being undertaken part-time during candidature. Students will be required to commit to a minimum of four days per week on campus and participate in occasional industry placement at key times during the term of their candidature.
Location: Successful candidates may elect to be located at either Ballarat, postcode 3350 or Gippsland campus, postcode 3842.
Projects: Prospective scholarship applicants are encouraged to review the listed potential PhD project proposals that are available here (https://federation.edu.au/schools/school-of-science-engineering-and-information-technology/research/phd-scholarship-projects), and contact supervisors to discuss the projects further.  Student project proposals may also be considered and should be submitted with the Scholarship application.
Potential PhD project proposals and details on how to apply for these scholarships are available here.
Closing date: All Scholarship applications must be submitted via the StudyLink online application system by the closing date of 2 September 2019.  See further details in the scholarship application form – see below.
Commencement date: Successful applicants will be expected to commence their PhD candidature by 28 February 2020.
For further information: If you have any queries, please do not hesitate to contact a potential supervisor or the Graduate Research School via email: research.degrees@federation.edu.au or via telephone: +61 3 5327 9508 (Mt Helen Campus) or +61 3 5122 6345 (Gippsland Campus)
Application form:  Henry Sutton PhD Application Form (upload this form with your application in StudyLink)
---
More PhD Opportunities
---
Keywords : federation university phd, phd scholarships projects, federation university australia scholarship, rto fed uni federation online application