Fully-funded PhD positions – MDC, Berlin
The Max Delbrück Center for Molecular Medicine (MDC) in the Helmholtz Association in Berlin, Germany is one of the sixteen research centers of the Helmholtz Association of German Research Centres.
We are committed to meet today's challenges in biology and medicine and realize that excellent science requires outstanding researchers. If you aspire to be one of them – welcome to the MDC!
Calls for PhD candidates open in Spring and Fall each year (usually around May for Fall recruitment, and in November for Spring recruitment).
---
Join our group to get timely updates on Scholarship
Join our Whatsapp: https://chat.whatsapp.com/JDietV7uFFhDq4mKzCCWNU
Facebook: https://www.facebook.com/groups/321241531875197/
Telegram: t.me/scholarshiplist
Twitter: https://twitter.com/SaveAndTravel2
---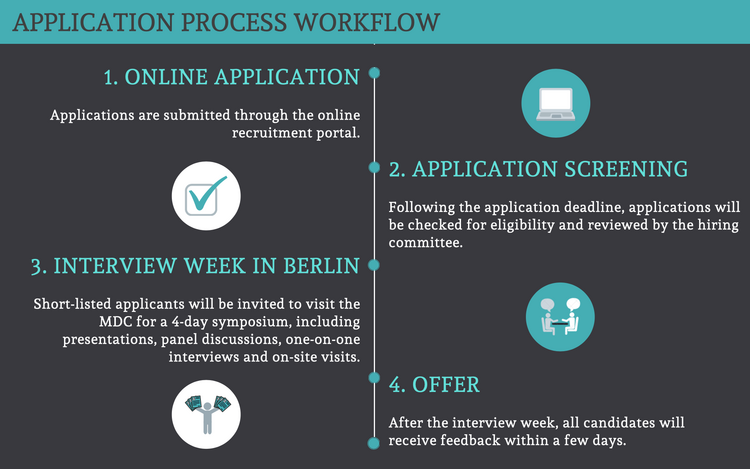 Deadline
The application portal will open on November 4, 2019 and we will be receiving applications until January 12, 2020!
Please register here; after successful registration you will receive a confirmation link via email that allows you to log in. For application details carefully read the application manual and eligibility information.
Funding
PhD researchers are fully funded through an initial 3-year employment contract with the MDC. Salaries are competitive to national standards, according to 65% TVöD 13 (monthly net payment of approximately 1600 EUR). Health and social insurance are included in the contract. In many cases, contracts are extended for an additional year. All PhD researchers are expected to complete their doctoral research and thesis in 4 years. The university tuition fees per semester are approximately 350 EUR, and include public transportation ticket.
Berlin
The MDC is situated at two locations in Berlin: majority of infrastructure is located on Campus Berlin-Buch, a modern science and biotechnology park with a clear focus on biomedicine. Since April 2019, the laboratories and offices of the MDC-BIMSB are located in our new building on the campus of Humboldt-Universität in Berlin-Mitte.
Frequent and radical changes through Berlin's turbulent and noticeably present history have transformed the face of the city many times over. But despite this, the city has succeeded in becoming a thriving metropolis, with a population of 3.7 million people. Extraordinary wealth of cultural opportunities attract increasing numbers of visitors, making Berlin one of the most popular destinations in Europe. It boasts a lively scene with lots of pubs, clubs, restaurants and cafés. Densely urban areas coexist with large green spaces, nature reserves, lakes and rivers, all within the city boundaries, offering a truly metropolitan lifestyle.
For further information, make sure to visit the FAQ section, and the pages of the Application portal.
---
More PhD Scholarships
---
Tags: Berlin PhD Scholarships, PhD funding Germany, PhD in Berlin, Free University of Berlin, PhD in Europe with stiphend, phd in germany with scholarship 2020, phd funding germany, find phd scholarship, phd in management in germany, phd in germany for indian students, free phd in germany