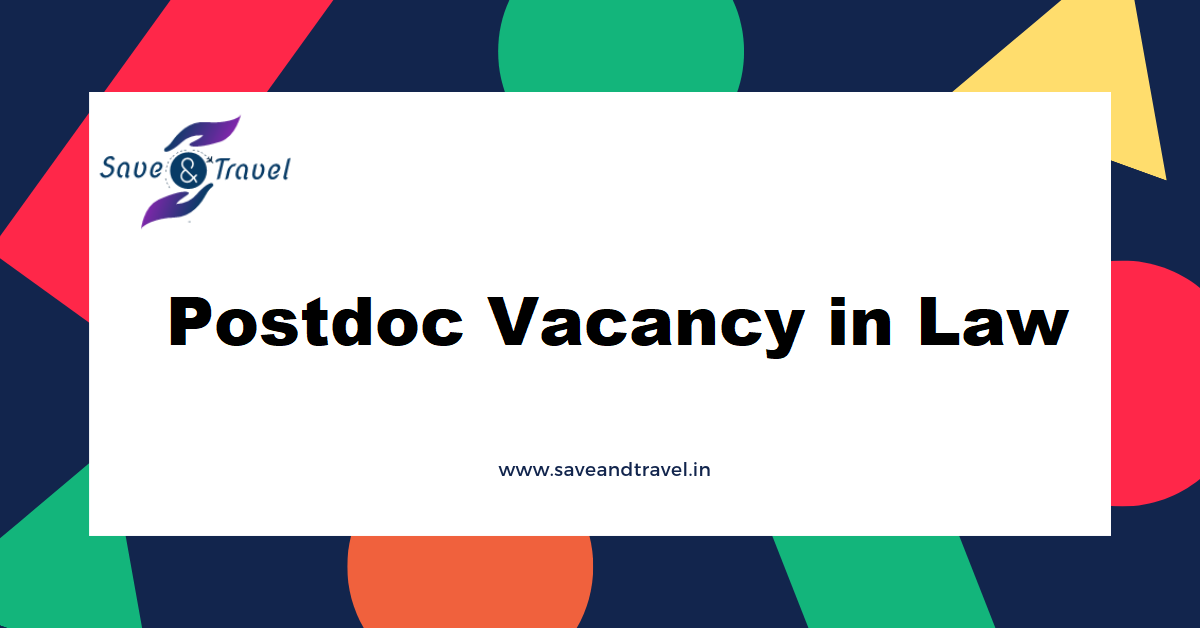 Postdoctoral Positions in Law – – Save And Travel
Postdoc in Law
Below are postdoc positions in Law in different Universities around Europe, Asia, Australia etc.
Join our facebook group to get more scholarship updates – Scholarships & Fellowships – Bachelors, Masters, PhD and Postdoc
If you want to get updates on WhatsApp – Join here https://chat.whatsapp.com/FCFXcNjqk3II8oM56yqCJE
---
Organization/University: Dublin City University Ireland
Deadline: 26/08/2019
---
Organization/University: ETH Switzerland
Deadline: Check link
---
Organization/University: Ghent University Belgium
Deadline: 06/08/2019
---
About the post
The post-holder will participate and actively contribute to research projects in competition law including merger control. The research work may involve topics that will focus on the aims of competition policy, public interest considerations, industrial policy and national security in merger control, the challenges of competition enforcement in digital markets. The post-holder will be given time (20%) to develop their own research projects.
The post holder should be able to demonstrate ability to conduct research taking a variety of methodological approaches, including doctrinal, theoretical and empirical. The candidates should also be able to take an active role in the dissemination and impact activities, such as organisation of conferences, engagement with non-academic stakeholders and use of social media. The post holder may be required to deliver lectures and/or seminars.
Organization/University: QUEEN MARY UNIVERSITY OF LONDON
Deadline: September 1, 2019
---
Organization/University: Harward Law School
Deadline: Check link
---
About the post
The University of Hong Kong (HKU) has launched a new post-doctoral fellowship scheme named the Presidential Post-doctoral Fellowship (HKU-PPF) with the objective of hosting the world's finest post-doctoral talents to undertake frontier research at HKU.  They will receive an attractive stipend with additional accommodation, research and conference grants as well as other appointment benefits.  The fellows will have the opportunity to live in a vibrant city, work at a leading global university, and conduct research in an environment that drives for excellence and impact. This scheme is for aspirational talents of the highest calibre.
Applicants must have demonstrated outstanding intellectual quality and have original and innovative ideas to tackle complex and emerging problems, the courage to open new research frontiers, and the ambition to be a global leader in academia, research or related pursuits.  Typical candidates will be fresh PhD graduates of leading global universities with highest distinction and awards, although outstanding postdoctoral candidates within two years of graduation from a PhD program may also be considered.  Applications are invited year-round but should be submitted at least six months before the proposed appointment start date.
Organization/University: Speyer, Germany
Deadline: August 28, 2019
---
About the post
The position is part of the ERC project of Prof. Panos Merkouris within the Department of Transboundary Legal Studies. This ERC project, led by Prof. Panos Merkouris, revolves around the rules of interpretation of customary international law (CIL). CIL along with treaties are the sources most often used in international law. However, whereas the rules of interpretation of treaties have been enshrined in Articles 31-33 VCLT, the rules of interpretation of CIL have not been the subject of critical study.
The postdoc researcher will focus on points of convergence/divergence between the rules of interpretation of CIL and those of treaties and of unilateral acts.
The research is part of the European Research Council (ERC) Starting Grant project "The Rules of Interpretation of Customary International Law" (Acronym: TRICI-Law).
University: University of Groningen
Deadline: August 16, 2019
---
About the post
The post-doctoral researcher will be working within the Centre for Research in Economics and Management and is expected to contribute to research in the area of labour economics. We particularly encourage researchers with interests in collective models, (search and) matching models, empirical research using survey or administrative data and in policy evaluation to apply.
The main tasks include writing academic papers, participating actively in the life of the department (e.g. seminars, workshops), and interacting with the Ph.D. candidates, especially within the labour group.
A contribution to teaching activities (up to 2 hours a week) is expected.
The post-doctoral researcher will be under the supervision of Arnaud Dupuy and Prof. Konstantinos Tatsiramos.
University: University of Luxumbourg
Deadline: 15/10/2019
---
More Postdoc Opportunities
---
Keywords : postdoctoral fellowship in law 2020, postdoctoral fellowship in law in canada, postdoc in law in canada, postdoc migration 2020, postdoc in development studies, post doctoral fellowship in history, postdoc in social sciences