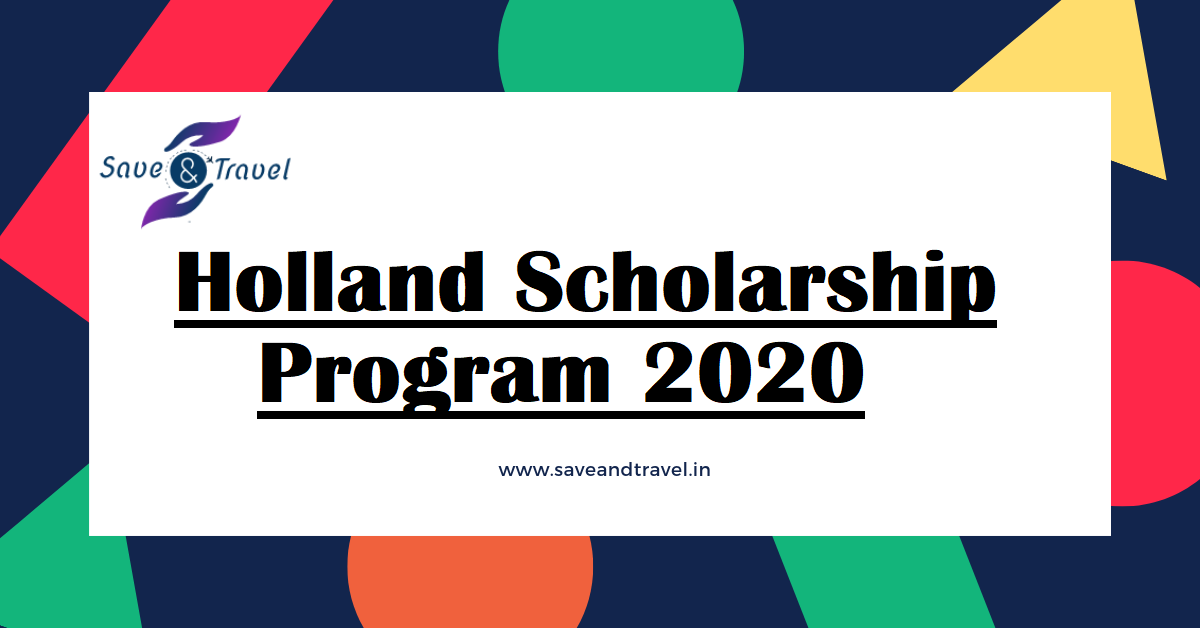 HOLLAND SCHOLARSHIP PROGRAMME (HSP) 2020
The Holland Scholarship Programme (HSP) is financed by the Dutch Ministry of Education, Culture and Science, Dutch research universities, and universities of applied sciences. Students eligible for this scholarship are students from outside the European Economic Area (EEA) who are applying for the first year of a Master's programme in the Netherlands. Students from Suriname and Switzerland are not eligible to apply for the HSP scholarship.
Scholarship amount
The scholarship amounts to € 5,000. You will receive this in the first year of your studies.
---
Join our social media group to get frequent updates on Scholarships
Whatsapp: https://chat.whatsapp.com/JDietV7uFFhDq4mKzCCWNU
Facebook: https://www.facebook.com/groups/321241531875197/
Twitter: https://twitter.com/SaveAndTravel2
---
Application criteria
You hold a non-EEA nationality that is not Surinamese or Swiss.
You are applying for the first year of a full-time English taught Master's programme at Vrije Universiteit Amsterdam.
The degree with which you are seeking admission has not been obtained in the Netherlands.
You need to have applied for VUFP. We will only award HSP scholarships to recipients of the VU Fellowship Programme.
We select excellent students who contribute to the diversity at our campus.
Vrije Universiteit Amsterdam embraces diversity as an enrichment to our teaching, research and our contribution to society. Furthermore, we aim to prepare our students for a global and diverse society and workplace. Before applying for the Holland Scholarship Programme (HSP), you need to apply for a Master's programme at Vrije Universiteit Amsterdam. You can apply for the scholarship until 1 February 2020. We will contact you about the outcome of the selection procedure no later than 1 April 2020. Please note that you must have applied for the Master's programme before you can apply for the HSP scholarship. Both applications must be complete and submitted before the deadline of 1 February 2020.
Application procedure
1. Follow the VUFP scholarship application (from 1 November 2019)
Please follow the steps to apply for a VUFP scholarship as described above.
• Apply for the HSP scholarship in VUnet.
• Mention in your motivation letter that you would like to apply for a HSP scholarship as well.
• Demonstrate that you are an added value for diversity on our campus in your CV.
Deadline: 1 February 2020
2. Decision
The Central HSP Committee decides which students will be offered a HSP scholarship.
3. Results
All students will receive an e-mail/notification informing them of the Central Scholarships Committee's decision concerning their application.
Expected date: 1 April 2020 (8 weeks after the deadline).
4. Acceptance of HSP offer
Selected candidates accept/decline the HSP offer in VUnet.
Deadline: 15 April 2020 (2 weeks after the results are published).
Conditions Holland Scholarship Programme
Contact
For any further questions please contact us through: hsp@vu.nl
Support
The Holland Scholarship Programme (HSP) is financially supported by VUvereniging: a social network of people who are connected to Vrije Universiteit Amsterdam.
---
Keywords: holland scholarship 2020, holland scholarship 2020-21, holland scholarship 2020-2021, holland scholarship for international students 2020, holland scholarship tu delft, holland scholarship leiden