Google Pay Customer Care Number : How to contact
Google Pay
Google Pay was earlier known as "Tez" is a digital wallet platform owned by Google. The best thing about this wallet is that you don't need to add money to Google Pay in order to pay. All you need to do is add a payment method, like a debit or credit card. When you use Google Pay, it's just like how you would normally use your card (more details). Google Pay Customer Care Number:
When the user makes a payment to a merchant, Google Pay does not send the credit or debit card number with the payment. Instead, it generates a virtual account number representing the user's account information. This service keeps customer payment information private, sending a one-time security code instead of the card or user details.
What you can do with Google Pay
You can do several things using this app.
Pay in stores or for transit using your phone.
Pay in apps or on websites.
Send money to friends and family (US/UK only).
Featured services offered at Google Pay app Google Pay Customer Care Number
Book Train Tickets
Buy Gold
Pay Electricity Bill, DTH, Landline, Broadband, Gas, Water, Insurance, Property Tax
Pay for Uber, Ola, Swiggy, BookMyShow, Oyo, MakeMyTrip, McDonald, BookMyForex and many more
How to Contact Google Pay Customer Care
Technologies are prone to fault and sometimes it also affects Google Pay. You may find some issues with "money not credited","recharge was not successful" etc.
Pls, note that there is no specific Google Pay Customer Care Number. Numbers floating on the internet (1800 419 0157, 1800 258 2554) are no more in use.
Google pay is one of the fastest growing wallets with 45 million monthly users as of March 2019. You can reach Google Pay Customer Care through the app. You can chat with them or ask them to call you back. They call you back in a few minutes.
Follow this to Call/Chat with them
Open your Google Pay app and Click on the three dots on top right
This will open the Setting page. Scroll down and find 'Help & Feedback' option and click on it.
You will Chat or Phone option. You can fill your name and phone number and they will call you back (takes 1-2 minutes)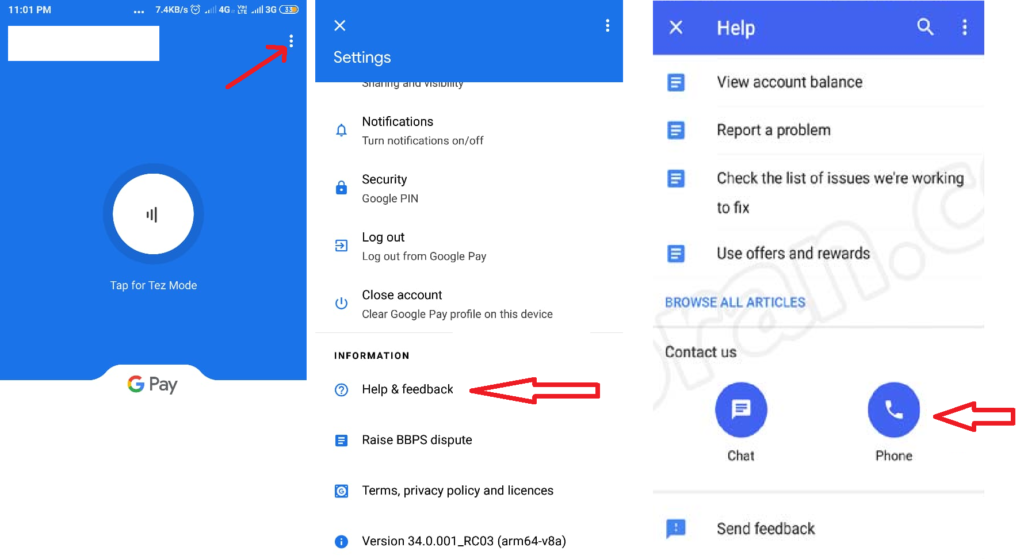 Using Google Pay Help
If you are having issues with other things then you can use Google Pay Help and select an issue to get help on
Recent Transaction (In progress, Failed, Success)
Mobile Bill Payments
Bank Account
Offers and Rewards
Fixing common problems
Issues with setting up new Google Pay Accounts
Add & edit bank accounts
Send & receive money
Pay for things
Manage your personal information