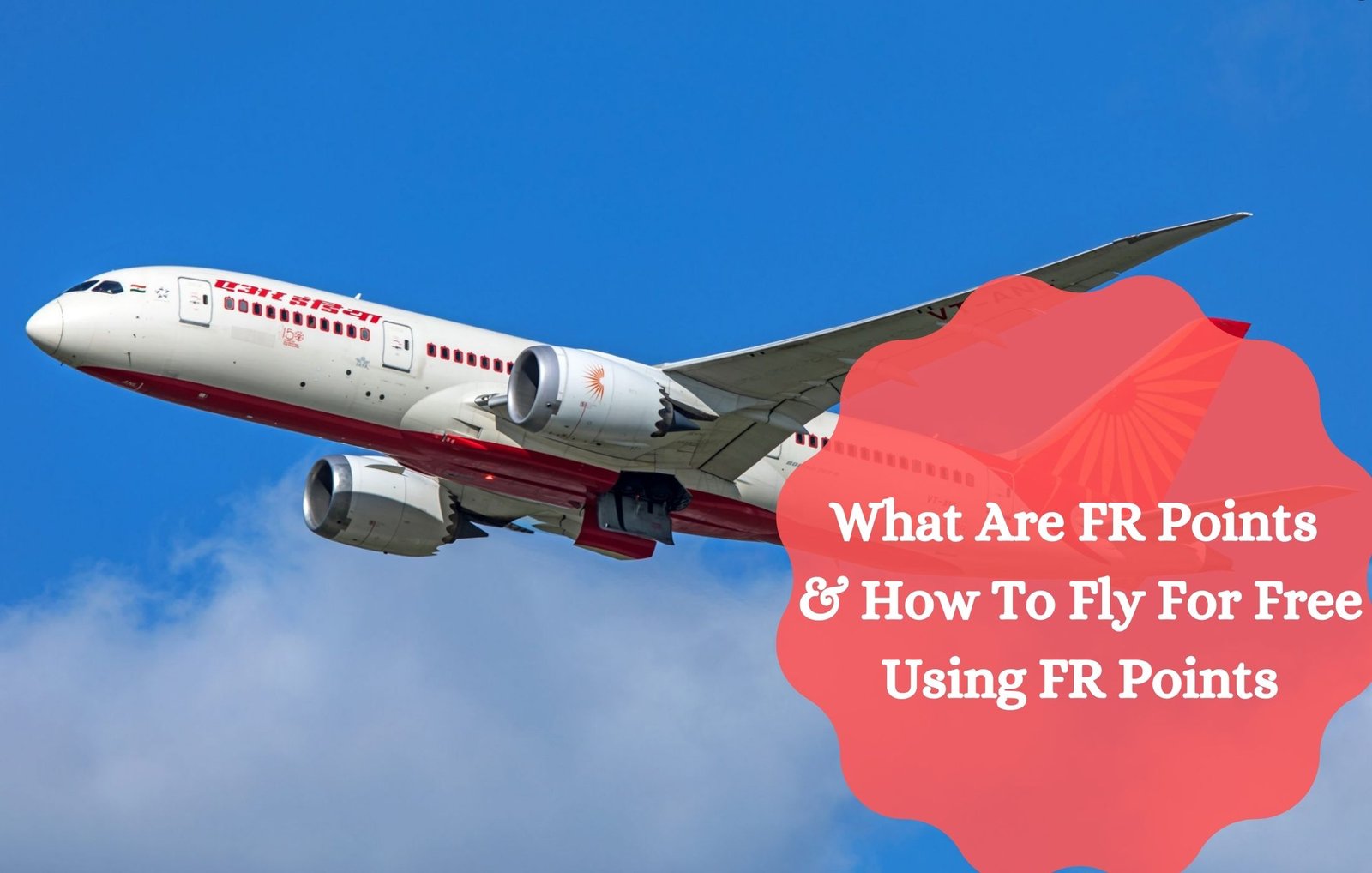 Yes You Can Fly For Free – Use Air India FR Points
All About Air India FR Points
What are Air India Miles/FR points?
Every time you fly with Air India, you get Air India miles or also called Frequent Flyer (FR) points on your name. You can get miles for domestic as well as international routes. The longer is your route, the more air miles you receive. Also whether you have taken economy/business/first class, your received miles would differ. The first class gets higher miles than business than the economy class.
For examples,
If you take the Delhi-Bangalore Air India flight, you get
Economy Class – 837 miles
Business Class – 1013 miles
First Class – 1553 miles
For other routes, you can check this page – Air India Miles Calculator
What are the benefits of Air India Miles/FR points?
You can accrue FR points on tickets purchased for self in any currency and in any country.
You can accrue FR points on all fare-paying tickets, and earn FR points depending on the booking class. On full-fare Economy tickets, and on Business/First Class fares, you earn bonus FR points.
Air India code-share flights with other airlines qualify for accrual of FR points, not for redemption into award tickets.
You can also purchase bonus FR points from Flying Returns programme on falling short for redemption.
Award tickets may be issued for the member or any other person by the member.
Separate check-in counters for members available at select domestic airports.
Members travelling with only hand baggage in Executive or Economy class can avail the Tele Check-in facility at Delhi, Mumbai, Kolkata, Chennai, Hyderabad and Bangalore.
How can I use my Air India Miles/FR points?
If you had taken any Air India flying in the last 1 year then you are eligible to claim your Air India Miles.
Step 1 – Register yourself on Air India Frequent Flyer Program – Register Link
Step 2 – You can claim your miles by giving details of your booking/eticket
Step 3 – Once you get your miles on your account, you are eligible to redeem it to book a flight ticket
As Air India is a member of Star Alliance, you can also claim your FR points earned on these 26 flights which are also a part of Star Alliance.
List of Star Alliance Partner
Aegean Airlines, Air Canada, Air China, Air India, Air New Zealand, ANA, Asiana Airlines, Austrian, Avianca, Brussels Airlines, Copa Airlines, Croatia Airlines, EGYPTAIR, Ethiopian Airlines, EVA Air, LOT Polish Airlines, Lufthansa, Scandinavian Airlines, Shenzhen Airlines, Singapore Airlines, South African Airways, SWISS, THAI, TAP Air Portugal, Turkish Airlines, and United.
How many FR Points I require to get a Free Flight?
You can use your FR points to buy flight tickets. The best thing I like about using FR points is that it is based on the travel routes and not a date based.
Let me explain to you if you want a Chennai to Goa ticket for tomorrow, you will see the price is quite high (example 10,000 INR), but if see for later dates then it may be 6,000 INR.
But if have 6030 FR points then you can take any Chennai-Goa flight, irrespective of the date of travel. If you visit this page for a detailed points redemption of Air India Flights.
What is the validity of FR Points
Flying Returns Points shall be valid for redemption till the end of 36th month(3years) from the month of accrual in the FR account.
For example:
For example Points credited on 5 Dec 2020 will expire on 4th Dec 2023.
What is the price of FR points if I want to purchase?
As a member, you can buy points at a rate of Rs.1.25 per FR Pointor as revised from time to time, subject to a maximum of 50% of the points balance in the member's Flying Returns account. You can also use your credit card reward points to convert to FR points.
More From The Author