SBI Rewardz/SBI Rewards
What is SBI Rewardz?
SBI Rewardz is a Loyalty Program launched for State Bank Group. 
How do you get SBI Rewards Points?
You earn SBI rewardz (reward points) whenever you use SBI credit or debit card to buy anything online or at any point of sale (POS).
Every time you make a transaction using your State Bank Group Debit Card, you have been earning typically 1 point for every 100 INR spent. 
Some card will have higher money spent/reward point earn ratio. The reward points earning rate will vary depending on the card type that you hold. To know more about the rewards earning structure, please click here
How to claim SBI Rewards Points
Step 1 Go to SBI Reward site (https://rewardz.sbi)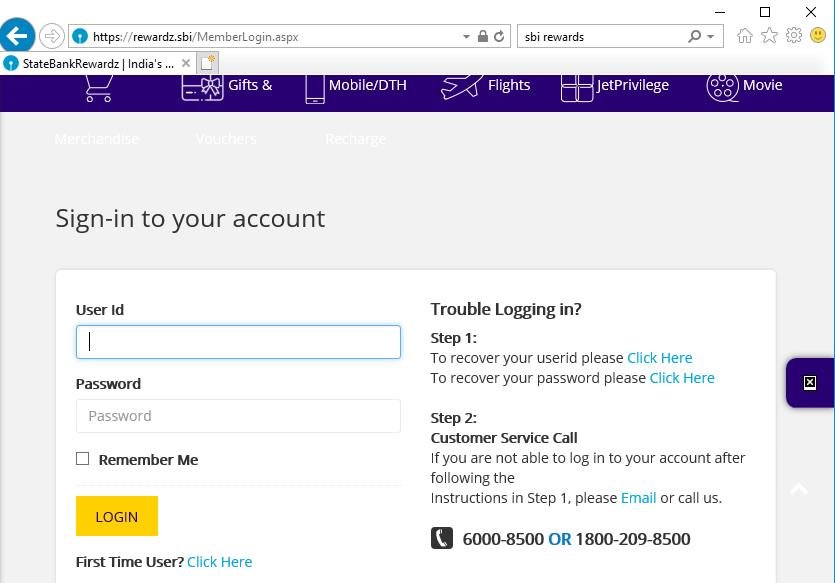 Step No. 2 On the top right corner, click log in and then click first time user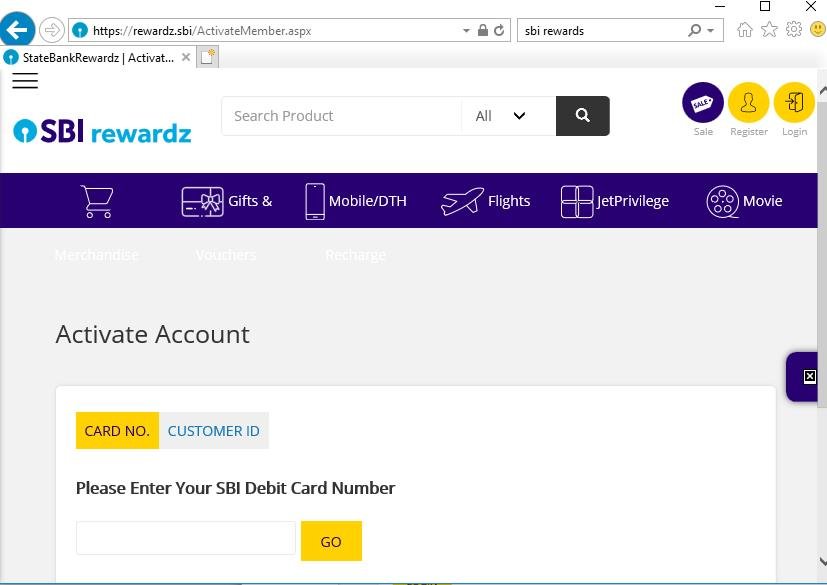 Step 3 Put your SBI card number and click go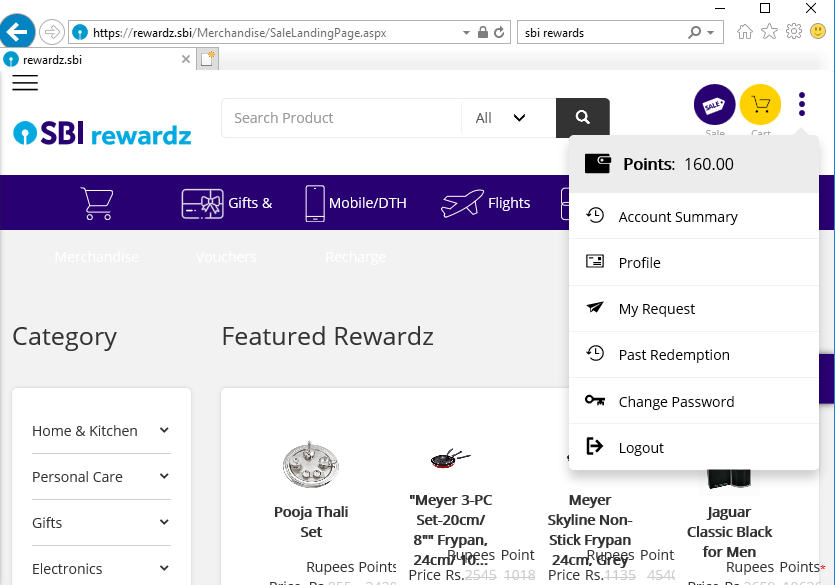 Step No. 4 OTP verification. It will send you an OTP to your registered mobile and then you can set your password. Once you are logged in to the site. Click the three dots on top right corner and you will see your points
Value of SBI Rewardz point
4 Reward point = 1 INR, so based on your reward point you can either recharge your mobile, DTH or buy items from the list.
You can also redeem your State Bank Reward Points for JPMiles, at the rate of 1 JPMile per 5 State Bank Reward Points.
5 State Bank Reward Points = 1 JPMile
Can I combine SBI Points and cash for redemption?
Yes, you can combine SBI Points and cash for redemption.
My computer/ the site/ the application crashed just when I was redeeming SBI Points?
Please restart your computer/ Log in to web page and check 'My Request' page. If the redemption request is complete, it will reflect under My Account.
Can I book both international and domestic flights?
Can I redeem SBI Points for more than one passenger?
Yes, you can redeem SBI Points for up to 9 passengers at any given point of time.
Can I book tickets for infants on SBI Rewardz?
Yes, you can book one infant per adult on SBI Rewardz. The age of infant must be below 24 months on the date of travel. Make sure you carry valid proof-of-age documents at the time of check-in. The infant is not awarded a seat on the flight and has to travel with the accompanying adult.
Is Mobile/DTH Recharge offered on SBI Rewardz Online Portal?
Yes, SBI Rewardz allows its customers to recharge their pre-paid mobile phones or their DTH accounts using their SBI Points
How do I get a receipt or invoice for my hotel booking?
Log in to your SBI Rewardz Account with your User ID and password. Once you successfully login, go to "Transaction History" under "My Account" to view all your upcoming and completed trips. You can view/print your receipt by clicking on Booking Ref No.
In case you do not want to log in, please contact SBI Rewardz Customer Care at 6000-8500 so we can send you the receipt. You will need to provide your Booking ID and your email address given at the time of booking to retrieve your booking details.
How to convert SBI reward point to cash
You can also redeem your SBI reward points against cash. You will have to call the customer care to do that.
Contact details
6000-8500 (Local call charges apply from Mobile or Landline, anywhere in India)
1800-209-8500 (Toll Free number from BSNL & MTNL networks only)
Operational Hours*:
Monday to Saturday from 9 AM – 9 PM
Sunday from 9 AM – 6 PM
Email:
Submit a query here
Read More
What Is Customer ID For SBI Rewardz
How To Get a Lifetime Free ICICI Credit Card
How To Avail Airport Lounge With or Without Credit Card For Free
---
Keywords: sbi rewardz customer care, sbi reward points to cash, freedom reward points, how to redeem my sbi reward points for mobile recharge, how to use sbi reward points, sbi reward points value in rupees, how to earn sbi reward points, can i convert sbi reward points to cash, how to increase sbi reward points, how to use sbi debit card reward points, what is customer id for SBI