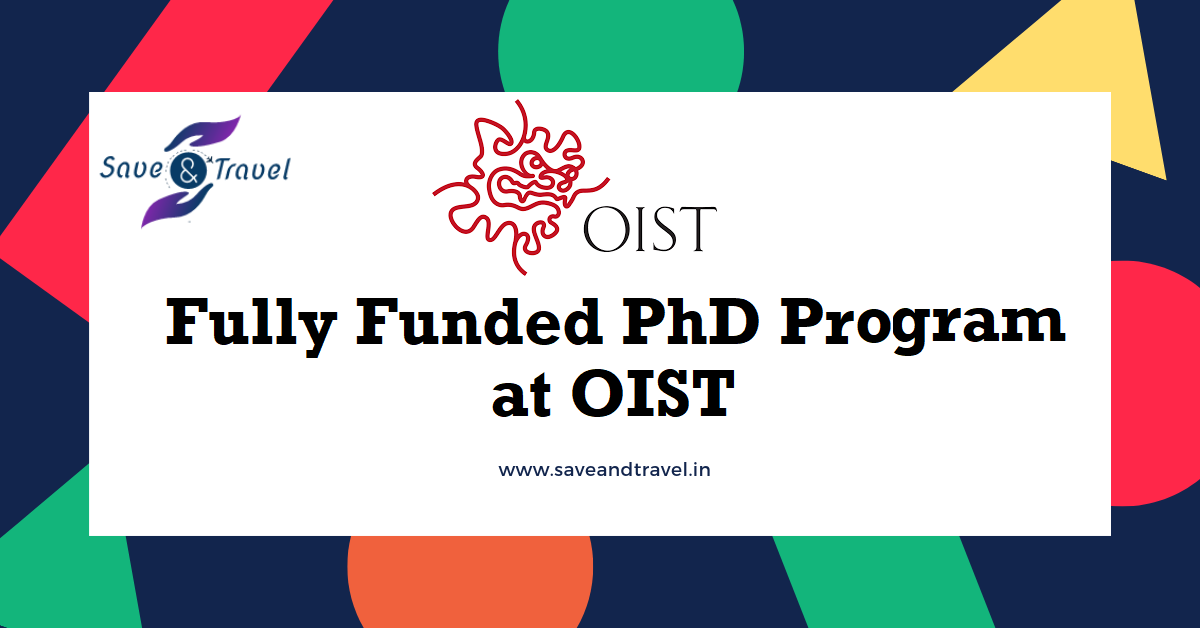 Fully Funded PhD @ Okinawa Institute of Science and Technology (OIST)
Okinawa Institute of Science and Technology (OIST), PhD Program
The Graduate School accepts about 60 full-time graduate students per year. This ensures low numbers of students for each faculty member so that we can deliver best-in-the-world teaching for our graduate program. The basic requirement for the OIST Graduate Program is completion of a Bachelors, Masters or equivalent degree prior to the admission date. Students may submit an application at any time. Your application will be considered at the next admissions committee meeting. Shortlisted candidates will be invited to the next possible Admissions Workshop, held at OIST, as part of the selection process. If you prefer to attend a later admissions workshop, you may defer the invitation.
Application Deadlines
November 15th, 2019 – to participate in February Admissions Workshop (2/18-2/20), 2020.
April 1st, 2020 – to participate in June Admissions Workshop (6/23-6/25), 2020. 
Candidates are considered for admission without regard to race, religion, national origin, disability, or gender.
Prospective students are required to open an Embark account to Apply Online. Please check the necessary documents below and read the Frequently Asked Questions.
Required Documents
Transcript and Diploma: Scanned copies of your current academic transcript and any completed diploma (BSc, MSc, etc.) in PDF format. An English explanation is required for transcripts that are not written in English.

A scan of an unofficial transcript or other record of grades may be uploaded to the application website.
If you have not graduated and do not have a diploma yet, please upload a certificate of enrolment from your institution that indicates your expected graduation date.

Applicant's Statement: This should be not more than 400 words and should address the following points:

The applicant's scientific interests and aspirations, and
What the applicant hopes to gain from undertaking graduate studies at OIST.

Passport: The application system requires applicants to submit a passport number and upload a scan of their passport photo page. It is essential that applicants from outside Japan have a valid passport for travel to Japan. You must supply your passport details in the application process.
Recommendation Letter: Each applicant is required to have at least 2 and no more than 5 letters of recommendation from appropriate academic referees. Two is the minimum requirement, but as a rule, it is very helpful for the admissions committee to have three or more letters. In the online application system, the applicant will enter the name and email of each recommender. The system will then contact the referee directly for their letter.

OIST strongly recommends that applicants ask academic referees in advance for permission to list them as recommenders. Recommendation letters needs to be submitted by the deadline. Referee comments are a very important part of the selection process, and it is the applicant's responsibility to first ensure that referees are willing to submit such a letter, and then that they do submit before the deadline.
Recommender's letters will be treated as confidential material and will not be available to applicants or parties other than OIST faculty members assessing the application. In registering a recommender the applicant acknowledges that there is no right to read the recommender's letter.

Proof of English Proficiency: An applicant who is seeking admission on the basis of a qualification from a university for which the language of teaching and/or examination is not English is required to provide a TOEFL or IELTS score obtained within the last 2 years.

OIST Institutional Code for TOEFL: 8794
OIST address for IELTS:Admissions and Career Development Section
Okinawa Institute of Science and Technology Graduate University
1919-1 Tancha, Onna-son, Kunigami-gun,
Okinawa, Japan 904-0495
There is no minimum score required but the information is necessary in determining preparatory course requirements.
Fellowship Amount
OIST will cover the expense for relocation up to the maximum level International: ¥500,000; Domestic:¥250,000
---
Other PhD Vacancies
Optional Documents
The following documents may be submitted optionally, and will be taken into consideration by the selection committee if available:
Additional evidence of academic ability such as GRE general or specific test scores obtained within the last 2 years.

OIST Institutional Code for GRE reports: 8794

Additional material such as the title and abstract of publications and oral presentations, and other evidence of achievement.
Note: The OIST Graduate School reserves the right to request an external evaluation of academic qualifications from any applicant.
Application Fee
There is no application fee to apply for the OIST Graduate Program.