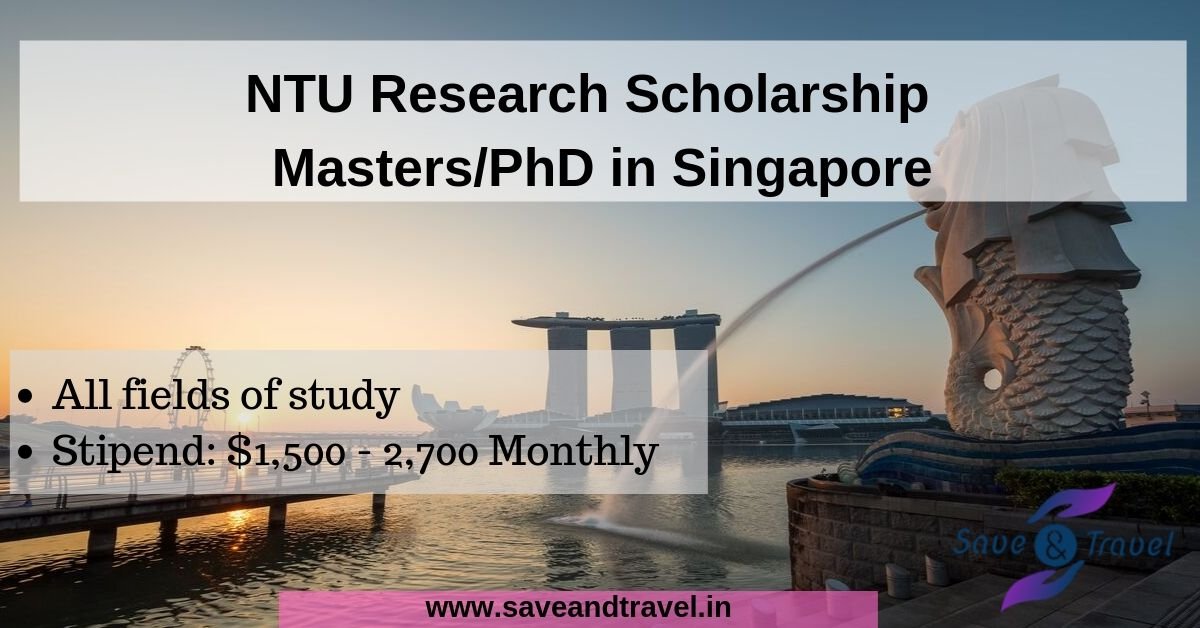 NTU Research Scholarship – Master's/PhD in Singapore
NTU Research Scholarship
The NTU Research Scholarship is awarded to outstanding graduate students for research leading to a higher degree at the University. The Scholarship consists of a monthly stipend plus a tuition fee subsidy.
---
Join your social media group to get frequent updates on Scholarships
Whatsapp: https://chat.whatsapp.com/JDietV7uFFhDq4mKzCCWNU
Facebook: https://www.facebook.com/groups/321241531875197/
Telegram: t.me/scholarshiplist
Twitter: https://twitter.com/SaveAndTravel2
---
Who is eligible?
You are eligible for this scholarship if you are a local or international student seeking admission as a full-time candidate pursuing a Graduate Research programme at NTU.
Eligibility criteria
You must have a minimum of Honours (Distinction) or its equivalent
You should not be on paid employment or accept paid employment or concurrently hold any other scholarship, fellowship, bursary or top-up allowance during the prescribed period of the award
Coverage
The award is tenable for one year in the first instance and is renewable subject to good progress. The maximum period of the Scholarship is 2 years for Master's candidates and 4 years for PhD candidates, as determined by school as well as availability of research funding in each case.
A monthly stipend as follows:
| | | |
| --- | --- | --- |
| | For PhD candidates | For Master's candidates |
| Singapore Citizen1 | S$2,700 | S$2,500 |
| Singapore Permanent Resident | S$2,200 | S$1,500 |
| International Student 2 | S$2,000 | S$1,500 |
1With effect from 1 August 2015, Central Provident Fund (CPF) contributions shall be provided at a rate pegged to the prevailing employer's contribution rate set by CPF, on top of the monthly stipend received.
2International Students must perform teaching/ laboratory supervision duties to fulfil the requirements of the Graduate Assistantship Programme (GAP). Singaporeans and Singapore Permanent Residents may perform GAP at the discretion of the schools.
For scholars who pass the Ph.D. Qualifying Examination/Confirmation, he/she may be eligible for an additional stipend of up to $500 per month. The increased in stipend is subjected to good performance in research and the attainment of required standards for courses taken. The University reserves the right to vary the amount of the stipend at any time by written notice.
In addition to the monthly stipend, the award also covers the annual tuition fee.
Bond
There is no bond attached to the scholarship.
Application procedure
You can apply for this scholarship when you are filling in your application form. Complete the "Application for Scholarship" section in your application form.
Research work and duties
You must undertake to carry out research work at NTU as directed by the Chair of the School concerned.
Upon your confirmation of PhD candidature, you will be required to assist your School in teaching duties for three hours a week.  There will be no remuneration.
In addition, the School, at its discretion, may appoint you to assist in academic or administration work not exceeding 10 hours of work per week. There may or may not be any remuneration.
---
More PhD Opportunities
---
Tags: ntu phd program phd scholarship, singapore nanyang president's graduate scholarship, ntu phd admission 2020, ntu president research scholar, commonwealth scholarship ntu, ntu asean scholarship, ntu phd graduation requirements