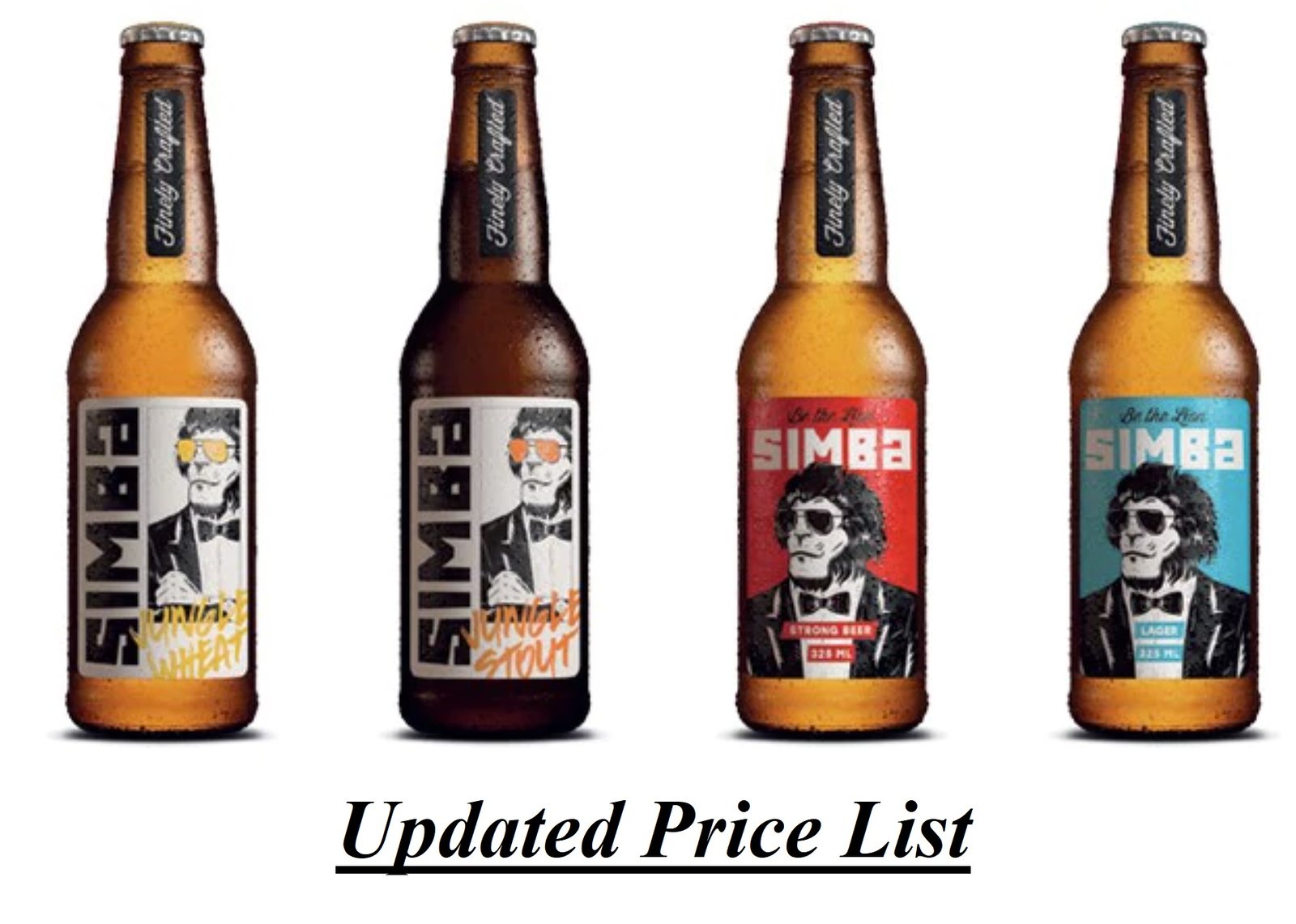 (Updated Price List) SIMBA Beer Price in India
Rs. 432
Rs. 450
in stock
as of March 15, 2020 8:40 am
Rs. 999
Rs. 1,999
in stock
2 new from Rs. 999
as of March 15, 2020 8:40 am
Last updated on December 3, 2023 8:07 am
SIMBA Beer Price in India
SIMBA is a finely crafted beer has become popular in Mumbai, Delhi, Goa, Assam, Bengaluru, etc. It is co-founded by Prabhtej Singh Bhatia. SIMBA Beer Price in India
Beer is one of the oldest recipes of the drinks dated back to 5000 B.C. It is basically classified into two types; Ale and Lager. These types depend on the yeast used and the fermentation process.
Ale is an older type of beer whereas Lager is comparatively newly produced. In Ale beer, the yeast ferments and settles on top whereas in Lager, the yeast ferments on the bottom.
Lager beer is stored for a longer time, the name "lager" originates from german word "lagern" that means "to store". But very recently new types were introduced such as Crafted, IPA, etc. IPA technique was also used in Bro Code beer. So this new experiment which actually gained popularity in 2018, came out when the Brut style of Champagne making is mixed with IPA, giving it a new name Brut IPA. So Medusa is not actually a 100% beer but a Brut IPA.
SIMBA Beer is available in
SIMBA Beer Alcohol Content – 4.8 – 7%
SIMBA Beer Price in Delhi 2020
Name

Volume

Price

in INR

SIMBA JUNGLE WHEAT BEER
330 ml
110
SIMBA LIGHT BEER
330 ml
80
SIMBA Beer Price in West Bengal 2020
Name

Volume

Price

in INR

Simba Roar Extra Strong
330 ml
190
Simba Roar Light
330 ml
150
Simba Roar Series Light Premium Lager Beer
330 ml
150
Simba Stout Creamy, Cacao and Espresso
330 ml
210
Simba Wit Belgian-Style
330 ml
170
SIMBA Beer Price in Goa 2020
Name

Volume

Price

in INR

Simba Wit Beer
330 ml
70
Simba Stout Beer
330 ml
90
Simba Lager Beer
330 ml
60
SIMBA Beer Price in Kerela 2020
Name

Volume

Price

in INR

SIMBA ROAR EDITION EXTRA STRONG PREMIUM BEER
650 ml
140
SIMBA ROAR SERIES LIGHT PREMIUM LAGER BEER
650 ml
140
SIMBA WIT BELGIAN-STYLE WITBIER
330 ml
110
SIMBA STOUT CREAMY CACAO AND ESPRESSO
330 ml
130
More From The Author