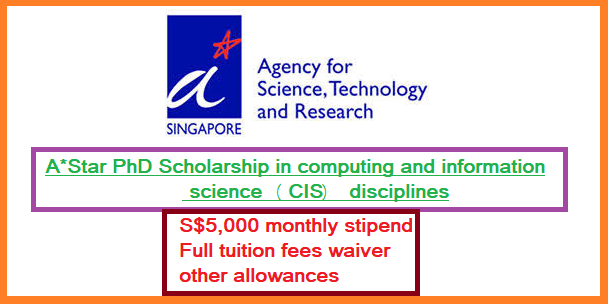 A*STAR COMPUTING AND INFORMATION SCIENCE (ACIS) SCHOLARSHIP
A*STAR COMPUTING AND INFORMATION SCIENCE (ACIS) SCHOLARSHIP provides an opportunity for Singaporean or International students to conduct Ph.D. research in CIS in one of the reputed Universities in Singapore
Launched date:  November 2018
Motive: to attract top talents to pursue a PhD in computing and information science (CIS) disciplines.
Theme: Real-world issues across the whole spectrum of computing science, from deep learning for healthcare, data analytics for improved machine learning, to modelling and simulation for advanced applications. Scholars will be working hand-in-hand with autonomous universities, government agencies and top global companies that are collaborating with A*STAR.
What it offers: Stipend of up to S$5,000 monthly, on top of other allowances, and full tuition fees support for up to four years of PhD studies
University to avail Scholarship:  Nanyang Technological University (NTU), National University of Singapore (NUS), Singapore University of Technology and Design (SUTD) or Singapore Management University (SMU).
Other opportunities:
Support for an overseas attachment of up to 12 months during your PhD. Scholars can also apply for the A*STAR International Fellowship (AIF) to further your research expertise and expand your global network at top overseas universities or research entities.
Thematic Programmes: